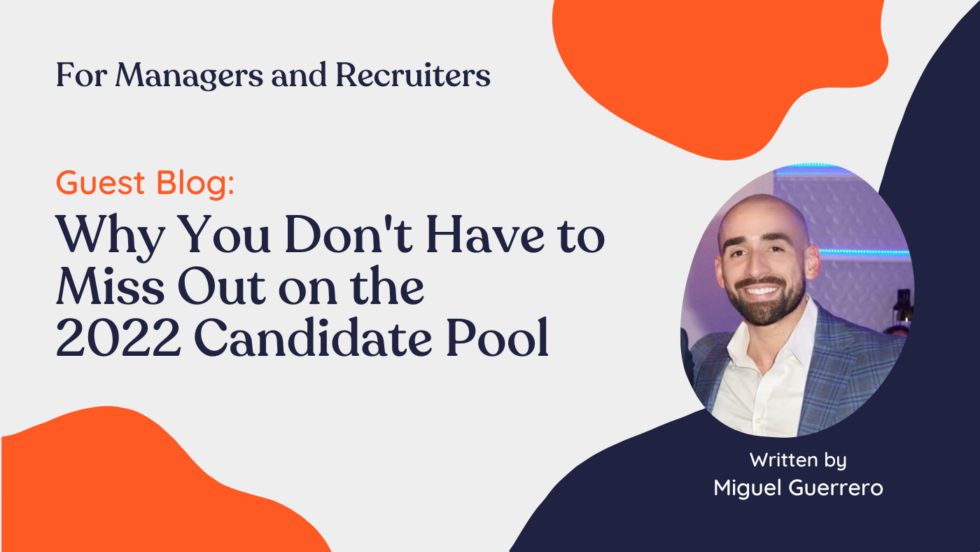 *The following blog was written by Miguel Guerrero, SDR Manager at Vendition.
If you've been paying attention to recent events, you know that the market is shifting at an alarming rate. Our beloved tech industry seems to be taking the hardest hit, facing "the biggest downturn in two decades." I've been in this game for quite some time, and I know what happens next: if they haven't already, many tech companies will begin laying people off in droves and freezing or delaying hiring. 
In my mind, this presents two distinct issues for tech companies. For one, there's the challenge of continuing to build pipeline with limited hiring resources (something my colleague, Brian Smith, touched on in a recent blog). Secondly (and this is the one I'm going to focus on here), there is the issue of missing out on the 2022 candidate pool.
What if I told you that you don't have to miss out on this incredible class of candidates? What if there was a way to lock in these hires without compromising your Q3 budget? Let's get into it.
The 2022 Candidate Pool
Here's the thing about the 2022 candidate pool: this is a class with unmatched resilience, having weathered the ups and downs of the COVID pandemic and now looking to bring their newfound skills, experience, and gumption into the tech sales realm. These are recent college graduates — former student athletes with highly competitive spirits, or business fraternity members with extensive professional networks. They're career switchers, bringing with them diversity of thought and the transferable skills needed to succeed as an SDR. And, as icing on the cake, they don't want to start just yet. 
As a sales leader myself, I like to think I have a pulse on what today's SDRs are thinking. My own team members have confided in me that while their peers are eager to settle into SDR roles, they'd like to take some time to rest before getting started. This introduces a potentially unorthodox option, but one that may be perfect for tech companies in today's market. And it's one that we at Vendition are uniquely positioned to help you implement. 
Sign Now, Start Later
As Vendition's mission is to bridge the gap between the career opportunities individuals seek and the skilled talent companies desire, we are leaning into hiring freezes while still providing our candidates with meaningful sales experience. We know that more and more candidates would prefer to lock in jobs now but start them later (presumably at the beginning of Q4), and we know that our partner companies want to be able to ramp up quickly once the economy stabilizes. 
The solution? Interviewing and hiring top talent now, and simply delaying their start dates. It's a win on both sides: companies like yours can ensure they're not competing for headcount when conditions improve. and our candidates can enjoy their summers, knowing they have an SDR position waiting for them later this year.
Partnering with Vendition to leverage this "sign now, start later" model is both cost and time efficient. You're able to get your Q3 budget together without accounting for immediate new hires, and once the candidate starts, they're on Vendition's payroll — meaning less risk for you. You can trust that Vendition's stringent candidate vetting process will lighten the load for your hiring team while still bringing you only the best talent; additionally, we make things easier for sales leaders by guiding and mentoring our Apprentices to success. We're here to partner, not compete with you, and we want nothing more than to see you win — especially now.
If you're looking to keep your sales pipeline full in spite of market conditions while managing headcount concerns, Vendition can help. Partner with us today.