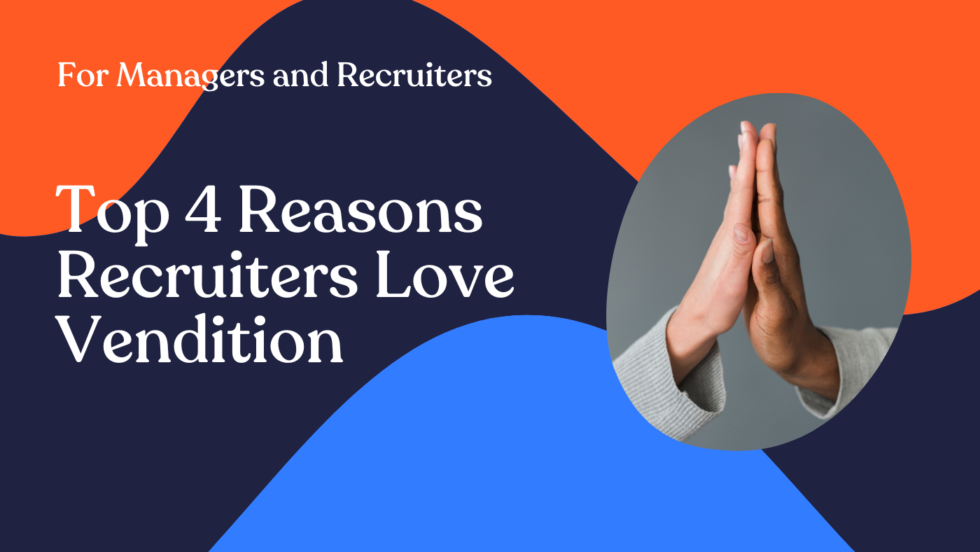 Recruiters are the all-too-often unsung heroes of any successful organization. Nothing moves, grows, or wins without a team of talented, motivated people; recruiters do a great deal of leg work to bring these folks to the table and convince them to take a seat.
You can think of Vendition, then, as a recruiter's best friend — the wingman throwing carefully calculated lobs so that internal hiring teams can slam dunk with each new SDR hire. Here are four reasons why recruiters love Vendition:
1. We operate as a partner, not a third-party.
We hear it all the time from potential hiring partners: "We've already got a team of internal recruiters." "We don't look externally to hire." And we get that! Here at Vendition, we're not asking you to sub your team out for ours; instead, we're looking to become teammates. 
To put it plainly: Vendition does not replace internal recruiters. We help you find the right candidates with a lot less effort on your end, so that you can focus on other aspects of your Very Important Job. But that's not all. Even after you hire one of our candidates, the Vendition team continues engaging with them and developing their sales skills throughout the 12-week Apprenticeship. We work with sales managers and team leaders to bring Apprentices up to speed and get them hitting (or even exceeding) quota, quickly. Take it from our friends at BentoBox: "Our relationship with Vendition feels more like a partnership than a transaction."
2. We speed up the hiring process.
We know that one of the biggest pain points recruiters have is filtering through resumes and applications, trying to separate the qualified candidates from the unqualified. This process alone can take hours, if not days, and that's before the interview process even begins. Additionally, recruiters often prioritize those with previous SDR experience, limiting their choices and potentially causing them to miss out on candidates who may very well thrive on the job. 
Vendition sources talent from our vast candidate pool of individuals we've already vetted, saving you precious time. Because of the Apprenticeship model and our specialization in SDRs only, these pre-vetted candidates, who have the right skill set and personality traits, come into the SDR role with full support to bring the greatness out of each person. Your company gets to train your SDRs the way you want – with no bad past habits or problem behaviors to deal with.
On top of this, you're likely hiring for a variety of positions, so the Vendition team will work closely with you to ensure we hit your specific hiring goals. If your goal is to build a more diverse sales team, we can help you do that. Looking for an SDR with a background in financial technology? We've got someone in our pool. By partnering with Vendition, you're casting a wider net in a more refined lake — you're setting yourself up to find the right person fast.
3. We're cost-neutral.
You may be wondering, what's the catch? Surely, there's a steep price to be paid for a partnership like this one. 
Not really. For most companies, partnering with Vendition is cost-neutral. That's because there's a fixed price for the Apprenticeship that, on top of covering Vendition's services, also covers the Apprentice's salary. You're likely to spend nearly equivalent to (or, in some cases, less than) what you would on a direct hire. We understand that oftentimes, companies don't have the budget to bring in external partners; our cost-neutral approach gets you greater results for what you'd already be paying if you did the work by yourself. 
And did we mention that there's no risk involved? We only get paid if our Apprentices become a full time hire for your company, so you can trust that we have at least as much at stake as you.
4. We're diversity-driven.
Hiring for diversity is a major priority for recruiters (as it should be), and it's something we at Vendition pride ourselves in. In fact, we've structured our model to make the sales profession more accessible to those from underrepresented identities and/or non-traditional backgrounds.
The proof is in the pudding: 80% of our candidates are women or people of color. Many of them come from backgrounds that are not directly related, but lend themselves nicely to sales, thus offering a diversity of thought and experience. Our candidates have a wealth of identities and stories that empower them to bring a fresh perspective to your sales team.
While all of these are significant, here's the biggest reason recruiters love us: we make you look good. We at Vendition want nothing more than to see you (and our SDRs!) win, and our team works tirelessly so that you don't have to.
Ready to give us a shot? Learn more here.