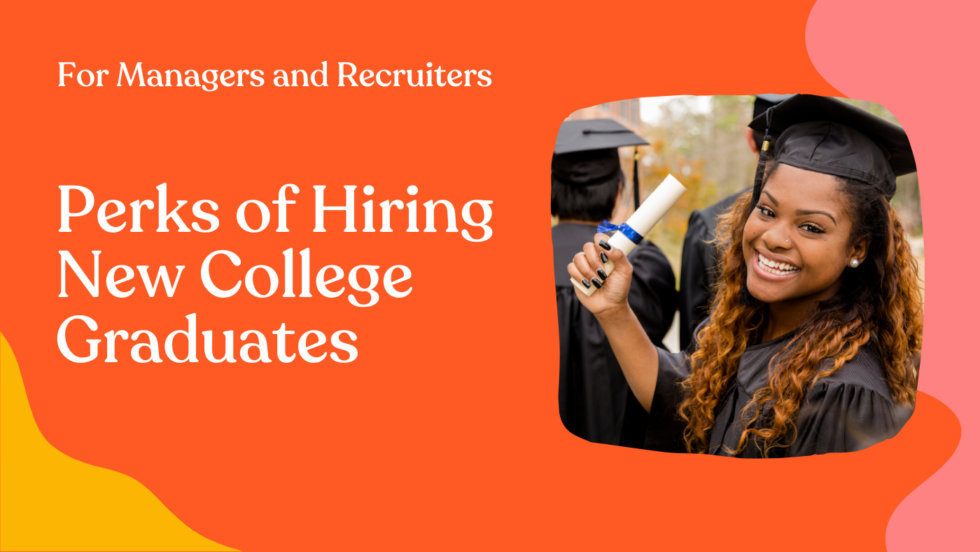 There's a common misconception among hiring managers and sales leaders that they can only build successful sales teams with experienced SDRs. We're here to tell you not to fall into that line of thinking — limiting your hiring to experienced candidates may cause you to miss out on the goldmine that is recent college graduates.
We know what you're thinking. Those fresh out of college are so young, with so little job experience, and they come with a learning curve that'll slow your team down more than you can afford. But what if we told you that recent graduates can be a boost to your team? What if embracing that learning curve could save you both time and money? Let's dive in.
Recent grads offer a fresh perspective
This one's pretty cut and dry. Recent college graduates come with generational differences that, when embraced, can add vital insights to your team and sales strategy. These hires bring an acute awareness of cultural trends and — since they don't yet have a set-in-stone way of doing things — can offer fresh ideas and innovative methods to advance the goals of your team. The key here is to encourage these employees to speak up and share their ideas, and to foster a workplace culture in which they feel safe to offer different perspectives. 
Recent grads have more transferable skills than you think
When we think outside the box, we're able to see how many non-traditional backgrounds lend themselves to a career in sales. Though it may not appear so on their resumes, recent college graduates often have a plethora of experiences and characteristics that are easily transferable to the SDR role. 
As a sales leader, you want someone who's coachable and willing to put in the work to reach individual, team, and company goals. What better person for the role than the former college athlete with an unmatched work ethic and competitive spirit? Or maybe you're focused on bringing in SDRs who are already skilled at cold-calling. Consider the recent graduate who worked in the alumni call center to make some extra cash; while this person may not have direct sales experience, they've built up their confidence talking to strangers and presenting information in a clear and concise manner. 
With this mindset, it's easy to see how entrepreneurship minors can bring an innovative voice to your team, or how business fraternity or sorority members may already be equipped with a strong professional network that could be crucial to closing your next deal. All of this is to say recent college graduates often have experiences and connections that make them well-suited for a sales position after graduation. 
Leaning into the learning curve is a win-win
Still, there's the issue of bringing new SDRs up to speed efficiently, and sometimes the inevitable learning curve that comes with hiring new college graduates can seem like too much to handle. 
Here's the thing: as long as someone has the right personality and drive (and a few of the transferable skills mentioned earlier), they can easily learn the sales-specific processes they need. Take it from us and the hundreds of candidates who have completed our Apprenticeship! Cold-emailing, prospecting, setting meetings — all of these things are teachable.
Additionally, recent college graduates are more flexible and adaptable, without a fixed working style. Consider this an opportunity to help mold promising talent into high-performing SDRs. And you don't have to do it alone. 
Vendition can help you source high-quality candidates and, once hired, support you in mentoring them and guiding them smoothly into the world of sales through our Apprenticeship model. Not only do we save you time, we also save you money and minimize your risk as a hiring manager or sales leader. If you're ready to take your sales team to the next level, connect with us! We'd love to help.