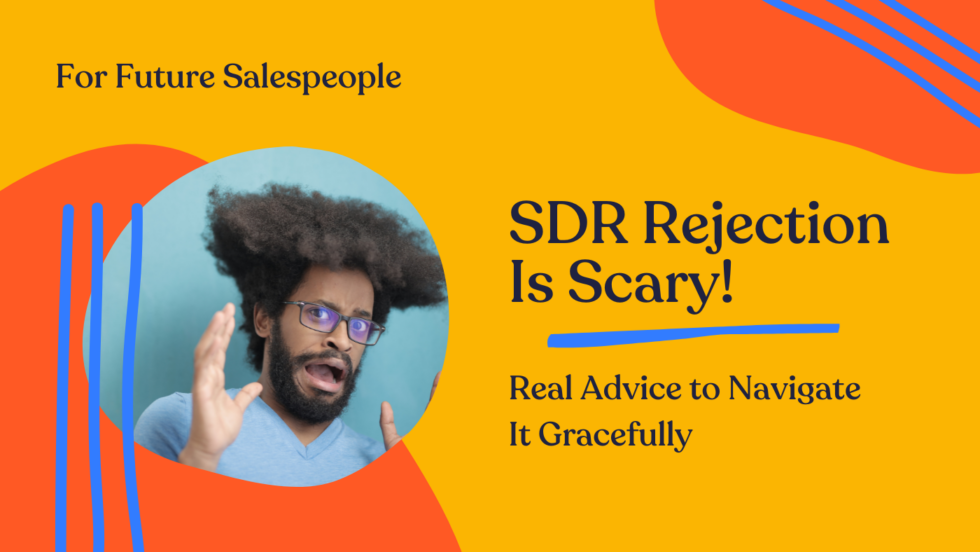 The idea of being rejected by prospects in your role as a Sales Development Representative (SDR) may sound scary at first, but that fear shouldn't stop you from pursuing this rewarding career path. SDR rejection is a natural part of the job that will challenge you as well as provide you with multiple opportunities for your growth. The SDR role requires a lot of outreach and communication to different people, and it's reasonable to expect that your solution won't be right for everyone.
Getting to a place where you can view rejection as a constructive part of your job is possible, and we're here to offer you some positive encouragement along the way!
We chatted with five professionals who have varying levels of sales experience who offered their advice to help you manage expectations around sales rejection and overcome it:
Read on to uncover sales insights on how rejection felt the first time they experienced it versus now, how they've learned to navigate it, and their best advice for overcoming fear.
On SDR Rejection Then and Now: How Does It Really Feel?
Our sources admit that their first experiences with rejection during cold calls stung, but your relationship with rejection in the SDR role will evolve over time. Here's what we learned:
"The SDR role consists mostly of rejection, so my first time experiencing it was my first day prospecting. It felt personal at the beginning, now it feels like just part of the job." –

Alexandria Morales, SDR at Vendition

"My first few calls as an SDR, I got hung up on. That was fun! It was honestly a little bit shocking but I just kept smiling and dialing. Now it's a 'They must be busy, I'll call back tomorrow.'" –

Leonard Matlock, SDR Manager at Limble CMMS
"

The first time I experienced rejection as an SDR was during my first week prospecting. Getting into sales, I knew rejection was a huge part of it but that first 'No' is hard for everyone! It felt discouraging, but after talking with my peers and manager, it uplifted my spirits and every day since then I have gotten better and better with rejection. Getting rejected now does not discourage me but drives me to work harder and keep pushing through!" –

Morgan Herzer, SDR at Vendition

"In February of 2020 I made my very first cold call as a Vendition SDR. I was completely freaked out that my prospect answered, my nerves got the best of me and the prospect said 'You f*cked up your cold call' and hung up on me. It felt awful and I wanted to cry! I took a deep breath in the coffee room, came back, talked to my manager and got some really good advice about how to handle the next one. Now that I am an expert cold caller, rejection feels like water off a duck's back, and simply serves as a guideline on how to improve the next time." –

Penelope Yamauchi, Director of Candidate Experience at Vendition and former SDR

"The first time I experienced rejection I was making cold calls with my manager. I stuttered my way through the opener and the guy hung up on me. Ouch. It felt f*cking horrible. My stutter has always been an Achilles heel and this was it telling me that there was no way I'd be a successful SDR. Now, I'm a lot more comfortable cold calling. Much of the anxiety is gone, but the stutter is still there. The difference now is that I call it out with 'Apologies, I stutter sometimes.' Nice prospects say, 'Hey, no worries!' Others say nothing. One or two hang up, but you just need to work through it. The happy ending here is when you book a meeting on a call that you stuttered your way through (exactly how my first meeting was booked). The hard ones feel better afterwards, trust me." –

Yehuda Wexler, SDR at Augtera Networks
Main takeaway: Being rejected when prospecting is challenging at first, and unfortunately some prospects can be less than nice when expressing their disinterest in your cold call, but great SDRs have the grit to keep moving forward and frame each rejection as an opportunity to learn. Give it time.
On Navigating SDR Rejection with Grace: What've You Learned?
To elaborate on this conversation, our sources shared their experiences with rejection with the common theme of gaining wisdom every time they heard the word "no":
"I learned to embrace rejection and move on. You can't take it personal, it's part of the job. When a prospect rejects you, you are still able to walk away learning something about the company." –

Alexandria Morales, SDR at Vendition

"Honestly, on to the next one. There will always be someone who hangs up on you, says 'no' or isn't interested, but all you need are those few prospects to say 'yes' or 'tell me more.'" –

Leonard Matlock, SDR Manager at Limble CMMS

"I have learned that navigating rejection with grace is the best way to take rejection. Being resilient and knowing that a huge part of sales is rejection makes it easier to handle and not take it personally." –

Morgan Herzer, SDR at Vendition

"I've learned that people are all different, they have good days and bad days, and many of them are working from home with kids at home. Knowing this makes me feel empathy for their situation and if it's not a good fit for a meeting, it probably means they don't have enough pain for us to solve their problem, they aren't the decision maker, or my approach needs to improve." –

Penelope Yamauchi, Director of Candidate Experience at Vendition and former SDR

"Rejection is a step on the way to success. Ever booked a meeting with someone after they brushed you off on a previous call? Cloud 9. Rejection isn't about you. You have no idea whether the person you just called got broken up with that morning or lost a friend. Make your dials. Pitch your pitch. The ones that bite, bite." –

Yehuda Wexler, SDR at Augtera Networks
Main takeaway: Practice empathy to avoid taking sales rejection personally, as it is a natural part of your job as an SDR and your attitude towards it is vital to your success. Keep moving on and remember that more positive interactions with the right prospects are coming your way.
On the Fear of SDR Rejection: Best Advice for Overcoming It?
If a dread of rejection is keeping you from pursuing a sales career, you're underestimating your ability to adapt and rise above it. At the end of the day, we overcome fears by facing them and often find greater rewards on the other side of the process. Their best parting advice for you is:
"Don't take it personally… and detach yourself from the outcome. If you are putting in the work, you will progress. Rejection is part of sales." –

Alexandria Morales, SDR at Vendition

"When people give you a rejection, remember, it's not to you, it's to the product. Don't attach yourself, your emotions or feelings to the product. A 'no' is only a way to a 'yes' sooner than later."  –

Leonard Matlock, SDR Manager at Limble CMMS

"Some advice for someone who is scared of rejection who is pursuing an SDR role would be to not take the rejection personally because when you finally get that yes, it makes all the no's worth it!" –

Morgan Herzer, SDR at Vendition

"Practice, practice, practice. Think about anything you do well and ask yourself, how good was I at this one thing before I tried the first time and how long did it take me to become an expert. Deep breaths, a morning routine, and a workout schedule usually help me alleviate the nerves surrounding rejection as well." –

Penelope Yamauchi, Director of Candidate Experience at Vendition and former SDR

"If you're scared of rejection, get over it. I saw an awesome

Ted Talk

about someone who put himself into positions to be rejected for something like 100 days straight. Rejection doesn't make you less of a person. Get used to it. Grow a thick skin. You'll be a stronger person." –

Yehuda Wexler, SDR at Augtera Networks
Main takeaway: Making progress takes consistent practice and you can't allow fear to be in the driver's seat when it comes to achieving your SDR goals. If our sources have hammered home one clear piece of advice, it's that taking rejection personally in your SDR role will only slow you down. Overcoming the big "No" from prospects is part of your path to experiencing the big "Yes."
Get Help Breaking into Tech through a Paid Sales Apprenticeship
At Vendition, we believe the best way to learn sales is by doing it, and we want to help you overcome your fears and break into a tech sales role with confidence. Our 12-week Sales Apprenticeship training program is a unique opportunity for motivated individuals to gain real on-the-job experience as a new SDR while getting paid to learn! 
We are devoted to making the tech sales career path more accessible to professionals from all walks of life through free sales training, mock interview coaching, job support, and much more.
To apply for Vendition's Sales Apprenticeship, create a New Candidate Profile today.