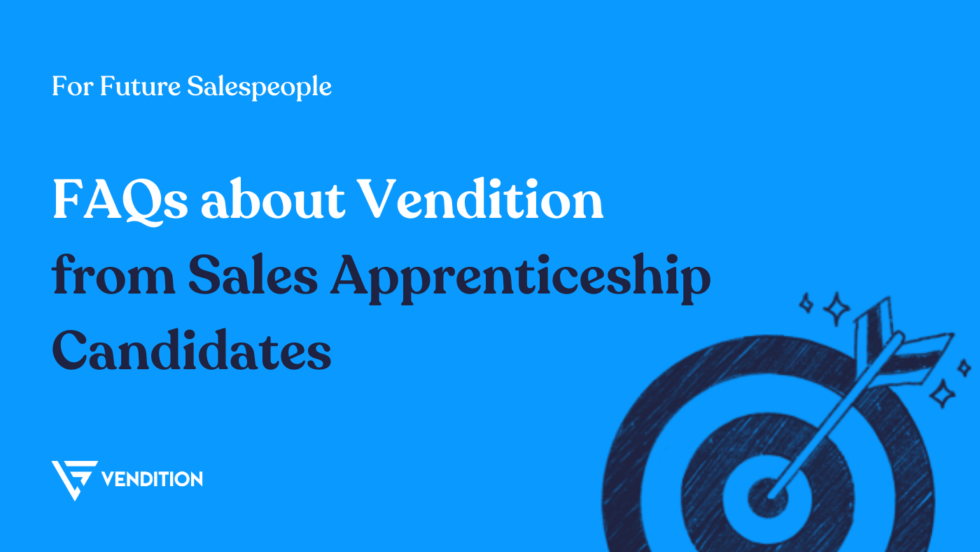 Curious what Vendition's Sales Apprenticeship is all about? You're in the right place. We've compiled a list of our top Frequently Asked Questions (FAQs) paired with helpful resources so you can find the answers you're looking for and feel confident that Vendition's Apprenticeship is right for you!
1. What is a Sales Apprenticeship Program?
A Sales Apprenticeship Program is an exciting opportunity to combine paid work with on-the-job training! Apprenticeships allow a career pathway for motivated job seekers who want to gain relevant work experience while getting paid to build their skills in a specific industry. 
Check out our blog What is a Sales Apprenticeship? Get Paid to Learn Sales On-the-Job.
2. I don't have prior sales experience – could a tech career be right for me?
Yes! Whether you're a career changer, new college grad, or anything in between, we can help show you how your current skills and traits can be applied to a new career in tech sales. A college degree or prior tech experience is not required to apply to our program. Motivation is.
Read 7 Fast Signs that You Should Consider a Sales Career to understand what we mean.
3. How much are Vendition Apprentices paid during the 12-week program?
Accepted Apprentices earn $3,000 monthly while learning the fundamentals of sales on-the-job at a real tech company, for a total of $9,000. We are passionate about tuition-free learning, meaning that our Sales Apprenticeship Program comes at no cost to you.
That's right, we said free and paid. You will never be required to sign an ISA or pay us a dime.
4. How many Vendition graduates get hired full-time after the Apprenticeship and how much money are they making?
Accepted Vendition Apprentices get hands-on experience working as a Sales Development Representative (SDR) with one of our partner companies. After completing the 12-week Apprenticeship, over 9 out of 10 Apprentices are offered full-time employment and report earning an average annual income of $78,570 OTE. Our goal is to set you up for long-term success!
Learn more about What Tech Sales Development Reps (SDRs) Actually Do on-the-job.
5. I want to apply! What is required to create a Vendition Candidate Profile?
That's great! To kick off your application to our Apprenticeship, you'll be asked to create a new Vendition Candidate Profile. This will require you to provide your first and last name, email address, and create a password to access our career hub.
To become an official candidate, you must log in and complete your profile.
For us to consider your profile "complete," fill us in about your education/work history, where you want to work, and traits you identify with. You'll also create 2 casual introduction videos using the tools in the Profile.
Pro Tip: Be yourself in the videos! Submitting them will get your application on the fast track. For the first video, we'll simply ask you to tell us more about yourself so we can get to know you. For the second, you'll have 5 prompts you can choose from, such as "What motivates you?"
Believe in yourself, you've got this! Start your application here.
6. I created a Vendition Candidate Profile – what happens next?
We're here to help you land your dream job. First, our dedicated team of Career Advisors will review your profile to determine if you're a fit for a Sales Apprenticeship. Candidates who are selected to move forward will be contacted to meet with a Career Advisor for an introductory interview. Bring your best communication skills to this interview! 
Alternatively, if we do not have an opportunity we will reach out with additional resources to help you with your career journey.
After the introductory interview, we can start the process of matching you with potential employers based on your interests. You can choose who you want to interview with, plus we'll help you with expert mock interview training from coaches ready to help you succeed. 
Lastly, once hired/placed at a partner company, you'll start your Apprenticeship with additional coaching and resources from Vendition! Your Apprenticeship begins on Day 1 at your new job.
Learn more about Your Support Network at Vendition's SDR Apprenticeship Program. 
7. Where can I find more reviews of Vendition's program?
We know our Sales Apprenticeship model is unique, and it works, but we won't ask you to take our word for it. There are lots of great Vendition reviews out there from our real alumni! 
We encourage you to read reviews, hear alumni testimonials like Max's below, visit our Glassdoor, and find us @govendition on social media.
8. I created a Vendition account before April 10, 2022, but I can't seem to login in now. Why?
And now, for a bit of housekeeping! We launched an exciting new platform and we moved your account over, but you'll need to reset your password the first time you login into the new platform. To access your account from our previous system: 
Reset your password at:

https://candidate.vendition.com/forgot

Login using that password at:

https://candidate.vendition.com/login

Select "Option" in Dashboard to Explore Bootcamp
9. I already told you where I want to work and sent my resume in my old account, do I have to do that again?
It's possible. We apologize for the inconvenience! When we launched our new career matching platform, we weren't able to transfer some of the information we had prior to April 10, 2022, so we may need you to re-provide some of that information if you created your account prior.
We encourage you to revisit your candidate profile and update any existing information.
10. I'm having trouble accessing my Vendition Learning Environment.
We're sorry to hear that. If you had a Vendition Candidate account with us before April 10, you'll need to reset your password. Once you reset your password and login, click the option to Explore Bootcamp and you'll be sent to the Vendition Learning Environment (Canvas, LMS).
If issues persist, please contact support@vendition.com. 
11. I reset my password but I still can't login…
Shucks. Please contact support@vendition.com so we can get you back on track!
Have More Questions About Vendition's Sales Apprenticeship?
We hope this has been helpful. Don't see the answer you're looking for? We're on standby to answer any more questions you may have. Send them our way via support@vendition.com.
To learn more about Vendition, you can also read our blog or visit Vendition.com.