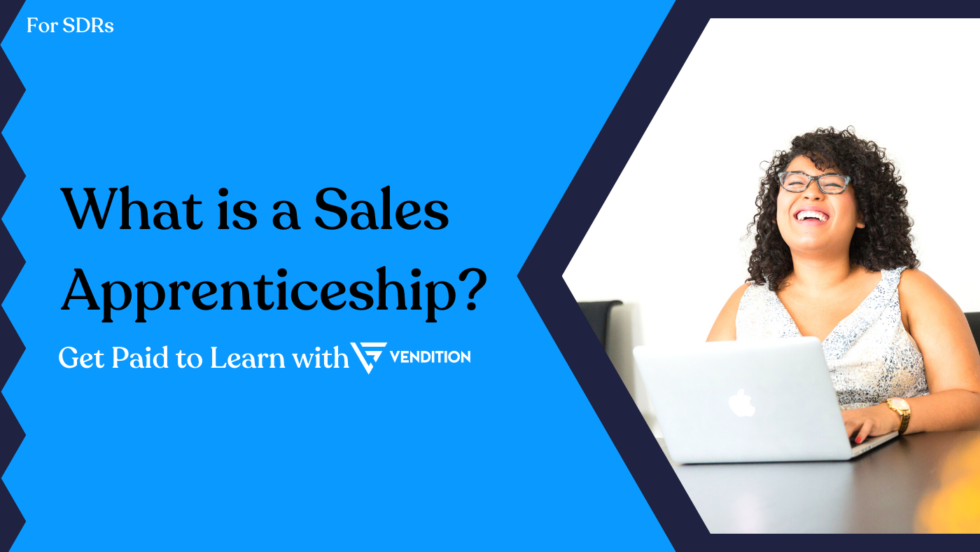 How do you land a job in a new industry that requires experience, when you don't have any? Enter: apprenticeships. The apprenticeship model has a long history; it originated in Europe in the Middle Ages and adapted to trade professions in the U.S. in the early 1900s. As a career development model, an apprenticeship combines a paid job with on-the-job learning and certification. 
Apprenticeships allow a career pathway for motivated job seekers who want to gain relevant work experience while building their skills in a specific industry. When you first think of an apprenticeship, industries that may come to mind could be anything from construction and engineering to tattoo art and cosmetology. Apprenticeships have evolved into various industries, now including sales. 
Vendition's sales apprenticeship – known as a Mentorship – prepares passionate jobseekers for in-demand, entry-level sales positions for companies selling software. To be considered, you do not need to have prior sales experience. We believe sales talent comes from a variety of backgrounds as long as you are hungry to succeed in sales.
Read on to learn about the opportunities a Mentorship can offer – you could be a great fit!
How to Launch a Tech Sales Career with a Paid Mentorship
Vendition is the voice of reason in a marketplace full of hungry jobseekers who are, all too often, presented with career growth options that require taking on debt. We found another way, and it works. Vendition focuses on helping to train, hire, and mentor a motivated workforce of Sales Development Representatives (SDRs). Our goal is to set you up for success and full-time work! 91% of our Apprentices are hired for full-time employment at the end of the Mentorship, and earn an average salary of $82,000 OTE. 
And the Mentorship is at no cost to candidates, as Vendition believes in tuition-free learning and is on a mission to help you succeed without sacrificing your financial stability. Program participants earn $9,000 for the 12-week Mentorship program to learn the ins-and-outs of being an SDR.
Whether you are new to considering a sales career, or are facing challenges in landing your first sales job on your own, we can help you unlock your potential in the tech and business services industries.
The first step to pursuing an Mentorship is to create a Vendition candidate profile. This allows us to streamline the process of matching you with our hiring partners to begin the interview process so you can land a job! Read on to learn more about the training breakdown.
What Does the 12-Week Mentorship Look Like On-the-Job?
Vendition knows that the apprentice model is absolutely the fastest and most effective way to bring new sales reps to full productivity. And when starting a new career in sales, that initial support and mentoring while ramping in your new role is invaluable. 
In the Mentorship, you to work alongside your sales manager at your company while receiving personalized support from a Vendition Coach to help shorten your SDR learning curve on sales fundamentals. In addition to on-the-job education, our unique program utilizes curriculum, supplemental coursework, and training developed by renowned sales thought leaders plus personalized one-on-one meetings and daily office hours for you to seek feedback.
The program is broken into 12 weeks:
Week 1: Onboarding Academy 
Get 40+ hours of training focused on sales development and inbound/outbound leads. 

Build skills in emailing, cold calling, social selling and handling objections to start crushing your quota with confidence.

Get support as you learn your company's specific tech stack.
Connect with your Coach in weekly sessions with supplemental materials via an online learning system.

Participate in ongoing group training with other Mentorship participants.

Get additional help during designated office hours and connect one-on-one with Vendition Coaches.

Discuss topics such as prospecting and messaging, objection handling, networking, mental health and developing resilience.
You can watch Vendition alumni testimonials here to learn from those working in sales today on how instrumental Vendition was as they started their role.
Apply for a Mentorship to Secure Your Future in Sales

Let us help you launch your sales career. We find you a job, train you, AND pay you. No cost. No % of your salary. No catch. Vendition helps individuals earn jobs at the largest tech and business services companies, fast growing start-ups, and everything in between. 
Create your Vendition profile here to begin your application!