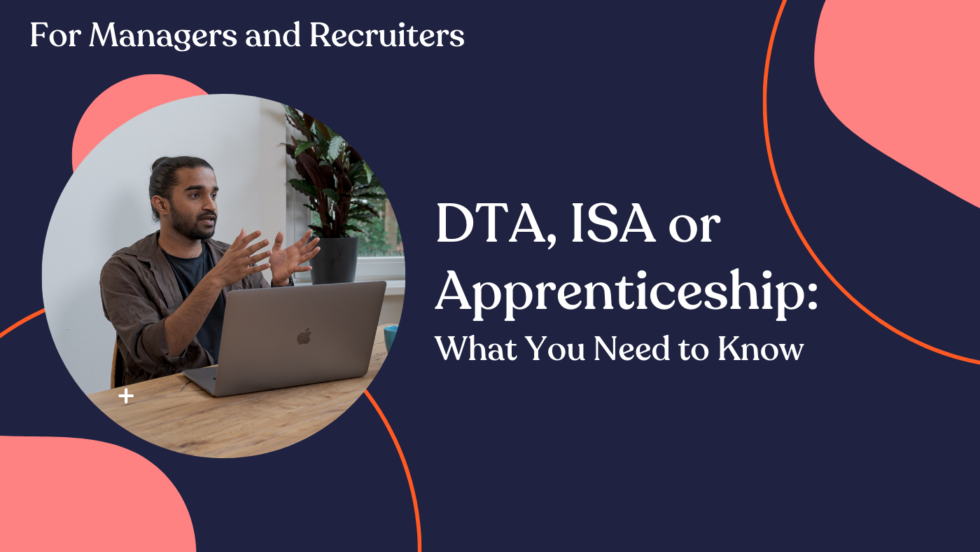 Here at Vendition, we believe that anyone can be a successful SDR so long as they have the right personality, skills and traits. We help make careers in tech sales accessible, especially for those from non-traditional backgrounds and varied socio-economic statuses.
With so many different education models in today's market helping people earn tech sales roles, we wanted to cover how Apprenticeships vary from Deferred Tuition Agreements (DTAs) and Income Share Agreements (ISAs) and the impact they make on your business and finding the right candidate for your SDR role.
Deferred Tuition Agreement
Firstly, both DTAs and ISAs are loans that exist to alleviate the stress of paying tuition for students who can't afford to pay upfront for higher education programs, bootcamps, etc. In both models, students pay little to no tuition unless/until they land a job with a set minimum salary. 
In a Deferred Tuition Agreement, students who graduate from the program into a qualifying position pay a fixed monthly fee for a predetermined amount of time. DTAs do acquire interest, however, and the deferred price usually ends up being higher than the upfront tuition cost.  
Income Share Agreement
An Income Share Agreement is actually a type of Deferred Tuition Agreement, but with different repayment terms. In an ISA, students who land qualifying jobs pay a percentage of their salary to the school or bootcamp for a set period of time. This percentage can be anywhere between 8% and 25%, and the duration may be 1 to 4 years. 
It's also important to note that ISAs remain largely unregulated — each school or bootcamp can set their own terms and conditions (hence the large variation in repayment terms). As with DTAs, those who go the ISA route often end up paying more than the upfront cost of the program. Unlike DTAs, the total repayment amount in an ISA isn't predetermined.  
Vendition's Apprenticeship Model
The thing about DTAs and ISAs is that students bear the brunt of the financial burden. And while they may work for some, these models still isolate and exclude a number of highly qualified candidates who either don't currently have the income to afford a tuition-based program or have already invested heavily in a college degree and are unable or unwilling to add on to this debt.
Vendition's Apprenticeship model breaks the mold; instead of "learn now, pay later," we empower candidates to learn now and earn now. Not only is this good for candidates, it's also great for hiring partners. 
As diversity is one of our core tenants, our Apprenticeship model provides all qualified candidates equal access to the tech industry. This widens the talent pool, allowing hiring managers to cast a wider net and build more diverse teams (and don't get us started on the benefits of diversity in sales). We do the work of heavily screening candidates to ensure that those accepted into the Apprenticeship program come in with the right personality, skills and traits to be successful. We only take the best of the best talent, so that you can be confident and at ease in your hiring process.
On top of this, Vendition's apprenticeship model eliminates risk for partner companies, as an apprentice's full-time offer is contingent on performance and employer satisfaction. We only get paid when an Apprentice succeeds, so we ultimately have more to lose. Companies have 12 weeks to assess work ethic, mindset, culture fit, and performance while the apprentices are learning, growing, and becoming the type of sales rockstars every hiring manager dreams of. 
Are you ready to leverage the power of the Vendition apprenticeship? Learn more.