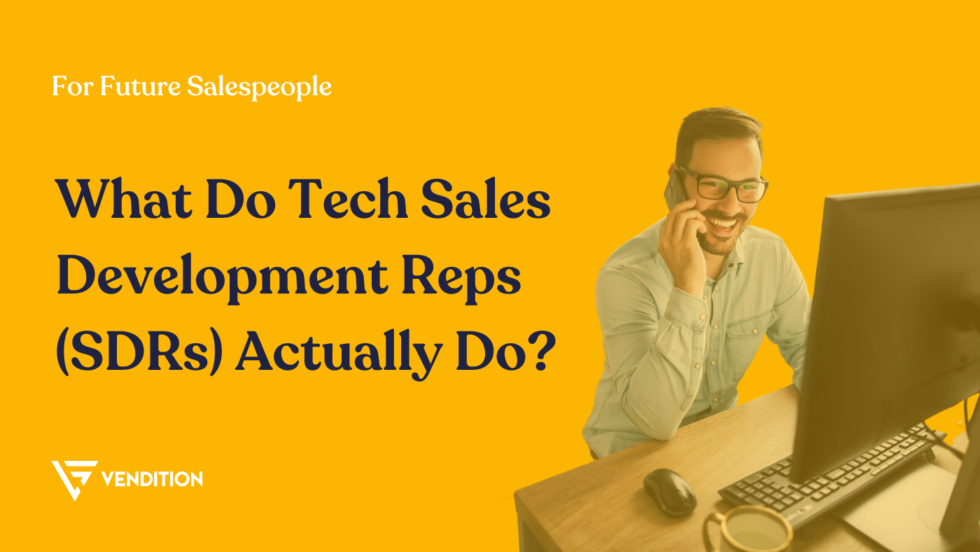 If you're interested in breaking into the tech industry, you might see the term "SDR" thrown around a lot, leaving you with some key questions. Like, what does SDR mean? What do SDRs do on-the-job? Is the SDR career path right for me? How can I become one?
We hear you! Read this blog to uncover a high-paying career path bursting with opportunities for motivated job seekers, even if you do not have prior experience!
What Does SDR Mean in the Tech Industry?
SDR stands for Sales Development Representative (SDR), an entry-level position driving the business-to-business software sales industry. To be an SDR means that you set meetings with prospective customers to help them understand if your company's product can solve their problem. Any company with a product needs a sales development team to help them reach ideal customers, and it starts with hiring SDRs!
Pro tip: You might hear the term BDR, or Business Development Representative, too. Don't worry, these titles are largely interchangeable at most companies!   
What Do Sales Development Reps (SDRs) Do?
SDRs are the conversation starters and problem solvers at the foundation of the sales process. As an SDR, you'll spend time researching various companies on LinkedIn and in other places with the goal of setting up meetings. Every business has an ideal customer, so you're trying to set as many meetings as possible with the companies who are the best fit for your own product. The research process helps you determine which companies fall into your Ideal Client Profile (ICP), as those are the companies you'll benefit most from spending your time reaching out to.
Through research, you'll learn more about a company's size, goals, pain points, and potential budget. Most importantly, what do they need right now? How can your product solve that need? Without fulfilling the customer's needs, there can't be urgency or value creation, which is essential to driving the sales process forward. You'll also aim to know who the key decision makers are at the company in advance. Lots of effort is wasted pitching to the wrong person, so it's important to find the right person with the authority to make buying decisions. These are usually mid-level to senior managers and executives, rather than entry-level roles at companies.
On-the-job, you'll reach customers by doing cold calls, writing personalized emails, and getting creative with other outreach methods. You and your manager will work closely together. The meetings you set lay the groundwork for the sales process, in which the 'leads' you bring in hopefully convert to paying 'customers,' which brings in revenue for your growing company.
To note, not every ideal customer will be ready to do business with you right away, and that's okay. You'll build keen insights and tap into your problem solving skills to set timelines and establish the right time for your solution, help set realistic expectations, and not drag it out. Continued follow-up is an important part of being an SDR, you have to be intentional and determined without being pushy or disrespectful in the process. It's a challenging, rewarding job! 
In practice, you might see the SDR role at a company segmented into Inbound SDRs and Outbound SDRs. Here's the difference: 
An

Inbound SDR

connects with leads from the Marketing team; these leads are individuals who filled out a form, responded to email, commented on a social post and visited a specific page on the website.

An

Outbound SDR

creates new sales opportunities on their own by identifying companies and people that fit their Ideal Client Profile, then reaching out through cold calls, emails and strategic LinkedIn outreach
Ultimately, the meetings you set are handed off to an Account Executive (AE) so they can meet with the prospective customer to make the sale. Then, you celebrate as a team! 
Is The SDR Career Path Right for Me?
Once upon a time, a college degree and years of relevant experience were expected from all entry-level sales applicants. But in today's tech sales world, while a degree is great, it is not indicative of whether you'll be successful in sales.
What does show sales leaders that you have potential to succeed at their tech company is often determined by your current attitude, soft skills, past experiences, and willingness to learn. SDRs use skills like curiosity, active listening, organization, intentional relationship building, and fun rapport to do their jobs well.   
Are you coachable? Are you driven? Have you ever worked in retail, hospitality, healthcare, teaching, led a project, been on a sports team, built a family, or started a club? Do you crave financial stability and desire a job where your earning potential is tied to performance? Have life's curveballs built your grit, tenacity, and ability to persevere in life and work? These are all green flags that a career in tech sales could be right for you! 
And once you land an SDR role, it creates a pathway for further career development. You'll be working daily to build relationships, collect feedback, and improve your process. SDRs who do their jobs well are often promoted to lucrative AE positions within 12-24 months! From there, people who become AEs have opportunities to pivot into sales management and other roles.
For more on this, check out 7 Fast Signs that You Should Consider a Career in Tech Sales.
Get Free Training to Become an SDR Through Vendition's Sales Apprenticeship
Don't let mysterious acronyms or daunting sales jargon fool you into thinking you'll fail – our team of passionate career advisors and sales coaches are here to help you make sense of it all. 
Vendition's Sales Apprenticeship Program program can help you become an SDR through a combination of experiential learning and paid training. We'll teach you everything you need to know about how to leverage your current skills, build new fundamental sales skills, crush interviews with hiring managers, and break into your first tech sales role with confidence.
We help you get hired, gain real on-the-job experience at a tech company over 12 weeks, AND we pay you $9,000 while you learn. After the program, over 9 out of 10 Apprentices are offered full-time employment and report earning an average annual salary of $78,570 OTE.
If this piqued your interest, seize the opportunity and apply to become a Vendition Apprentice to further your career as a potential SDR.
Hear Real Vendition Reviews From Current SDRs
To hear about our program from real people who have gone through it, check out a couple reviews below. You can see more reviews here.
 "Vendition's hands-on training made such a difference. I feel so prepared to go into a career now in tech sales. I did not think I was going to enjoy cold calling but I actually do. It's exciting, and now that I've grasped the product that I'm trying to sell, I find that it's like a game. It's a chance to level up, get better, learn more and have great conversations with people." –Max McEwen Alumni Review
"Vendition really helped with the interview process. I didn't know what being an SDR (Sales Development Representative) was, I'd never heard of one before. They really established a stepping stone for me and helped in that aspect and especially the transition from [The Cheesecake Factory] to my current job, they've been phenomenal."  –Brianna Collins Alumni Review
Take the first step to becoming an SDR with a promising career in tech when you apply to become a Vendition Apprentice today.