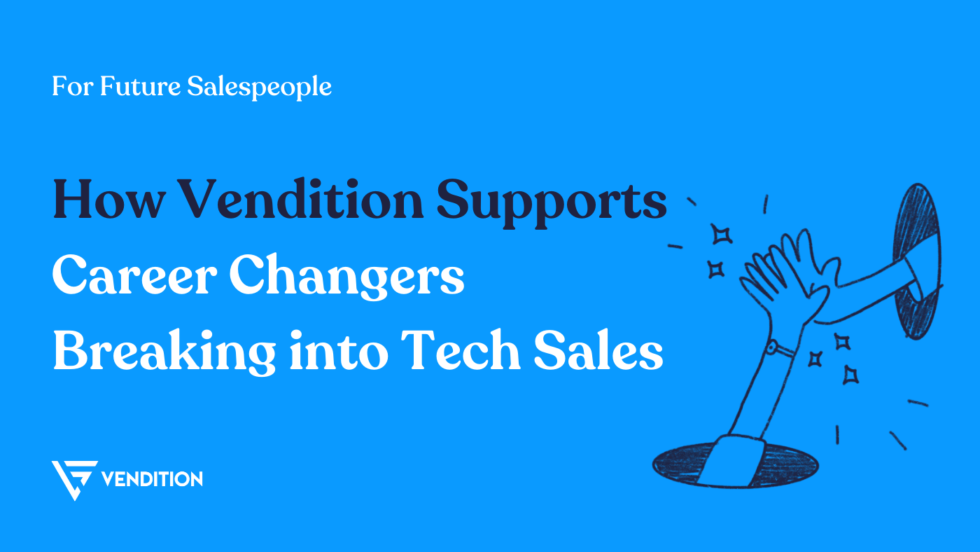 Switching to a tech sales career can be a positively life-changing choice for anyone from burnt-out teachers to bartenders craving stability. Quality entry-level sales candidates are in high demand, and the Sales Development Representative (SDR) role offers an efficient and lucrative entryway for career changers who desire to break into tech.
Career changers who find success breaking into tech come from a variety of other backgrounds and industries, such as working in hospitality, classrooms, retail stores, car dealerships, fitness centers, and door-to-door sales. Believe it or not, you do have valuable transferable skills from your previous jobs that can help you succeed – you just need to know how to tap into them!
Thinking about changing careers? Read on to learn how Vendition can support you for success.
6 Reasons You May Still Feel Hesitant About Changing Careers 
Considering a career change can feel both exciting and daunting, especially if you aren't sure where to take your current skills. Fear not – the tech industry is thriving with opportunities for all! While teachers, nurses, and retail workers might not immediately make the connection between their current job and the tech industry, they have desirable skills that can be transferred over.
If you are a clear, concise communicator and consider yourself to be curious and coachable, you're already ahead of the game. If you can engage a group of students to learn something new, upsell a drink as a bartender, or manage a front desk of customers, you can sell software.
Yet, many of the qualified individuals we speak with aren't confident that the tech industry is right for them. These are just some of the common thoughts on why you can't go for a tech role:
You have limited experience in a field where entry-level jobs say "experience required."

You've never applied for a tech sales job before or have, but struggled to land interviews.

You feel unsure of how to apply, what to prepare, or the best steps to take for success.

Your friends and family have limited experience with sales or the tech industry.

You earned a

college degree

in a different field you don't like, but aren't sure what to do.

You need to maintain an income and don't have enough time to apply for new jobs.
Spoiler alert: These are not dealbreakers!
If this resonates with you, keep reading to learn how Vendition can help you change careers. 
Vendition Offers Free Training to Find You a Tech Sales Job!
When considering a tech sales career, Vendition's revolutionary 12-week Sales Apprenticeship allows a streamlined pathway for career changers like you who want to further their education and get the necessary experience to succeed as a new SDR. If you're unsure how to interview for a role that you've never had in an industry that's new to you, well, that's what we're here for!
We match you with companies looking to hire, get job interviews scheduled on your calendar, and prepare you to succeed with interactive mock interview coaching, resume tips, LinkedIn support, and confidence-building tips to help you apply the skills you gained in your previous work to a future tech sales career.
Our devoted Career Advisors and Coaches are on standby to give you the sales training you need to earn a job in the competitive world of tech. The best part? This comes at no cost to you.
Vendition Pays Sales Apprentices to Gain On-the-Job Experience
At Vendition, we believe in tuition-free training AND nurturing financial stability among our candidates, which is why we pay our Apprentices to learn. 
Once you've rocked the interview process and been accepted as a new SDR by one of Vendition's partner companies, your Sales Apprenticeship kicks off. You'll be working full-time at a real tech company learning weekly fundamentals of sales in your new role, getting hands-on experience, and benefiting from the guidance of your Venditon mentors.
We stay with you for the first 12 weeks on-the-job to make sure you're hitting your quota and fitting into the new company while giving helpful advice and coaching every week. 
The best part? Vendition's Sales Apprentices get paid $9,000 total to learn sales over the 12-week program.
Vendition Sets Career Changers Up for Long-term Success
Completing Vendition's 12-week Sales Apprenticeship is only the beginning, as our goal is to set you up for long term success and stability in your new sales career. We're happy to report that after the program, 9 out of 10 graduates are hired full-time at an average annual income of $78,570 OTE with boundless earning potential as they look to the future.
Plus, after graduation, you gain access to our vibrant, well-connected alumni community, full of diverse professionals who are similarly navigating new careers. Support is abundant! You'll have the chance to connect with fellow career changers, continue building your network, and gain access to exclusive opportunities to continue learning, developing and honing your skills. Vendition can help you change careers with confidence, and provide community for life.
Ready to Change Careers? Create a Vendition Candidate Profile
Vendition's Apprenticeship connects with motivated individuals who have an overall interest in sales. Create a New Candidate Profile at Vendition.com to start the application process and take the first step in getting matched with our 500+ high-growth hiring partners.
"Vendition brought me to my dream job. I was working in a storage facility right after working in insurance right after working in hospitality and I needed a change. Vendition really bridged the gap to make sure I knew what I was doing going into my role." –Zachary Hamel Alumni Review