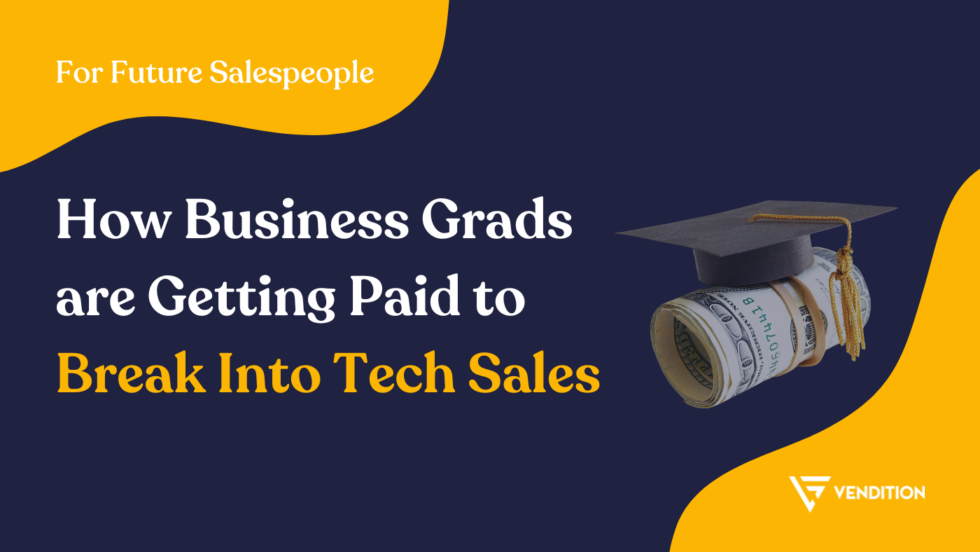 Are you a recent business grad or someone who is approaching college graduation? Here's the thing: Taking your first leap into the professional world after college can feel overwhelming for anyone, especially someone with an entrepreneurial mindset ready to hit the ground running! 
Growing up, many of us are taught to believe that the biggest hurdle to success is getting accepted to college and graduating. But in reality, a college diploma doesn't necessarily translate to a job guarantee, no matter which industry or field you chose to study. 
So where is a motivated college graduate to turn when they're ready to transition from pursuing their education to pursuing their career? Enter: Vendition's paid 12-week Sales Apprenticeship, an opportunity to bridge the gap between your degree and the first step on your career path. 
If you're interested in a tech industry career but aren't sure how to best apply your hard-earned business degree just yet, you're in the right place. The corporate world is made up of a diverse workforce of tech Sales Development Reps (SDRs) from a variety of backgrounds, but today we'll focus specifically on how Vendition has helped fellow college grads who studied business. 
Read on to learn more about how business and finance majors who were once in your shoes took the leap into pursuing a tech sales role with Vendition and the success they've had.
Vendition Provides Real Direction When You're at a Crossroads
One of the comments we hear often is "can Vendition be real?" Yes. We get it, having someone help you find your first real job out of college at such an important time in your life seems too good to be true, but it's possible. Our passionate team of career supporters has helped hundreds of business degree graduates navigate landing their first job.
At Vendition, we've found those who studied business or finance have skills that are especially valuable in tech sales, such as strong communication, critical thinking, financial intelligence, creative problem solving, and innovation, which can help you stand out.
Amanda Porter, who studied business administration and now works as a BDR at Guidance, felt that Vendition was the reason she earned her first job:
"I joined Vendition because I graduated college and was interested in entering the tech sales field, but didn't know where to begin…I felt like I needed more professional training before diving into a job, and it's been great. Vendition helped me land my very first job. They opened doors for me that I could not have gone through if I had pursued that position straight out of my undergrad with little working experience. It helped me to hone my skills." 
These same thoughts were echoed by Maximilian Petersen, another business administration major who now works at BlackLine as a BDR:
"I joined Vendition because I was at a crossroads. They helped me right out of school…I thought I could get an SDR position with a company with no relative experience within the software sales industry, and I was incredibly wrong. It's a very tough job to get into. It's a grind, but Vendition really provides you the skill set you need to get where you want to go."
Vendition Helps You Become a Rockstar Tech Sales Interviewee
How you approach interviewing for your first professional job in the tech industry should differ from how you approach interviewing for past jobs. As a business grad, you're coming out of school with a ton of knowledge around economics, accounting, basic marketing, and management principles, but no real experience applying your skills in the professional world.
At Vendition, we've learned through dedicated mock coaching with our Candidates that even the most confident interviewers always have room for improvement. Thankfully, we're up to the task! We love giving you inside tips to crush your sales interviews and put your skills in the spotlight. 
Kim Nguyen, a Senior SDR at Postclick who studied business in college, shared that Vendition's help made all the difference when it came to understanding real-world sales to land a job:
"My Relationship Manager helped me prepare for the interviews by reviewing questions that a company may ask…I was under-prepared for my previous interviews before joining Vendition because I had no idea what real-world sales was like. Even if you do research, experiencing it firsthand is different. I learned a lot of new things." 
For Yehuda Wexler, an SDR at Augtera Networks who studied business and finance, he says Vendition exceeded his expectations:
"Vendition helped me to prepare for interviews in a way I never thought was possible… They gave amazing LinkedIn and resume tips and connected me with amazing companies. I was blown away."
Vendition Helps You Get Your Foot in the Industry Door and Grow
The great thing about becoming a tech sales rep is that it's an entry-level position that catapults you into the tech industry and creates opportunities for you to further advance your career! The SDR role is a gateway into other positions. Once your foot is in the door, you have the chance to showcase your skills and get promoted within sales or other departments at the company.
Maximilian, in his first sales role at BlackLine, believes that Vendition helped him gain access to the growing industry:
"Vendition really did help me get to the next stage in my life and get my foot in the door. There's endless potential where I'm headed… Within this sales industry, the sky's the limit. I can see myself continuously excelling into different positions." 
One possible career path is continuing up the sales ladder, like Peter Samaris. He was promoted from SDR, to SDR Team Lead, then to his current Account Executive (AE) role at Zenefits. He shared: 
"Sales is full of ups and downs, and Vendition helped me cope with that… They taught me that being consistent, trusting the process, and focusing on the little things would pay off. It was a huge tenet that kept everything in perspective that I always go back to whenever I face difficulties in my career." 
More About How Vendition Helps Business Grads Like You
Vendition is passionate about helping college grads like you find direction, increase access to interviews, gain on-the-job experience, earn a great salary, and build confidence in sales roles for the tech industry.
Plus, our tuition-free model for career development is especially beneficial for the many college graduates who are entering the workforce with debt; you'll never pay a dime of your own money, ever, to learn from Vendition. 
Over the course of the 12-week program, Apprentices are paid $9,000; after completing the Sales Apprenticeship, 9 out of 10 Vendition Alumni are offered full-time employment and earn an average annual salary of $78,570 OTE. Have more questions? No problem. Read our FAQ.
What Now? Apply to the Apprenticeship!
The first step to becoming a Vendition Sales Apprentice is to create a New Candidate Profile, think of this as your application. It will help us better understand your goals and see if there are any opportunities with our hiring partners matching your current experience and motivation!