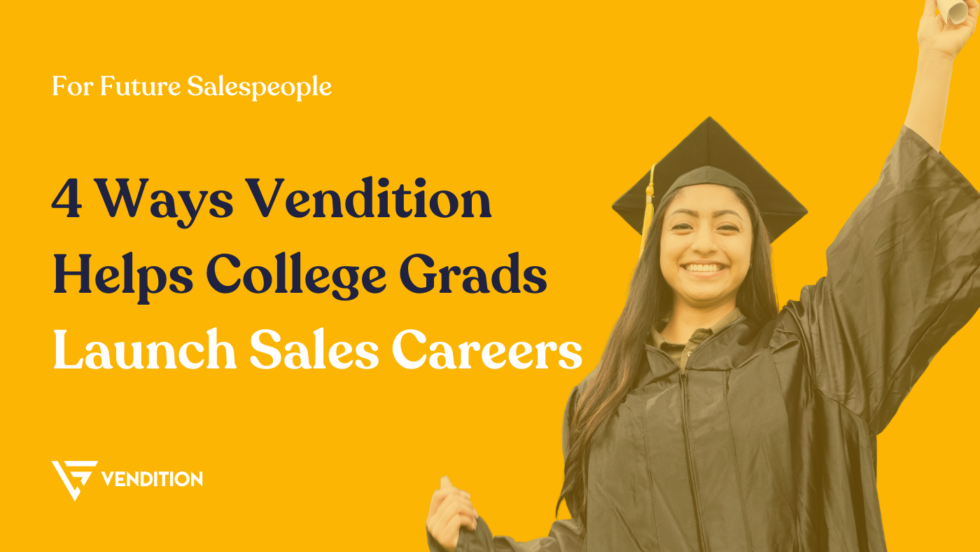 Hey, new graduates! As you approach the finish line of your college chapter, you may be feeling both excited and a little lost as you navigate the rewarding transition to your professional career.
You have valuable fresh perspectives and are great candidates for entry level tech sales roles. Why? You're hungry. You're motivated. You're actively skilled researchers and problem solvers.
Vendition bridges the gap between new college grads and their first big career move with its best-in-class 12-week Sales Apprenticeship Program. We partner with 500+ high-growth companies to help you land your first job as a Sales Development Representative (SDR).
Apprenticeship candidates are connected with hiring companies and then mutually coached, mentored, and trained. All for free! We find you a job, train you, AND pay you. No catch.
Ready to transfer your newfound skills to an industry with high earning potential? Read on. 
1. We Help You Launch Your Career with Confidence
As a new grad, you are embarking on the tech industry with a desire for purpose-driven work like never before. We know you don't want to work for just any company. You want to launch a fun and interesting career with potential to fill your mental, physical, and emotional needs at a company that is making a tangible difference in the world. We don't blame you. We honor you.
At Vendition, we start boosting your confidence through education and practice right away.
We help find you a job – from mock interview coaching and LinkedIn Support to setting you up with companies looking to hire, we do our best to ensure you'll nail your interviews!
We stay with you for the first 12 weeks to make sure you're hitting your goals and fitting into the new company while giving helpful advice and dedicated, personalized coaching every week.
And after the Apprenticeship is complete, you become a member of our diverse Alumni network, so as you progress in your sales career, you have a community of well-connected people (who have been right where you are) to tap for support!
2. You'll Earn a Great Salary – with No Extra Tuition
A tech sales career can be an attractive and lucrative pathway for any college graduate, regardless of the field you earned your degree in. Because here's the thing: a "tech sales degree" from 4-year institutions doesn't really exist. But the tech sales role is in HIGH demand. 
So whether you majored in business, marketing, nursing, psychology, or another field, you graduated with transferable skills – and if you're in the majority, a hefty bit of student debt, too.
For many, graduating from college comes with fear around the reality that it's time to start paying back your loans, making a high-paying job all the more priority. Getting a job with an acceptable salary to meet your needs is a big first step into adulthood and we're here to help. 
At Vendition, we believe in tuition-free learning and offer sales apprenticeships at no cost to you. You shouldn't be punished with more debt for being motivated enough to learn. We get it! 
To ensure you can transition to your first out-of-college job without accruing more debt, we pay our Apprentices $3,000 monthly for the 3-month program while they gain experience on-the-job. This is $9,000 total as you learn the inner workings of being an SDR.
9 out of 10 of our Apprenticeship graduates are offered full-time employment after the 12-week program, and report earning an average income of $78,570 OTE per year.
3. Tech Sales is Accessible to Everyone, No Matter Your Degree
If you're unable to find a job in your chosen field, or completed your degree before realizing your chosen field isn't what you're really passionate about, consider a tech sales career. This industry is full of great opportunities for all, even if it's not the path you originally planned for! Whether you're a new grad wanting to jump start your professional career or a seasoned career switcher longing for change and financial stability, access to tech sales can be life changing.
By the way, when you hear "tech sales," what people are referring to is the hyper-growth field of Business-to-Business (B2B) Software-as-a-Service (SaaS). If you've never worked in tech before, we know that jargon may not exactly click – yet. Essentially, SDRs are sales reps who work to sell a business's software solutions to other businesses. Think about Zoom, for example. 
The software company rose to a household name among all industries in the height of the pandemic, becoming synonymous with video conferencing in a time when we needed it most. While Zoom has free plans, who do you think is selling the pricier ones? Tech sales reps.
It's no secret that joining the growing field of technology is the way of the future. No previous sales or tech experience is required to apply for a sales job, and Vendition's Sales Apprenticeship program offers lifetime skills you carry into your future career.
4. The Tech Sales Path Has High Growth Potential
One of the core motivators for professionals who decide to break into tech sales is that they want to be paid in direct correlation to the effort they put in. We give you the professional mentorship and sales training you need to earn a job in the competitive world of tech sales! 
Becoming an SDR is only the start. This entry level position quickly puts you on track to follow a promotional track such as SDR → Senior SDR → Account Executive → SDR Manager → More!
The earning potential is endless depending on where your personal journey takes you in sales.
When it comes to working in tech sales, you'll get out what you put in. Transferable skills like problem solving, strong communication, curiosity, and a driven growth mindset are great indicators that it won't be long until you find yourself on pace to earning your first promotion.
Resource: 7 Fast Signs You Should Consider a Career in Tech Sales
Vendition and Collegiate Sales Society on Campus
Still on campus working your way to graduation? We have opportunities for you, too! Vendition has a strategic partnership with Collegiate Sales Society (CSS), an organization focused on creating lifelong leaders through sales education, networking, and career opportunities. College students who want to learn more about sales or are considering a career in sales can connect with CSS and be provided with the resources needed to obtain a sales role, including sales training, access to networking events, and competitive internship opportunities.
Start Now, Create Your Vendition Candidate Profile
Opportunity is knocking! Ready to open the door to the possibilities of a future career in tech?
Vendition's 12-week sales Apprenticeship program is ideal for motivated college graduates and anyone who has an overall interest in sales. Reminder: It's free!
Create your Candidate Profile at Vendition.com to take the first step in matching with our 500+ high-growth hiring partners.
Hear a Venditon review below from an alumni who joined our Apprenticeship after graduating college with an interest in entering the tech sales field, without knowing where to begin. "I felt like I needed some more professional training before diving into a job, and it's been great so far."