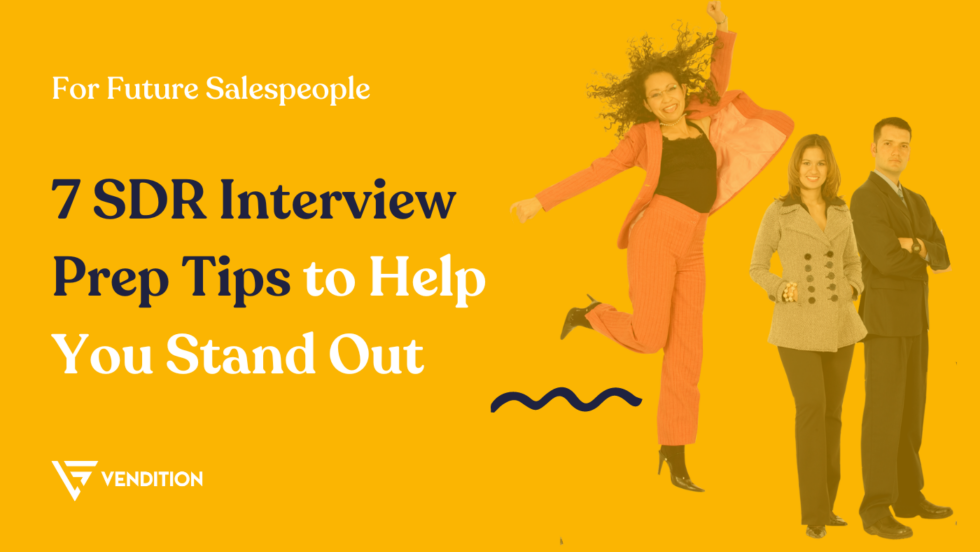 Eager to crush your sales interviews? Get ready to impress the hiring manager during your next interview to become a Sales Development Representative with these SDR interview prep tips! The more prepared you are for your interviews, the more likely you are to stand out from other candidates and land the job. Let's dive into how you can make an outstanding impression.
1. Research the SDR Role and Company
The interview process is an opportunity to let your research skills shine. And trust us, if you haven't done your research on the SDR role itself and the company you're interviewing with prior, the interviewer will know. Beyond demonstrating that you have extensive knowledge of what SDRs actually do on-the-job, it's important to research the company's website and content.
To stand out, get familiar with their product as well as their mission, vision, and values. Take notes on what resonates with you and where your values overlap. Review recent social media posts, blogs, testimonials, case studies, and podcasts for insights to reference in discussion.
2. Research Your Interviewers and Connect on LinkedIn Prior
Landing a tech sales job doesn't begin and end with one interview. It's common to have multiple interviews with different team members at the same company to ensure you're a fit, and each is an opportunity to strengthen your candidacy. A lot of candidates wonder if it's intrusive or overbearing to connect with their assigned interviewers on LinkedIn before the interview, but it actually shows that you're someone who's thoughtful, intentional, curious, and prepared.
To stand out, search the name of your interviewers on LinkedIn prior to the interview and send a connection request. Do not skip the option to add a note! State that you're looking forward to your upcoming interview for X role on X day at X time. While researching each person's LinkedIn profile, take note of three impressive and interesting insights you learned (beyond where they went to school) and prepare to tie some of your observations into the conversation.
3. Prepare Questions to Ask Your Interviewers at the End
All great interviews are a two-way conversation balanced with active listening. You won't only be answering questions, you should be asking them intentionally too. Keep in mind when preparing for the interview that you will be assessing the company you're considering as much as they are assessing you. Getting hired has to be mutually beneficial for both parties. Most interviewers will save time at the end for you to ask questions, which is a valuable opportunity to seize. 
To stand out, prepare a list of questions you can ask the interviewing sales manager that are specifically related to the role or expectations. A couple examples for you: What has the highest-performing SDR on your team done differently to separate themselves from the rest of the team? Can you walk me through your onboarding process and what your expectations are of your SDRs in their first 30, 60 and 90 days? For your non-sales team interviewers, you can be more general and ask questions like: What is your favorite aspect of the company culture here? 
4. Prepare Your Answers to Common Interview Questions for SDRs
While we can't predict exactly what each interviewer will ask you in advance, there are some common questions for SDRs that you should anticipate. Make a point to research and write down how you plan to answer each question, then practice aloud. For example, when someone says "Tell me about yourself" (which they will), it's important to practice answering this question strategically in under 90 seconds, rather than rambling on reiterating the jobs on your resume. 
To stand out, prepare answers to the following 10 questions; these are the ones that we hear companies asking frequently and our candidates telling us you should be prepared for:
Why are you interested in tech sales?

Interviewers want to uncover your core motivations for being drawn to the world of tech sales. Share how tech influenced you growing up and dial into what excites you now (such as earning potential or the chance to help others).

What do you know about our product?

Demonstrate an understanding of the problem the product solves for (lean on their customer case studies in your research to help you speak to how they help).

Why are you interested in working at our specific company?

Share what you like about their product, CEO, core values, or mission.

What do you know about our competitors?

To learn this, you can use tools like Crunchbase and G2 Crowd to research.

Tell me about a time when you showcased being coachable.

In your response, be sure to share a story with a clear outcome.

Tell me about a time you failed to accomplish a goal.

Failure is natural, be sure to relate your response back to what it taught you.

What is one of your weaknesses and how are you working on it?

When answering this question, use a behavioral example.

What objections do you think you'll face in this role?

When speaking to this, include how you plan to overcome these objections.

As an SDR, what are 3 main things you want to excel at?

Such as hitting quota, becoming a top performer, and mastering your time.

What strengths do you bring to the SDR role?

Are you ambitious? Speak to your top traits! Read on for advice on this.
5. Lean into Your Traits to Showcase Your Strengths as a Future SDR
Successful SDRs come from a variety of backgrounds, with many having pivoted to the career from previous roles as bartenders, teachers, personal trainers, mortgage lenders, and more. So while you might think a college degree or prior sales experience holds more weight in proving your potential in the SDR interview, in reality, it's your ability to speak to your traits and relate your past experiences to a future career in sales. It starts with self-evaluation.
To stand out, read 11 top traits of successful tech sales reps to assess what hiring managers are looking for and learn specific ways to play up your most desirable traits in your next SDR interview. You'll learn how to identify and speak to your top characteristics.
6. Game Time! Bring Your Energy and Confidence to SDR Interviews
SDR interviews are exciting chances to get your foot in the door, so it's important to show up with a positive attitude and make the most of each opportunity. Sales is one profession where showcasing your personality works to your benefit, and your interviewers will be clocking the kind of energy you bring to the table. Lean into being your authentic self!
To stand out, arrive at your interviews a few minutes early looking presentable and bring a big smile knowing that your energy will set the tone. Your interviewers want to see your enthusiasm shine through and get a feel for what makes you a unique candidate.
7. Send a Thank You Email to Your Interviewers within 12 Hours
At the end of each interview, you should take a moment to thank your interviewers for taking time out of their busy schedules to meet with you. But don't stop there! You did tons of hard work beforehand to make a quality impression before and during your SDR interview, so be sure to round out your efforts with an additional touchpoint in the form of a thank you email. 
To stand out, send a thank you email as soon as possible after the call (no later than 12 hours – don't make excuses) featuring something specific about the conversation that showcases your active listening skills. It's always best to demonstrate excitement for next steps, and be sure to include your cell phone number and LinkedIn profile in your signature.
Land SDR Interviews with Vendition's Sales Apprenticeship
If you are interested in a career in tech sales but want some additional guidance, we can help! At Vendition, a 12-week Sales Apprenticeship Program built for motivated people who want to break into tech sales, we have our team on standby to learn more about your goals and be your guiding light when it comes to resume and LinkedIn help, landing interviews, mock interview coaching, on-the-job training, and more. We place, train, AND pay our Apprentices! To learn more about this unique opportunity, read our top FAQs for candidates.
To start the application process for our Apprenticeship, create a New Candidate Profile today.