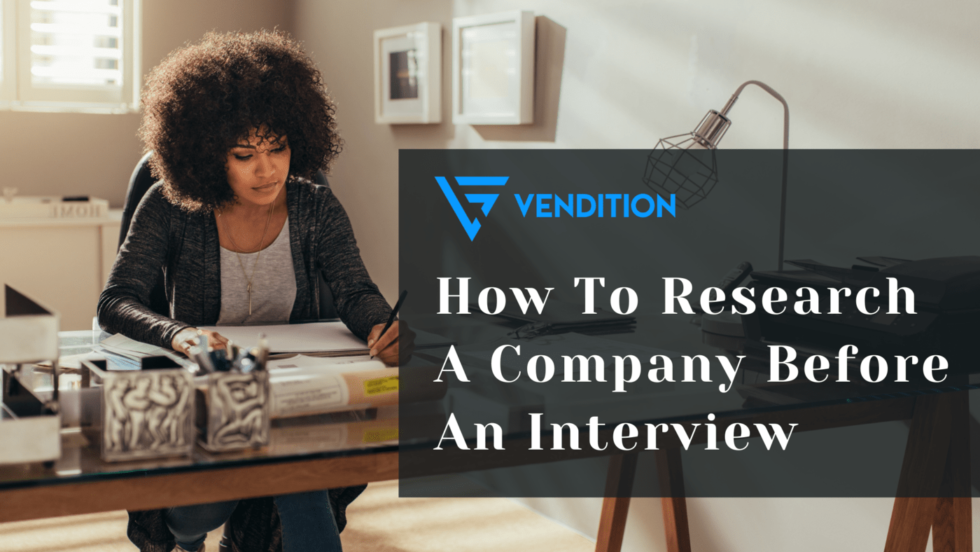 Knowing how to research is a foundational skill you will want to have no matter where you go. But it's particularly important for the SDR role because so much of the role is about researching:
researching an individual you want to sell to;

researching a company to see if they would fit the ideal customer profile (ICP);

researching title positions to see who is the actual buyer or decision-maker to the purchase of your product; 

…and more.
SDRs need to be comprehensive and detail-oriented. When you're interviewing, the best way to reflect competence in those traits is by coming prepared to the interview. Oftentimes, the person that is most prepared will score higher than the candidate with the most experience!
It's always better to be over-prepared than under. There isn't such a thing as too much research when it comes to an interview. You never know what will be thrown at you. Some companies will make it easy by focusing on getting to know you as a person, while others will be testing you to see how much you know about them. 
We've put together a baseline checklist for what you should be researching in advance of any interview you have. There's always more you can research, but we think this checklist is a good start:
Research each person you'll be meeting with during your interview to the best of your abilities.

If you are working with a recruiter, ask them who you will be meeting with at each stage in the interview process – they'll be happy to share. If you're not working with a recruiter, try to ask the person that is helping you coordinate the interviews. If you don't have a point person to ask, look at the calendar invite that was sent; you should be able to see everyone attending there.

Find mutual connections with the interviewers on LinkedIn.

It's important that you don't just find the interviewer's LinkedIn profile to see how long they've been at the company and what school they went to, also find mutual connections. Do you guys have any connections in common that you can reference or ask for advice from? If you can't find mutual connections, look for 2nd degree or other shared associations. 

Look at your interviewers' LinkedIn activity.

Read any articles they've written, posts they've commented on, thought leadership they've published, etc. If you go into an interview being able to reference an article that the interviewer wrote 6 months ago, you will stand out. 

Read through the majority of the information on the company website.

This is public knowledge and it's expected that you review it for the most part. However, we understand that it can oftentimes be a lot to get through so here are some key areas/pages to pay close attention to:

ABOUT US

typically talks about leadership, culture, company background and where they started, mission, vision, and values. Review this information not only to confirm it aligns with your personal values and what you're looking for but also to help tailor your interview questions. If you know what the company values and what their culture is like, you can more easily identify how you relate to those and speak to them during the interview. 

You will likely get asked about your personal values at some point in the interview process

, make sure you know what theirs are so you can point to where you align.

Have at least one example that shows you embody their values.

CASE STUDIES

, also known as customer testimonials, are typically what their customers have to say. This will help you understand the value of the product way more than simply reading about what the company does. This will also help you identify what type of companies you would be selling into as well as the persona you would be selling into. This is a great page to reference as you're formulating your response to the interview question "Why Us". (To learn more about how to answer the question "Why Us" at an SDR interview, subscribe to this blog

.)
BLOG, youtube channel, and free demo

are great places to understand the company and product further. You may get a different perspective that will help you truly understand how the product works and what value it brings to its customers.
Conduct external company research

through sites like Crunchbase, G2 Crowd, Owler, and LinkedIn to learn more about employee reviews, competition, fundraising, and social presence.

Check Crunchbase for funding and investors.

G2 Crowd and Owler are great resources for the competitive landscape.

LinkedIn will give you an understanding of their social presence as well as tell you how many employees the company has.

Glassdoor provides employee reviews, company culture, compensation ranges and company updates.

Some early stage startups are on AngelList. If you can find an AngelList profile, you may find some useful information to help you prepare for your interview.

Understand the company's mission and values.

You should be able to find this on their website. You will likely get asked about your personal values at some point in the interview process, so make sure you know what theirs are and have an example that shows that you embody one (or a few) or their values.
We understand this might seem like a lot to research, but this is your career! Maybe you've spent weeks preparing for that soccer tournament or pulled an all-nighter writing that final paper. If you were willing to put in weeks of hard practice or even the 12-hour evening plus all-nighter, you can at least put in an evening of research and synthesis. 
After all, we're talking about the job that will set the stage for your career trajectory! Take your time to research and truly understand the company you are interviewing with. It will both give you the confidence you need going into the interview and also arm you with the right information to consider if the company is right for you.
We hope you found this advice helpful! If you have feedback, are in the process of interviewing, or would like to consider a career in Sales Development, reach out to contact@vendition.com to get in touch with a Vendition Career Advisor. No online resource will replace one of our wonderful Career Advisors whose primary job is to set you up for success in a Sales Development role.