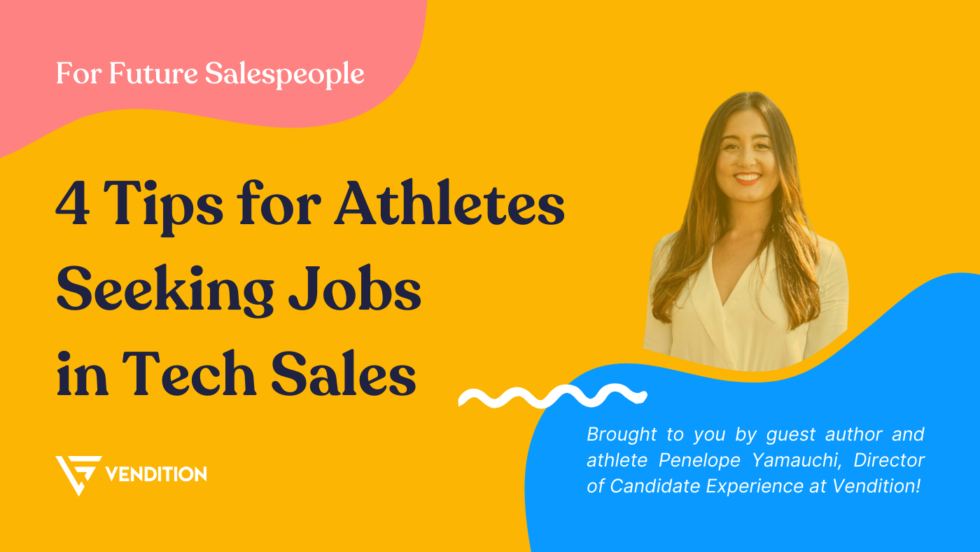 This article is written by Penelope Yamauchi, Director of Candidate Experience at Vendition, who is especially passionate about helping fellow athletes find careers in tech sales! 
I've got a soft spot for underdogs, having been one myself as a competitive athlete with no job experience coming out of college. Through the work I do at Vendition, I'm grateful to help bridge the gap between diverse talent and job opportunities in the tech industry. I've learned through years of experience that athletes make great Sales Development Representatives (SDRs) and often find the career track very rewarding, even if it's something they hadn't considered before.
In this article, I'll share my personal insights for any athletes out there who are looking for their next job opportunity and could use a little guidance on their career path! Opportunity awaits.
From Competitive Swimming to Helping People Find Tech Sales
Before we dive into my top four tips, I'll share a bit about my background. I earned my degree in Communications from Arizona State University, where I was a competitive swimmer for four years and experienced being an Olympic Trial Qualifier. After college, I went on to manage sports sponsorships at Berkeley and spent five years in a high pressure recruiter role where I helped college athletes get internships and jobs. I found purpose in helping athletes navigate the next step on their career paths and offering mental health support during the transition. I know what it's like! Being an athlete is a mindset that doesn't leave you, lean into leveraging it.
Tip 1: Communicate with Confidence
As an athlete, you're used to having your actions speak for themselves. And on a team, you're often told by coaches that you shouldn't be boasting about your personal performance. If you've ever achieved something great, chances are you took minimal time to celebrate it before shifting your focus to the next even greater goal, record, or accomplishment to conquer. Even Olympic medalists, the greatest athletes in the world, can diminish their accomplishments by pointing to someone greater than themselves, rather than fully owning their own outstanding achievements.
In my experience, athletes switching to tech sales can do themselves a disservice by being too humble about their wins in job interviews. You have to speak with confidence about the skills you gained in athletics and learn to communicate your wins to hiring managers in the tech industry. I know that speaking to these accomplishments can feel a bit uncomfortable and out of alignment with your conditioning at first, but it's an important skill you can improve with practice. 
Tip 2: Be Open Minded About Your Career Track
Coming from an athletic background, your exposure to the tech industry and SDR opportunities in general may or may not be limited, and that's okay. When you're busy with college sports your entire identity can feel tied to it, leaving little time to take advantage of other career resources. Wherever you are on your journey as an athlete seeking a job, it is important to be open minded about where you can take your skills when you're ready to advance your career. 
It starts with knowing more. While the word "sales" might conjure up images in your mind of, say, a person at the mall trying to sell you perfume while you speed walk, working in "tech sales" is quite a different experience. In the Software-as-a-Service (SaaS) industry, your job is not to be a pushy salesperson hounding uninterested prospects, but to be a problem solver and steadfast communicator helping connect businesses with solutions that drive real impact. You get to talk to different people every day and most athletes turned tech sales reps really enjoy the aspect of being in a job where their performance is tied directly to income. 
By entering the tech industry myself, I've learned that it offers far more interesting and creative opportunities than I had ever anticipated. You might start as an athlete, find tech sales, pivot to marketing, start your own business, you name it – the chance to grow into your career is there. It's all about leaning into the activities that bring you energy and approaching your interviews with an open mind. Searching for a team within a sales job is much like going on a college recruiting trip in that your decision to take a job or not will likely fall on a gut feeling.
Don't limit your scope of opportunity by counting out non-sports interviews for roles where you could thrive. Take the interviews, go in with confidence, learn something, and see how you feel! 
Tip 3: Stay Connected to Your Core Values
Being on a team is one of the greatest benefits of being an athlete, and something I think we all miss when it comes to an end. When transitioning to the next phase of your life, it's important to lean into your core values and stay connected to the activities that light you up as an individual.
Don't lose sight of the hobbies and behaviors that make you who you are. To help you speak to your experience with hiring managers, think about how you showed up as an athlete. Were you someone on the team who was often vocal and engaged? Were you driven by analytics and breaking records? Were you the one that loved planning team trips? Was fundraising your jam?
All of the energy that came from these activities can be applied in a sales role. A great thing about working in tech is that while you have individual goals as an SDR, you are working toward a common company mission and celebrate energetically as a team. If you value getting out of your comfort zone, communicating with people, personal growth, and being in a competitive environment, these are signs that tech sales is worth considering.
Tip 4: Know That Your Superpower is Being Coachable
The word "coachability" is thrown around a lot in the tech industry these days, as evaluating a sales candidate for this trait is an important part of the recruiting process for hiring managers. With the experience of being an athlete under your belt, coachability is your superpower!
Why? Because being coachable is less about a general ability to receive feedback, and more about the actions you take following that feedback. Much like sports, working in tech sales is a fast-paced, high energy environment where you continuously modify your strategy to improve. And while feedback can be difficult for some SDRs to hear, former athletes tend to take pride in the swift implementation of feedback because they value making improvements to see results. If the coach tells you to fix something, you're used to taking immediate action in your best interest. If your SDR manager tells you to fix something, it's because they're rooting for your success!
That said, becoming the best athlete you can be requires an inherent motivation and willingness to put in the work, and becoming an effective salesperson is no different. You'll have days where you're crushing your sales quota celebrating big wins and other days where you're head-down doing the monotonous tasks required to improve your game. It's all part of the process.
As an athlete you're armed with the advantage of understanding that conditioning is important.
For example, you don't have to love a task like several running miles every day in preparation for soccer practice to value that it's an important part of improving and do it anyway. In sales, think about a task like cold calling as conditioning. Every call is a chance to get better, and once you grasp the process and start booking meetings with success it's so gratifying, just like hitting a key motivator in your sport. I encourage you to learn more about what SDRs do on-the-job.
Are You an Athlete Interested in Tech Sales? Vendition Can Help!
If you're an athlete considering a job in the tech industry, let me and my team of experts at Vendition help make this a smooth and successful transition for you! We're on your team. Our paid 12-week Sales Apprentice Program is an incredible opportunity for people from all backgrounds to get the skills and experience they need to break into tech. We offer mock interview coaching, resume tips, personalized on-the-job sales mentorship, and so much more. 
Visit vendition.com to start the application process today!