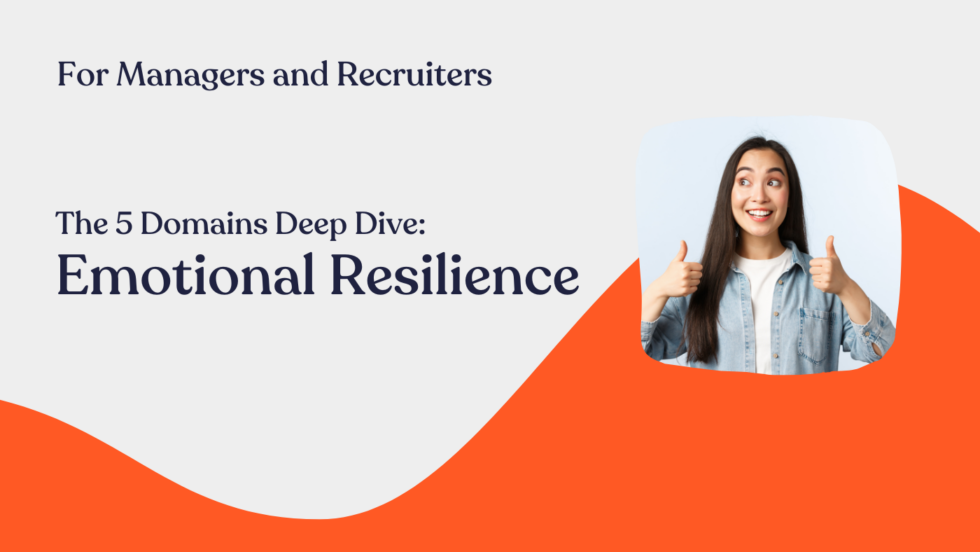 As part of a series, we will be doing a deep dive into each of the 5 domains — or critical soft skills for early career professionals — tested in the Vendition Success Aptitude Test (VSAT). As a reminder, each of these domains encompasses several sub-skills, called "facets," which we will also touch on in these blogs.
This article is about emotional resilience, the fourth of the 5 domains and a crucial soft skill for early career professionals to have. Let's dive in!
What is emotional resilience?
According to MasterClass, "emotional resilience is a pillar of mental health and positive psychology that determines your ability to cope with stress and bounce back from difficult situations and life experiences." It has a lot to do with how we respond to high-stakes situations and the steps we take, either consciously or unconsciously, to self-regulate.
There are three facets under the Vendition emotional resilience umbrella:
Stress Regulation:

managing stress, anxiety, and fear in a healthy way
Capacity for optimism:

maintaining a positive attitude in difficult situations
Adaptability:

trying new things and adjusting to change
Why emotional resilience matters
Do you remember how you felt going into your first adult job? Even the most confident among us probably felt some anxiety during those first few weeks. Onboarding for a new position can be challenging, and so can meeting the demands of the role itself. This is especially true for early career sales roles, which is why it's important to look for candidates who exhibit high levels of emotional resilience. They're surely going to need it!
Think about the nature of sales work: lots of time spent prospecting, seemingly countless outreach attempts, only a few responses, and even fewer closed deals. This means that sales representatives have to get more comfortable than most with being ignored and handling rejection. They have to continue reaching out in spite of any fear they may have, remain optimistic in the face of closed doors, and stay nimble in order to adapt to the ever-changing market. All of these require emotional resilience.
How to assess emotional resilience
If you're looking to bring on emotionally resilient employees, consider asking interview questions that speak to the three facets. A straightforward option to gauge stress regulation is: how do you manage stress? But there are other ways to get the answers you're looking for, such as: Tell me about a time when you overcame anxiety or fear to reach a goal.
To assess a candidate's capacity for optimism, listen to how they talk about their previous work experiences. Do they reflect on past jobs in a positive way, or do they focus on the negatives or trash talk their former employers? You can also look at their general disposition as it relates to their job search; a candidate who remains hopeful in a challenging job market will likely be able to manage the ups and downs of your entry level roles. Some questions you might ask to gauge optimism include: 
How do you feel about being told no or being rejected all day long in a sales role? 
Tell me about a specific goal you're working towards right now, and what accomplishing it will do for you. 
If hired with us, what impact do you expect to make on your new team?
Posing a question about adaptability is a great opportunity to speak to the way your team currently works and how you expect to move forward. A good way to integrate this into your interview process is with a question like: Some of our teams are newly formed and growing. How do you handle changes to objectives or goals, team pivots, etc.? This not only gives the candidate a better understanding of what to expect if they do come onboard, but it also allows you to see if they'll be able to handle being on your team.
How Vendition helps
If you're a sales leader or hiring manager, your time is precious. You understand the importance of hiring for soft skills, but you may not have enough time in your day to look for these skills in every candidate. That's why we created the Vendition Success Aptitude Test, a soft skills assessment that gives you the full story on entry level talent before the interview process even begins.
Are you ready to hire candidates with high emotional resilience and the other soft skills they need to succeed? We can help. Fill out the form below to get started!
Want to save time in the interviewing process? Get pre-vetted, hand-selected candidates from Vendition for your next sales hire. Contact us today to learn more.