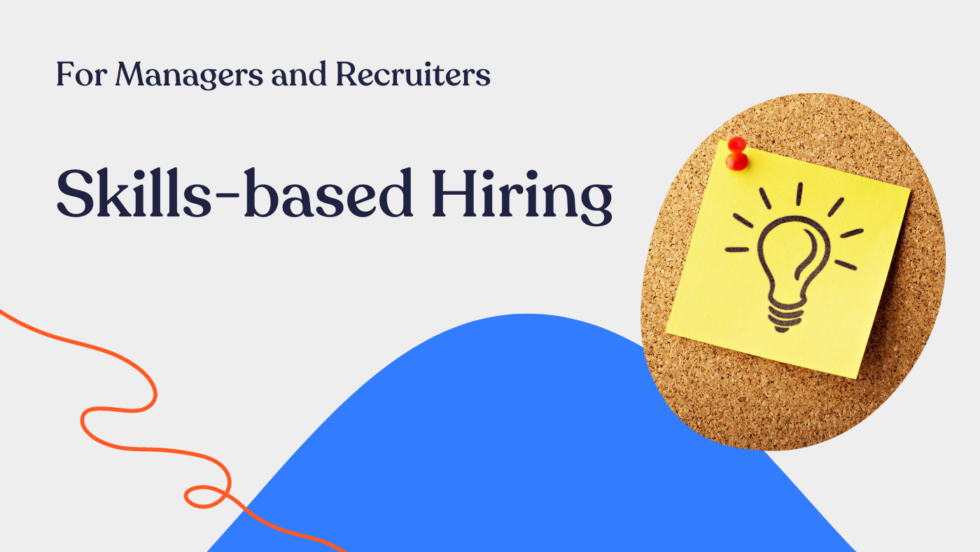 If the past few years have taught us anything about hiring, it's that what worked in the past is not guaranteed to work now or in the future. We've got to stay nimble, ready to adapt our hiring methods to meet the needs of the current market. 
One hiring trend that seems like it's here to stay? Skills-based hiring. It's essentially the antithesis of resume-focused recruitment; instead of looking for a candidate with X college degree or Y years of experience, hiring managers are looking for individuals with competencies relevant to their open roles. 
Here at Vendition, where we've long believed in scouting for potential over credentials, we're thrilled to see that the rest of the world is finally catching on. Let's dig more into skills-based hiring and why your team needs to make the change, right now. 
What is skills-based hiring?
Skills-based hiring prioritizes a candidate's skills and proficiencies over, say, whether or not they graduated from a top school or have five to seven years of sales experience. It expands the candidate pool by focusing on what a candidate knows and is able to do/learn as opposed to who they know or where they were able to learn. Skills-based hiring serves to address the limitations of the traditional hiring model, which focuses primarily on what a candidate can fit onto their one-page resume. 
More and more companies are moving towards skills-based hiring — in fact, 76% of employers report using this method to find new talent. And it seems to be paying off:
92.7% of employers reduced their mis-hires.

91.4% of employers shortened their time-to-hire.

89.8% of employers reduced their hiring costs.
The benefits of skill-based hiring extend beyond the hiring and onboarding process. Employers using this model also reported higher retention rates, and 91% saw increased diversity as a result of their expanded talent pool.
Hard skills vs. soft skills
So exactly what skills are companies looking for? The short answer is, it depends on the job. 
In the case of highly technical positions, employers leveraging the power of skills-based hiring are opening up to candidates who may not have formal training, but are still able to demonstrate the necessary knowledge. For example, a candidate for a software engineer position who has no computer science degree or certifications may still be considered if they can show that they have the coding skills needed to succeed on the job.
Technical positions necessarily require candidates to demonstrate hard, or technical, skills. However, employers hiring for less-technical positions (such as your open sales roles!) may consider soft (social, emotional, and behavioral) in addition to, or in place of, hard skills. These soft skills may include things like coachability, innovation, time management, and more. 
Hiring for soft skills specifically may seem counterintuitive — shouldn't I look for candidates who know how to cold call? — but it's actually more likely to improve your hiring outcomes. 89% of recruiters say when a hire doesn't work out, it usually comes down to a lack of soft skills, and 92% understand that soft skills are indeed more important than hard skills when hiring. Think about it this way: a candidate who demonstrates high levels of coachability will pick up on cold calling (and any other hard skills they may need to learn) much more quickly than one who doesn't. In other words, soft skills empower candidates to learn and apply technical skills on the job.
The rise of skill assessments
Of course, companies hiring for skills need a way to prove that candidates indeed possess the skills they claim to have. With this has come the rise of skill assessments — tests administered during the hiring process that evaluate a candidate's abilities related to the given position.
A survey by the Society for Human Resource Management found that 79% of employers consider skill assessment scores to be just as, if not more important than other hiring criteria. The same survey found that 25% of companies using these assessments plan to expand their use; of the companies who don't already test candidates for skills, 10% plan to start. Skill assessments are a valuable addition to any skills-based hiring process, as they help hiring leaders identify high-quality candidates while eliminating implicit biases. 
How Vendition helps
Here at Vendition, we put all candidates through our proprietary Vendition Success Aptitude Test (VSAT), which assesses for the soft skills necessary to succeed in early career positions. Our hiring partners are able to see each candidate's VSAT score, giving them a more complete picture of prospective hires before the interview process even begins.
Are you ready to build skills-based hiring into your company's process? We're the partner to help you do that efficiently. Fill out the form below to get started.
Want to save time in the interviewing process? Get pre-vetted, hand-selected candidates from Vendition for your next sales hire. Contact us today to learn more.