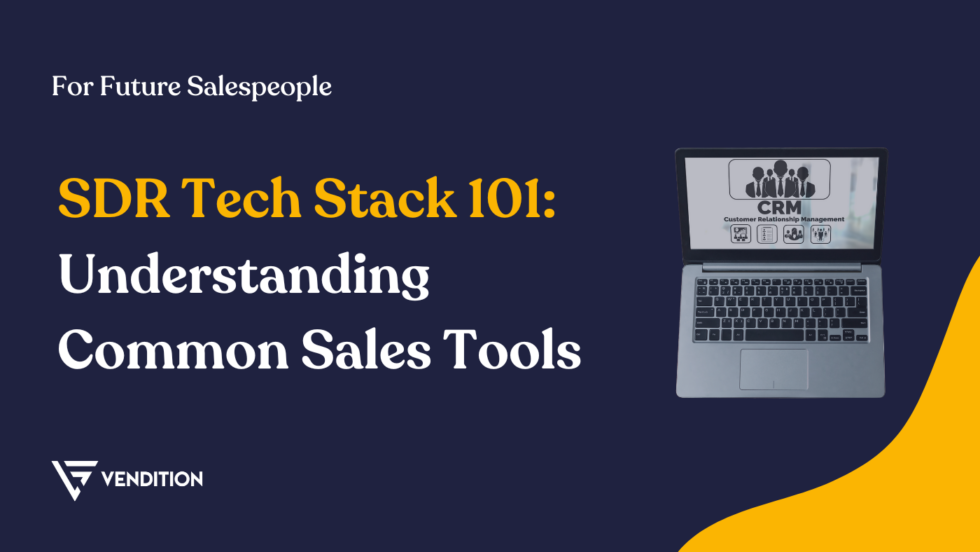 Sales Development Representatives (SDRs) employ a complex set of sales tools on-the-job to help them best perform different tasks and drive toward achieving their overall goals. This combined set of tools is often referred to as the SDR tech stack, and will differ from company to company based on each company's specific needs.
For career switchers and college graduates who are entering the workforce and interviewing for SDR roles, it's important to understand and learn about the types of sales tools you'll be working with. 
We know a tech stack can sound intimidating at first for aspiring SDRs, but rest assured, interviewers and SDR managers won't expect you to understand the nuances of every tool on Day 1. What they will be on the lookout for during the interview process and as you start your role is your ability to perform research and your willingness and desire to learn new and complex things. 
This blog will delve into the functionality behind the most common tools in any SDR tech stack to help you better understand and speak to how you'll apply these sales tools in your future role.
What Sales Tools are Commonly Found in SDR Tech Stacks?
You may be curious just how many different sales tools are included in an SDR tech stack. Industry data shows that average sales tech stack includes a base CRM, or Customer Relationship Management software, plus 4.5 additional tools. 
Software tools that SDRs use typically fall into these 5 common categories:
Sales CRM 
Sales Engagement 
Sales Intelligence and Contact Data
Outbound Sales Prospecting 
Call Recording and Analytics

 
Each of these sales tools help SDRs perform their job in different ways, let's explore how.
1. Understanding Sales CRM Tools
Every SDR tech stack includes a CRM tool, such as Salesforce and Pipedrive, that helps manage your pipeline and streamline communications with prospective buyers and customers. CRMs allow SDRs to store and organize customer data, track activity and communications, and automate tasks in your sales cycle to drive opportunities forward.
You'll log all of your sales calls and emails through your CRM, make notes on the conversations you're having during cold calls, and set automated reminders to follow up with people. The data within CRMs also gives other departments visibility into the sales process.
2. Understanding Sales Engagement Tools
It's critical that sales engagement tools, such as Salesloft and Outreach, are able to integrate with your CRM and work together seamlessly. Sales engagement tools support SDRs with email automation, tracking, and creating cadences to execute communications in a seamless way. 
You'll build out automated scripts to include in outreach, giving you the flexibility to engage with various contacts across multiple channels. These sales tools save time and increase productivity. 
3. Understanding Sales Intelligence Data Tools
Sales intelligence data tools, such as ZoomInfo and 6sense, allow you to gather contact information for prospects you are reaching out to and perform list building. These tools can also feed you information on specific buyer personas you want to learn more about and help you determine which contacts are most likely to engage with you. 
You'll be doing a lot of cold outreach to prospective customers as an SDR, so these tools will help you access phone numbers and email addresses of desired contacts so you can reach out.
4. Understanding Outbound Sales Prospecting Tools
When it comes to outbound sales prospecting tools, LinkedIn Premium and LinkedIn Sales Navigator reign supreme. LinkedIn is at the epicenter of modern day tech sales and every SDR is leveraging this platform daily to gain insights on prospects, among many other things.
You'll be using these sales tools to research, build your ideal customer profile, learn about target companies and buyers, monitor relevant announcements, and connect to drive opportunities forward. When researching, you can filter based on company size, industry, job title, and more. 
5. Understanding Sales Call Recording and Analytics Tools
Sales call recording and analytics tools, such as Gong and Chorus, are tools that capture and analyze the conversations SDRs are having with prospects in meetings. This allows you, as well as your SDR manager, to gain insights from every interaction and improve your strategy.
You'll get to replay past meetings with the added benefit of a call transcription to help you clearly understand and reiterate what was discussed for your notes. These tools help SDRs and sales leaders identify winning moments, pinpoint where things could improve, and coach accordingly.
Vendition's Apprenticeship Can Help You Land an SDR Role!
Need more help understanding sales fundamentals? Curious about the SDR career track but unsure how to get your foot in the door? At Vendition, a paid 12-week Sales Apprenticeship Program, we believe the best way to learn is by doing.
We're devoted to connecting job seekers from all backgrounds with the sales training and access they need to break into tech, and you could be next! To apply for our Sales Apprenticeship, Create Your New Candidate Profile today.