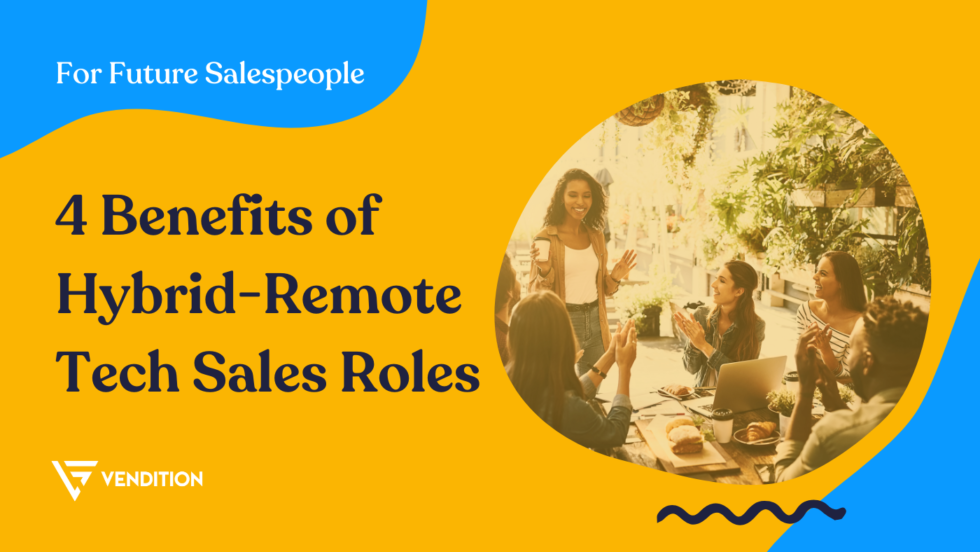 Want to set yourself apart from competition and elevate your job application in 2022? Be open to hybrid-remote work environments before you opt for the "remote only" job filter when applying for tech sales roles. 
While it is tempting to jump on the remote-life-forever-or-bust bandwagon, it can be a limiting perspective if you're currently in need of a career opportunity. And while some corporate leaders may be tempted to follow in Elon Musk's footsteps with talk of mandating full-time in-office returns, that is incredibly limiting when seeking top candidates, too.
Hybrid roles are a happier medium as the nation slowly progresses from the pain points of the pandemic. We know 100% remote jobs are highly desired from the jobseeker side, but it will pay to be flexible as corporate America navigates the needs of its post-pandemic workforce. In fact, hybrid-remote roles are trending in popularity after 2 years in quarantine.
Eager to break into tech sales? Embrace a hybrid-remote work environment to open up maximum job opportunities and give yourself the best chances for getting an offer, or multiple!
What is a Hybrid-Remote Work Environment?
A hybrid-remote work environment allows employees to work both remotely and in-office. The specifics of hybrid-remote work models can vary across different companies and departments, but an April 2022 article citing a recent Harvard study revealed that one to two days in office is currently the "sweet spot" for hybrid-work environments. This grants employees flexibility while minimizing the isolation often felt by peers working fully from home.
According to an Accenture study on the future of work, 83% of workers prefer a hybrid model. They also found that those using a hybrid model throughout the pandemic felt less burnt out than those who worked remotely or in-office 100% of the time.
1. Increase Opportunities by Being Open to Hybrid-Remote Work
On LinkedIn, 'remote only' jobs have 2.5x more applicants than hybrid roles, meaning there is more competition when recruiters and hiring managers are sifting through applications, especially among Gen Z – the most diverse segment of workers in the U.S. Elevate yourself!
If you want to get hired at a successful high-growth company, consider hybrid opportunities to position yourself as a sought after candidate, as more companies are moving towards this model. By opening yourself to more hybrid opportunities, you increase your chances of finding a great job you might not see coming. Don't count yourself out with strict parameters at this time.
2. Get Paid More to Go In-Office in Major Metropolitan Cities
Is your wallet suffering through the impacts of inflation and living costs? While 100% remote-work opportunities have perks like endlessly hanging with your pets and avoiding commuter traffic, you could be missing an opportunity to get hired and paid more money in major cities turned tech office hubs like San Francisco, New York, and Atlanta.
At Vendition, we partner with companies in major markets looking to hire Sales Development Representatives (SDRs) and we've learned that hybrid in-office collaboration is highly desired. In our experience, many top companies are incentivizing competitive salary structures for candidates willing to come into the office part-time and navigate that hybrid environment.
Going into an office part-time can also offset meal costs as many employers provide food perks! If you're tired of paying food delivery fees or trying to decide what to cook every day, you're not alone. Perks like free in-office lunches shared with coworkers can offer a nice change of pace, and whether you're in a big city or a small one, these initiatives give back to local businesses.
3. Maintain a Rewarding Balance Between Work and Lifestyle
Do you value human interaction with your colleagues and planning your next vacation? Are you hesitant to apply for hybrid roles because you're feeling protective of your free time? We get it. 
The good news is that the tech industry presents a fantastic opportunity for flexibility when managing your time, with many companies featuring unlimited PTO structures amid health benefits and professional resources to empower both career development and mental health. The opportunity to earn a lucrative income can also help fund future adventures and goals.
Plus, on those in-office days, you'll benefit from a firm start and end time. We have learned that people who work from home tend to work longer hours, bleeding into their perceived free time. 
4. Benefit from Better Collaboration and Celebrate as a Team
When you're new to an industry, there is extreme value in learning directly from colleagues. For new SDRs, hybrid opportunities can help employees build meaningful in-person relationships with coworkers and senior leadership, learn faster from cross-collaboration, and provide a designated office space away from home which can lead to more productivity and teamwork.
Simply put, being in the company of others can lead to better collaboration and work relationships, especially when launching a sales career. Since colleagues are more accessible, you can hear other people's pitches, observe how the team functions, and feed off positive energy. This opens the door for shared empathy through sales challenges and promotes mentorship.
Also, a sales career is so much more fun when you can celebrate wins with the team! We encourage you to seize all opportunities to network in your department and beyond in a hybrid-remote role. 
Ready to Start Interviewing for a Hybrid-Remote Tech Sales Job? 
Vendition is on a mission to bridge the gap between companies seeking talented sales people and individuals seeking a career in tech sales, regardless of their previous experience or academic standing. Are you someone who is open to new job opportunities in tech sales?
Our 12-week Sales Apprenticeship program enables anyone with a desire to learn who has aspirations of creating a better life through their career. We train, place, and pay our Apprentices to learn the foundations of selling on-the-job while offering ongoing mentorship. 
Visit vendition.com and create a candidate profile today to take the first step in applying to our sales Apprenticeship. We'll get busy matching your completed profile to our hiring companies!