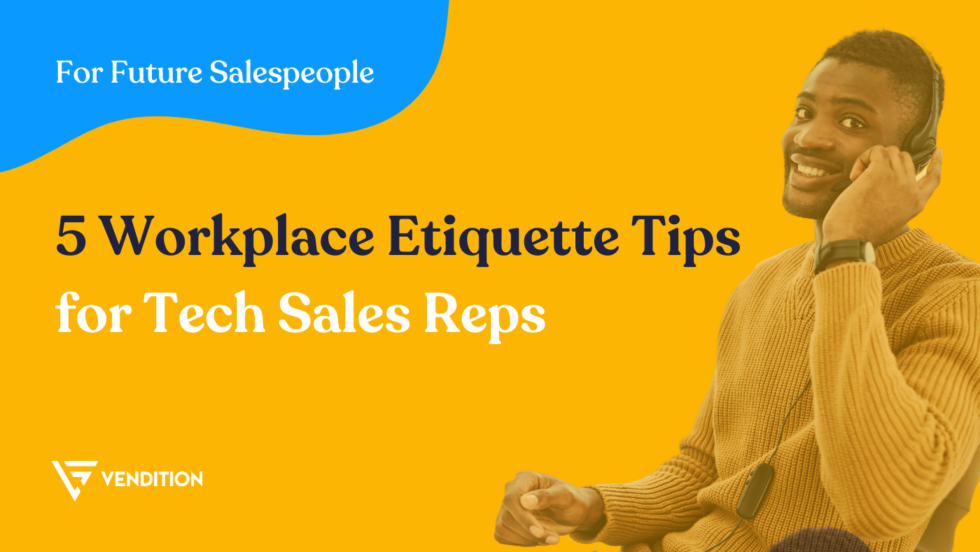 When was the last time you examined your own workplace etiquette as a sales rep? Since the Sales Development Representative (SDR) role is a great entryway into tech sales for people from a variety of professional backgrounds, it's important to know the basics of workplace etiquette. The SDR role is both fast-moving and ripe with opportunities for growth, so how you show up matters!
Follow all of these workplace etiquette tips and you'll have a better chance of earning a promotion on your sales career path. Plus, practicing these baseline behaviors means you and your manager have the opportunity to focus on the real job at hand – hitting your sales numbers. 
1. Always Arrive on Time for Sales Meetings
Maybe you've worked at a restaurant in the past where being five minutes late to your shift here and there could go unnoticed, but this is not the case in sales. While it's a general best practice to be on time to any job, punctuality is even more important for sales reps because they are the ones setting the meetings.
If you are even one minute late to a meeting or call with a prospect, you could quickly appear unreliable or flaky and lose that opportunity. Take your role seriously. Arriving on time (or better yet, early) is also critical for internal meetings with your sales team and other departments. Make a habit out of managing your time efficiently to avoid being late. 
2. Be Camera Ready and Presentable
Whether your SDR job is fully remote or requires you to spend some time in an office, it is always in your best interest to: practice good hygiene, dress appropriately, and present yourself in a professional manner. In this day and age, most meetings will take place in a virtual setting, so you should always prepare to be camera ready.
Do not opt to hide your video for meetings, as this can send a message that you aren't as engaged. Plus, showing your face can help you better connect with the person on the other end and make a lasting positive impression.
3. Maintain a Professional Virtual Backdrop
Showing up to meetings in a professional manner doesn't begin and end with your wardrobe, it also extends to your virtual background. If you show up early to a meeting and look great, but your unmade bed is visible in the background, that's going to be distracting.
The pandemic has reasonably made remote work more casual, so no one is saying you can't work from your bedroom if that's where your desk is, but make the bed if you do.
Or better yet, opt for using a virtual background within Zoom or Google Meet that will blur your existing background or replace it with a different photo. Branded background images can be fun conversation starters!
4. Send Thank You Emails within 24 Hours
Okay, this one is super important for SDR workplace etiquette. After you've showed up on time and rocked your sales meeting with all the professionalism, what happens next? Follow up!
You want to keep opportunities open and the lines of communication flowing, so make it a part of your process to always send thank you emails after meetings within 24 hours. Express that you are grateful for the time they shared with you, offer a brief overview of the discussion, and provide clear details on any next steps.
Consistently following up via email in a timely manner will work to your advantage and help you get noticed for the right reasons, not the wrong ones. 
5. Bring a Positive Attitude to all Challenges
Perhaps the biggest no-no of workplace etiquette is to arrive with a bad attitude, as that can ruin your chances of staying employed. A bad attitude is contagious, and so is a positive one! So rally all the optimism you've got in your daily role as an SDR, because it's incredibly valuable in preventing burnout and positively impacting those around you.
SDRs handle a lot of rejection on a daily basis, which can be really challenging if you aren't focused on the bright side. 
Apply for Vendition's Sales Apprenticeship to Become an SDR
If you're new to the tech sales game and need help getting your foot in the door, applying to Vendition can help. Our 12-week Sales Apprenticeship Program offers free training and career readiness to help people from all backgrounds break into tech as new SDRs. You can apply at Vendition.com for your chance to receive on-the-job training with one of our partner companies.