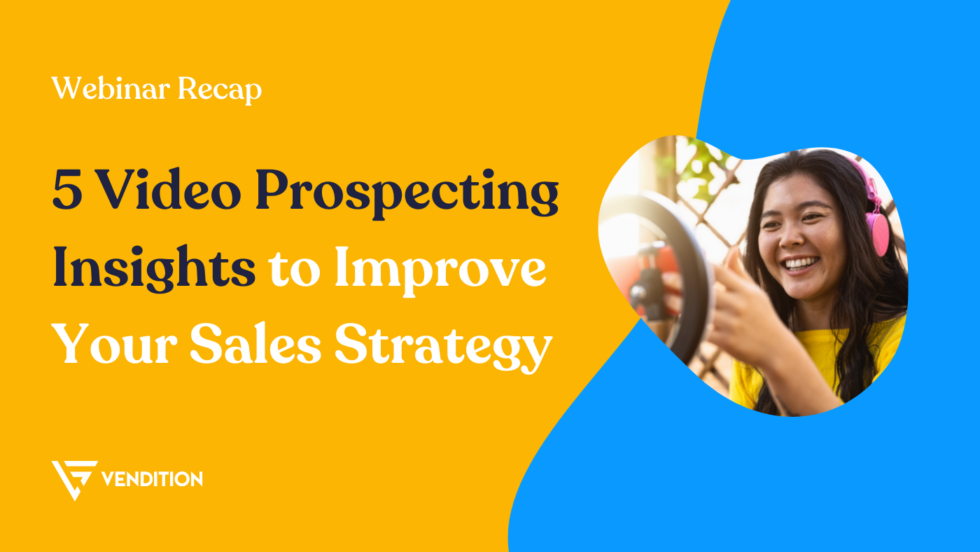 Let's talk video prospecting. For sales reps, having the courage and commitment to send videos of your pitch to prospects can be an extremely effective way to stand out and book meetings. For sales leaders, rallying your team around the importance of using video as a tool can help you generate better results. 
Whether you're working hard to become a better sales rep or looking to move into sales management, Vendition brought together a panel of experts – Bethany Stachenfeld, Miguel Guerrero, and Saad Khan – to share how they use video in their sales roles every day with five top takeaways on how to harness the power of video messaging in your role.
1. Video is an Underutilized Tool that Makes a Business Impact
Video is an underutilized communication tool, and sales leaders are craving this kind of creative and authentic outreach when they're being prospected. To speak to the positive business impact of video prospecting, consider a couple statistics: 
Video in sales emails leads to a 26% increase in replies from prospects. (

SalesLoft

)

90% of sales reps report that video is important to qualify leads, engage prospects, or influence deals. (

Business Wire

)

In one case study, an Account Executive (AE) used video emails to book 31 meetings in 4 hours, closing 2 deals and generating $3,143 in monthly recurring revenue. (

HubSpot

)
Our panel admitted that despite seeing an increase in proof around the valuable business impact of video messaging, they still haven't seen as much action in their inboxes as they'd like to. When they do get a video, it really does stand out. They value the effort, so they encourage sales reps to practice hitting 'record' even if they aren't totally confident, and start with a smile.
2. Don't Get it Twisted – Personalization Means Mass Relevance
Our panel made it clear that personalization has evolved over the years. Personalization now means mass relevance, not necessarily that you said the person's name, which is how personalization used to work. Today's focus is on whether or not you understand their business. 
Saad Khan, BDR Manager at Dooly, elaborated on this by saying, "Do you know me? Do you get my business? Do you understand what I care about? Why would I want to talk to you?"
The answers to these questions are what you want to come through in your video. Rather than simply automating the inclusion of a person's first name in an email to make them feel seen, use video to further demonstrate that you understand their current role and need for your solution.
3. Your Mindset Matters! Have Fun with Video Prospecting
If you're reading this and haven't tested video as an element of your sales messaging strategy yet, you may feel apprehensive of being vulnerable and trying something new. You're not alone! When we asked our event attendees, "Are you using video prospecting?" the poll revealed that: 
40% replied 'yes' they are using video prospecting 

33% replied 'no' they are not yet using video prospecting 

27% replied 'I know I should but I'm nervous!' in regard to video prospecting
We get it, leaning into video prospecting can be nerve wracking for a beginner. Do it anyway. Approach the process with an open mind and a positive, confident attitude. As for basics, look presentable and prepare to record your video in a well-lit space without audio distractions.
Saad's Top Video Messaging Tip: "In the immortal words of Shia LeBeouf and Nike, 'JUST DO IT.' Don't dwell on analysis paralysis. We get paid to have conversations, so have fun with it."
4. Build a Habit Around Using Video in Your Sales Process
So you're comfortable recording a video, but where does it make sense to send in the sales process? This will depend on a lot of different factors, but successful tech sales reps are committed to testing new ideas and know a solid process is all about progress, not perfection.
Bethany Stachenfeld, CEO & Co-Founder of Sendspark, suggests taking action by building video prospecting into your daily activities. When something becomes routine, the familiarity of the task makes it less daunting over time. Each video is an opportunity to learn and persevere.
Bethany's Top Tip: "Build a habit around doing it. Identify one point in your sales process when you're always going to make a video. You're going to get really good."
Here are a few ideas for where you could include a video: 
When someone schedules a meeting on your calendar, send them a video saying, "Hey I'm looking forward to talking to you about [XYZ]."

After meeting with someone, send them a follow up video with a thank you and overview.

Once someone signs up for your platform, send them a welcome video with useful info.
Before you know it, you'll be sending out videos instead of typing all the time. It can save time!  
And if you're at the very start of your tech sales journey trying to get hired as an SDR, you can practice using video too. After applying for a role, send the hiring manager a video on LinkedIn introducing yourself and sharing why you're excited about that specific role and company.
5. Stop Scripting and Start Speaking! You Can Do This
Sales is all about pulling levers and testing what works and what doesn't. And something that really doesn't translate well in video prospecting is looking like you are reading from a script. You want to approach video prospecting with a fun attitude and conversational, engaged energy, rather than looking uninterested or like you're simply going through the motions on camera. 
Miguel Guerrero, SDR Manager at Vendition, feels passionately about sales reps getting away from being so scripted in their outreach. It's great to be prepared for a cold call opener, but trying to recite an exact script within video can be limiting and come off inauthentic. What will resonate is speaking naturally and vulnerably (you're allowed to say 'um' by the way).
Miguel's Top Tip: "Stop scripting and start speaking. You have to build muscle memory, no different than cold calling. Get comfortable with being that kind of uncomfortable."
It's easier said than done, but nobody expects your sales videos to be perfect. As a sales leader, Miuguel encourages his team to record videos daily within a certain time frame and offers coaching advice to help them flex that muscle. "The beauty is the speed of it," he says.
Watch the Full Video Prospecting Session for More Sales Tips
The video prospecting discussion recording is packed with so much incredible information on all these tips and more. Plus, tune into minute mark 00:19:20 to see real video prospecting examples, including a live on-screen critique showcasing before and after videos of Saad! 
Work with Vendition, a 12-Week Sales Apprenticeship Program
At Vendition, a 12-week Sales Apprenticeship Program, we bridge the gap between career opportunities individuals seek and the skilled talent companies desire. We are passionate about connecting motivated individuals with opportunities to land a job in tech sales, regardless of previous experience, academic pedigree, or financial restrictions. We train, place, and pay our SDR Apprentices to learn sales foundations while offering ongoing career mentorship. 
Eager to break into tech sales? Create a New Candidate Profile here to apply for Vendition.
If you want to grow your SDR team with the most diverse, well-qualified, and best trained SDRs on the market, contact us to learn more about how sales leaders work with Vendition.