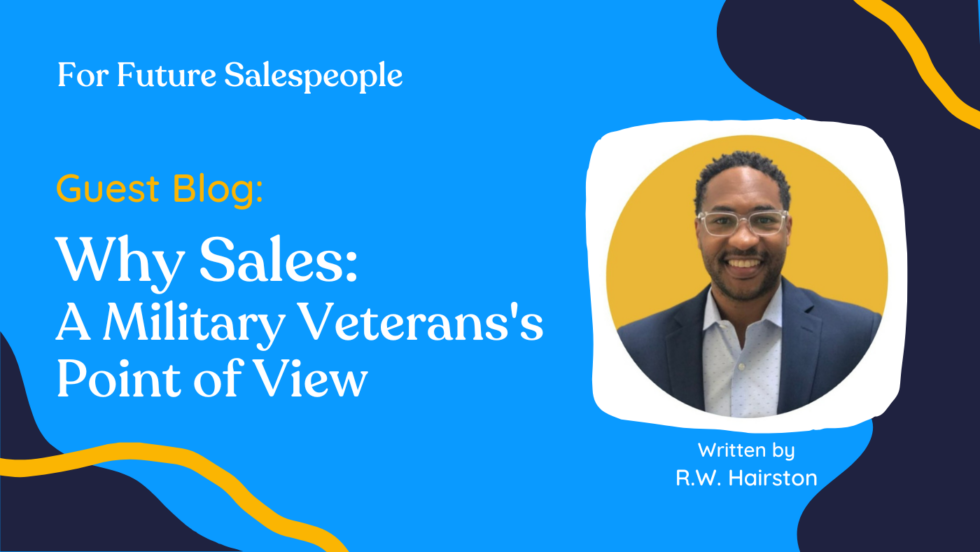 *This guest blog was written by R.W. Hairston, a Vendition Sales Development Representative, who joined Vendition through the Career Skills Program (CSP)/Skillbridge program as he transitioned from military to civilian life. During his career, R.W. served as a Mass Communications Specialist with the 82nd Airborne Division of the U.S. Army, stationed in Fort Bragg, North Carolina.
Why I selected a sales profession
My light bulb moment on how I could handle a sales role came when I was sent to the U.S. Army Advanced Leadership Course. I got the call on Wednesday that I would be reporting to Fort Meade, Maryland on Monday.  Even though I felt like I was unprepared and not yet ready to take on this task, I did what I had done my entire military career and rose to the occasion.
I set my sights on the mission at hand, found people who were willing to help along the way, and dedicated myself to putting my best foot forward. Not only did I pass the course, I graduated with honors, earning Commandant's List and the Distinguished Leader Award. Despite the lack of time to prepare, I was able to excel, and I recognized that my determination and grit are what got me through.
As I prepared to leave the military, I gave some real thought as to what I wanted to do. My experience at the Leadership Course sparked my imagination to think about the endless possibilities of what it would be like to apply myself to something I was truly passionate about. After doing some self-discovery, I realized that I wanted to land in the teaching, speaking and coaching field – and be able to work with people as I'm a people person. I knew it would be hard to go straight into this dream career, so I thought to myself, "what can I do in the meantime to build the skills necessary to excel in my future role?"
It's not the most eloquent, but I stumbled into the sales profession. I never in a million years thought that I would get into sales; whenever I thought of sales, the image of the sleazy salesperson would always pop into my head. But reading more about what salespeople did on a daily basis and how the skills I would learn could apply to what I truly wanted to do, I made it my mission to find a sales program or company I could truly get behind. I wanted to be proud of the company I would be employed by and learn from, similar to the honor I felt serving this great country in the U.S. Army.
What appeals to Veterans about sales roles
After determining that sales was the path I wanted to take, I set my sights on what personality traits make a good salesperson. I kept seeing themes on grit, persistence, resiliency and good communication skills – all attributes that I had cultivated during my ten-year military career.
Starting my future in sales with an Internship and Apprenticeship
I knew that skills alone wouldn't get me where I wanted to go though, so I turned to my network for answers. LinkedIn was a game changer. I quickly created an account and started reaching out to all the people I already knew. Because of the many connections I had, I was able to leverage my network's contacts, and after a few weeks of searching, I was introduced to  Vendition. It didn't take long to recognize the gem that I had found.
Vendition offered to bring me on as an intern while I was finishing my military service which benefited me in many ways. I was able to learn more about the role of a Sales Development Representative (SDR), apply what I learned in a low-risk environment, and re-learn civilian business practices.
I also got to experience what a Sales Apprenticeship for SDRs with Vendition was like. I went through the same program any new SDR at Vendition goes through called Onboarding Academy, a one-week training where I learned the fundamentals of being an SDR. This training was led by sales coaches who not only guided this week of learning but would also be there for each and every Apprentice as a mentor/coach in their first 90 days on their new SDR job.
The exposure that I got from this internship with Vendition was invaluable. It gave me an insight into what it's like to work in sales and ultimately led to me landing a role as an SDR with them.
My advice to those transitioning out of the military
For anyone transitioning out of the military, don't wait to start the process. I was able to begin preparations for my separation 18 months prior to getting out of the military. Fight for what you want and take transitioning out of the military seriously. The military takes care of certain things that will need to be reevaluated upon ending your service as you enter civilian life; some of these include medical, housing, education, and finances.
The tasks around transitioning are daunting and the reason many people second guess getting out of the military. But I am living proof that it can be done. Take the time to figure out what you want. Look for programs that can help make the transition easier, like the CSP/Skillbridge program, and lean on professionals to help you devise a plan, then go get after it!