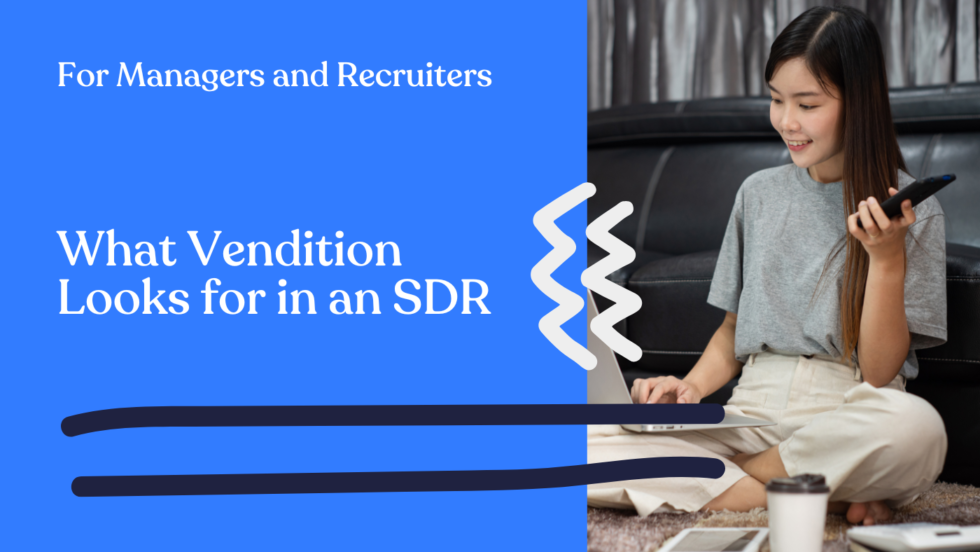 Finding hundreds of Apprentices each year for our hiring companies means searching for untapped talent ready to be an SDR. Our thorough vetting process weeds out qualified candidates from the unqualified, making your job easier by sending you only the best of the best talent. You may be wondering how we do it — how do we determine which applicants are the most likely to succeed on your SDR team? Having screened over 100,000 candidates since our inception (and 30,000 last year alone!), and with ample feedback from over 500 companies who partner with us, we like to think that we've got this Ideal Candidate Profile thing figured out. Here's a bit of what we look for when vetting candidates.
They've Got Killer Personalities
Vendition connects with individuals who have an overall interest in sales: either looking for a sales job, considering sales as a profession, or those who would be good at sales but are not currently considering sales as a career. Though our Apprentices come from a variety of backgrounds (more on that later), they all share some common personality traits that help them build meaningful relationships with your prospects.
Vendition Apprentices have a strong "why." They're highly motivated and goal-oriented, and they're willing to do whatever it takes to get results. They are drawn to sales because they thrive in environments where they can see success in direct correlation to the work they put in.
Our candidates are curious, asking well thought out questions and coming with strong research skills to seek out answers on their own.
They're high-energy, and able to quickly "turn it on" when needed. They bring a lively disposition to the team and actively pursue greatness. 
They've Got the Right Soft Skills
Vendition looks for individuals who exhibit the soft skills needed to thrive in the SDR role.
We look for people with good communication skills — those who are clear and concise, who understand the power of a good story and can tell it cohesively. 
We also look for individuals who are coachable. At the core of our Apprenticeship model is the belief that specific sales skills can be taught, so we're careful to look out for candidates who are ready and willing to learn.
Their Backgrounds Lend Themselves to Sales
With decades of sales expertise among the Vendition team, we know that certain backgrounds and experiences transfer quite easily into the sales profession, because they develop the soft skills discussed above. Here are a few examples:
Former teachers have experience adapting to a variety of learning styles. They'll be able to sell your product in a way that speaks directly to the prospect at hand, adjusting their language and tone as needed.
Former college athletes are highly coachable, skilled at taking direction and pivoting quickly and efficiently. They're able to come into the Apprenticeship as students of the game, swiftly absorbing guidance from both the Vendition coaches and their on-site managers.
Individuals who have worked in call centers — either chasing down university alumni, fundraising for a charity organization or something else — have honed their cold calling and communication skills. They're already accustomed to talking to strangers on the phone, so will thrive when talking to prospects about your product.
Bartenders and other food service workers have developed above-average people skills. Additionally, they're able to perform well under pressure, learn new ways of doing things and apply this knowledge quickly.
And these speak to only some of the experiences that those in our candidate pool have. Sourcing from non-traditional backgrounds — looking at recent college graduates and career switchers — significantly expands our options, so that we're able to match you with qualified SDRs who fit your company's particular needs.
If you're looking for pre-vetted, highly qualified SDR candidates, we've got you covered. Take the first step towards greatness and partner with Vendition today!