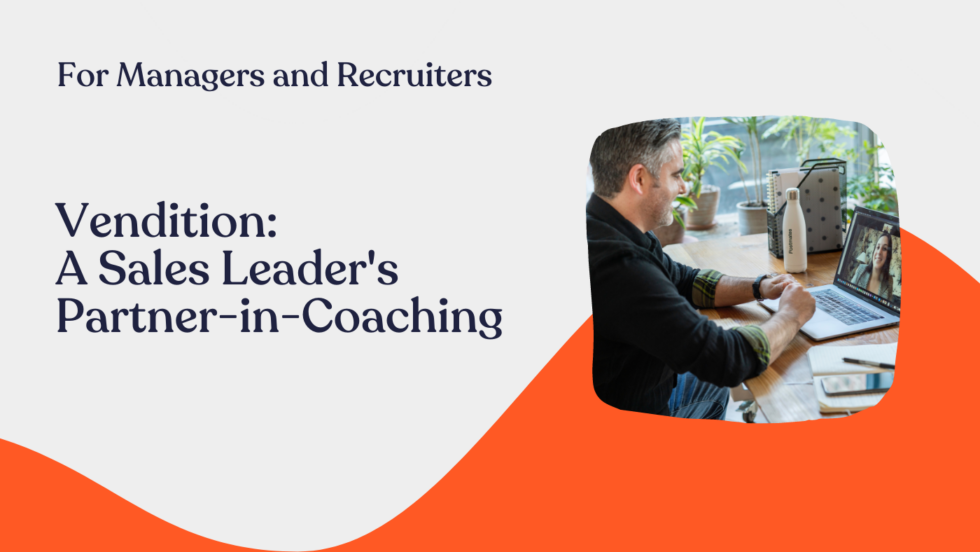 SDR managers and team leads are crucial to the success of any sales team. Not only do they work to keep the team on track to hit quota, they also optimize sales strategy, recruit and hire, and provide guidance for individual team members. With all of these responsibilities, it's easy for sales leaders to be stretched thin, and SDR training and coaching often suffer because of it. That's why Vendition serves as an SDR manager's P-I-C (Partner-in-Coaching). 
Why SDR Coaching Matters
As experts in the tech sales industry, we cannot overstate the importance of SDR coaching. A bit different from training — which concerns more foundational knowledge and includes acquainting sales reps with tools like Hubspot and Salesforce — SDR coaching involves dedicated guidance from managers to develop in SDRs the exact skills needed to drive real revenue growth, ultimately enabling SDRs to put skills into practice in real-life situations. This may consist of practicing cold calls and emailing, handling common objections, or implementing new engagement strategies as the market shifts. As a sales leader, your SDRs are looking to you to help them improve where they lack, learn new skills, and ultimately become a successful seller.
How Vendition Coaches Help
This is no small responsibility, and we understand the pressure SDR leaders feel from every angle. That's where we come in. The Vendition Mentorship model empowers SDR managers to grow their sales team in a cost- and time-efficient manner, without the risk. And we partner with you to ensure that your new SDRs are fully ramped and supported throughout their 12-week Mentorship. Vendition candidates come to you ready to learn, already sold on the power of coaching and mentorship, so the only one left to buy in is you!
Vendition's Apprenticeship is broken into two distinct periods: Week 1 is Onboarding Academy and Weeks 2-12 include targeted coaching and mentorship. These two periods combined make for fully ramped and ready-to-rock SDRs. 
Our Onboarding Academy encompasses the foundational elements of SDR training. During week one of their Apprenticeship, your new hires will learn the fundamentals of sales including (but not limited to!): tech stack programs like Hubspot and Salesforce, the ins and outs of prospecting, how to craft a winning cold-email, and what to say in a cold call. 
For the following 11 weeks, our coaches work with new hires to target problem areas, offer mentorship, and set them up to succeed; weekly focuses include topics like professionalism, objection handling, social selling and more. Vendition coaches also meet with you every week for insight on each participant's progress, and to serve as a sounding board when you need it. In today's economic climate, when sales leaders are constantly being asked to do more with less, having this Partner-in-Coaching is even more valuable. All of this works together to make sure your new SDR is comfortable and confident, so that you can dedicate time to the zillion other things on your plate. 
How We Helped Coach Asana Apprentices to Greatness
Sure, this all sounds good, but you may be wondering about how this partnership-in-coaching works in practice. Consider our team-up with Asana, which yielded some pretty awesome results. Our partnership centered around one challenge: expanding the company's AsanaUP apprenticeship program to provide non-traditional, underrepresented talent with the skills needed to succeed as an SDR. Several months into the partnership, we touched base with Head of Inbound Sales Development, Clark Louie, to get his take on how it's going.
Describing Vendition coaching as "therapeutic," Louie appreciated how our coaches were able to offer new hires more objective advice. "It allows me to have an extra touchpoint where I can focus on the tactical and training stuff and Vendition can partner on the professional and networking acumen, the building your personal brand, and providing the objective outside of Asana."
The results? Every single SDR has hit or exceeded quota, and Asana was able to promote people more quickly than anticipated. If you'd like to learn more about our partnership with Asana, check out this video case study!
 If you're looking for help building and coaching a high-performing SDR team, contact us today to learn more.