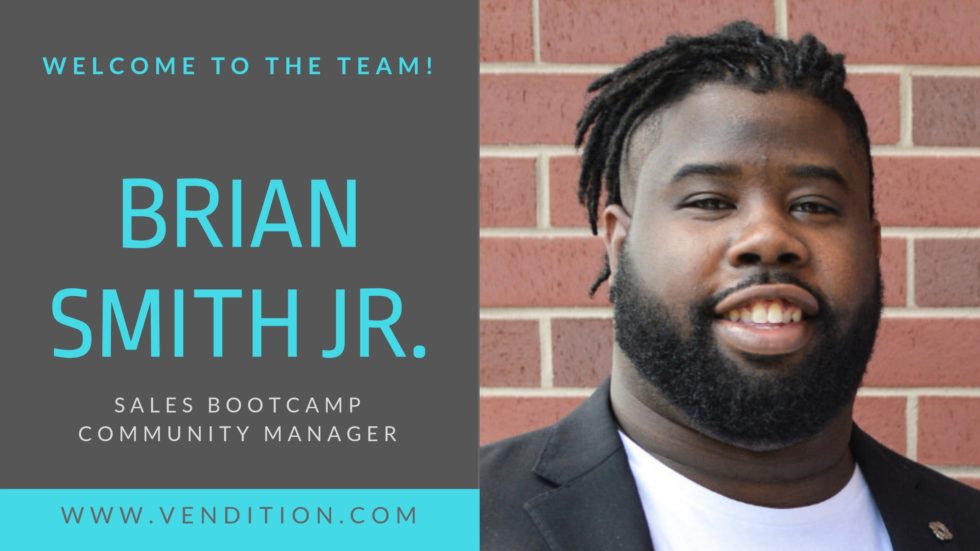 Vendition has hired Brian Smith Jr. to be the Community Manager for salesbootcamp.com. Brian brings a lifetime of coaching and mentorship to an organization focused on coaching and mentoring the next generation of Sales Development Representatives.
Brian has spent the past 4 years as a Sales Development Representative, Sales Development Team Lead, and Sales Development Manager. His direct operational experience is a perfect fit to help the community of current and aspiring SDRs learn best practices for outbound prospecting.
In Brian's words, "I'm excited to partner with and join Vendition to focus on Sales Bootcamp. The SDR role is a game changer when done right! I can't wait to provide sales training resources and best practice to current SDRs and  aspiring SDRs."
As many already know, Sales Bootcamp is a free online SDR training course for anyone interested in learning about outbound prospecting. Sales Bootcamp accepts all applicants regardless of academic pedigree, geographic restrictions, or financial constraints. 
Sales Bootcamp™ is a subsidiary of Vendition with a focus on helping recent college graduates and career switchers learn the fundamentals of sales. 
No tuition, no income share, and no prolonged program. Sales Bootcamp provides a self-paced bootcamp that includes personalized 1:1 coaching, group office hours, sales simulation software, and tips on how to apply and interview for a job. 
To learn more about Sales Bootcamp, please visit the website at salesbootcamp.com 
Welcome to the team Brian!