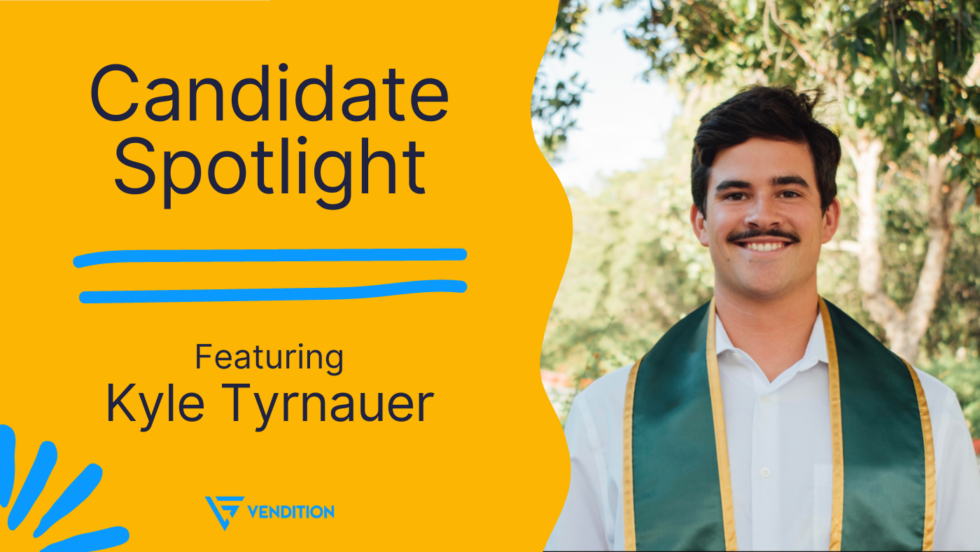 Welcome to the Candidate Spotlight!
🌟
Kyle Tyrnauer is a recent college graduate who is eager to begin his sales career. He has a "learn by doing" mentality, and when  in an environment where he can ask lots of questions, he knows he will excel. Continue reading to hear more about this amazing candidate!
His education and skill sets…
A recent college graduate, Kyle earned his degree in business with a marketing management concentration. He learned at a young age to be honest, hardworking, and ambitious, and he's practiced and developed these skills throughout his life by excelling in school and playing sports. 
Kyle was also a Career Services Ambassador in college, where he would represent his school at workshops and career fairs, advise students on their professional development, and spearhead weekly meetings.  
His excitement for tech sales…
Learning new softwares and different types of technology has always come easy to Kyle. He knows once he is educated on a product, he will be able to convey it extremely well to potential clients to help land the sale. His competitive nature will also help to navigate rejections and build his salesman qualities.  
Kyle's interest in sales really grew the past few months when he was working as a server. He loved the idea that he was in charge of how much he earned, and his friendly and outgoing personality  combined with his competitiveness made it seamless for him to succeed. 
I'm excited about bringing a competitive growth mindset to the SDR role. I'm very coachable, and once I know what I'm selling, I will excel at it.
Kyle is more than ready to become an SDR!
Watch this 5 ½-minute video of Kyle as he speaks about his relevant experiences and what he is looking for within his next work environment.
If you'd like to meet Kyle or other talented individuals ready to put their SDR skills to work for you, please email rm@vendition.com.