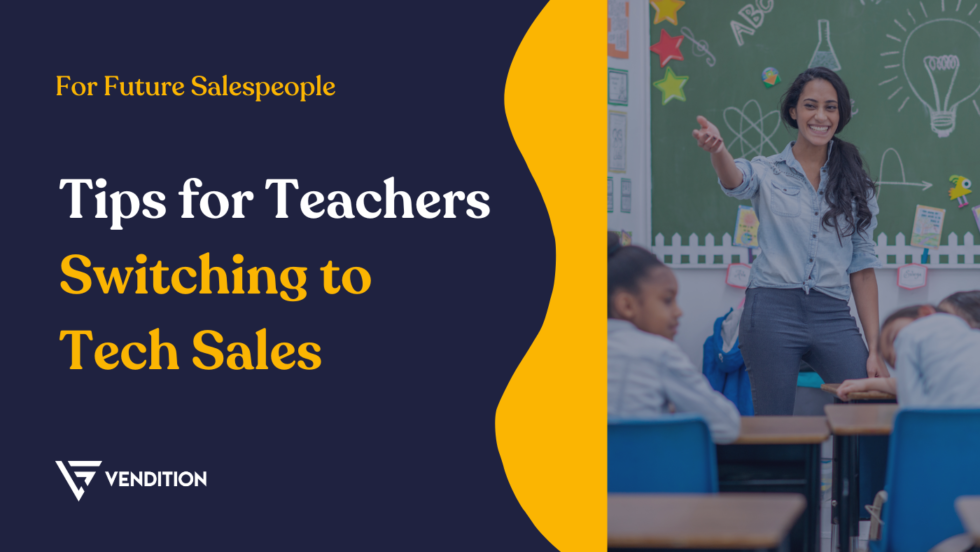 Hey teachers, did you know the skills you've gained working in education make you an ideal candidate for switching to a tech sales career? If you're considering spending the summer searching for a different career with higher pay and more lifestyle flexibility, you're not alone. 
According to the National Education Association (NEA), a reported 55% of educators in 2022 are ready to leave the profession earlier than planned. After two years of pandemic teaching, many of America's educators are feeling more burnt out and underpaid than ever. 
At Vendition, a 12-week Sales Apprenticeship Program, we talk to career changers every day and have learned that current and former teachers have several standout qualities that can be applied to a career in tech sales. Curious to learn what they are? Read on to see how your skills can help you unlock a job opportunity in the tech industry.
Trust us, you have what it takes to switch careers from teaching to tech sales with confidence! 
Qualities that Transfer from Teachers to Tech Sales Reps
When pursuing a career change and desiring to break into tech, the Sales Development Representative (SDR) role is an ideal pathway for achieving upward mobility. 
However, many teachers and career changers find it challenging to cut through the competition and land interviews or get hired without any prior tech sales experience to reference, and without proper training on how to communicate their transferable skills and traits. For teachers, it's important to understand your qualifications extend beyond the classroom. You are: 
Energetic lifelong learners

Strong, effective communicators

Steadfast problem solvers

Empathetic leaders

Purpose-driven professionals
So are tech sales professionals! Vendition's Career Advisors are passionate about helping you draw parallels between the SDR role and teaching so you can see your potential to succeed. 
Tip 1: Don't underestimate yourself! Your experiences as a teacher have helped you to quickly identify student pain points, adapt solutions to different learning styles, and uniquely problem solve for students as you would for each business and their changing needs as an SDR.
Benefits of Switching Careers from Teaching to Tech Sales
In a nation with a reputation for underappreciating teachers, it's no surprise that more are quitting among expectations to not only educate students but manage social behavior, instill values, produce high test scores, and keep students on track amid distractions and cultural trauma. Getting a raise is hardly a hopeful conversation, and it's not uncommon for teachers to pay out of pocket for educational resources when salary is already low. It shouldn't be this way, but studies show it is. There's no shame in considering a career switch, as the tech sales career track offers boundless opportunities for teachers who desire a new environment to grow in. 
Some core benefits of pursuing a tech sales career in the current educational climate: 
Continuous growth potential, with many SDRs getting promoted in the first year

Opportunity to get paid in direct correlation to the effort you put in 

Potential for steady income with higher pay, better benefits, more regular hours, and year-round PTO (not only for summer use!) 

Flexibility to spend more time with family, travel, and pursue new hobbies 

Less physical demands than in-classroom teaching 
Plus, the tech sales industry provides opportunities for reps to foster meaningful relationships, have interesting conversations, and build lasting connections to help solve real pain points. And if you're passionate about still having an educational slant, there are ed-tech companies out there that need reps! 
Tip 2: Know your worth and stay open minded. If teaching isn't currently meeting your personal, professional, or financial needs, explore new opportunities with curiosity and a growth mindset.
Bridge the Gap Between Teaching and Tech Sales with an Apprenticeship
As a teacher and potential career switcher, we know something is driving you to consider tech sales. You have goals! You desire real change. You want to achieve more but aren't sure how to get there. You don't have prior tech sales experience (this is ok!) but you're still curious.
You don't have to fend for yourself in this transitory process – Vendition is on standby to support teachers ready to break into tech sales. We find you a job, train you, AND pay you to learn! 
Vendition offers free resume help, mock interview coaching, and expert training

We help you land interviews with our 500+ hiring partners and get hired with confidence

Continuous mentorship helps you accelerate your career 

Vendition Apprentices are paid $9,000 total for the 12-week Apprenticeship 

After completing the program, 9 out of 10 Apprentices are offered full-time employment and report earning an average annual income of $78,750 OTE, above industry average
Ready to get a better idea of what a life changing career in tech sales could look like? 
Tip 3: Don't be afraid to apply for free career accelerating help on your career changing journey! Visit Vendition.com and create a new candidate profile to start the application process.