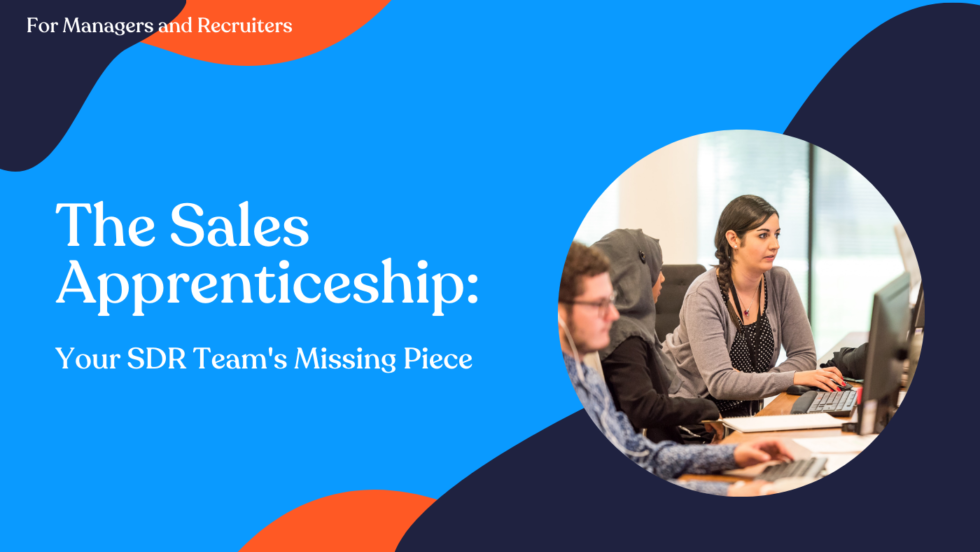 The apprenticeship model is a relatively new advancement in the sales industry. It hinges upon the belief that experiential learning is the best way to integrate new Sales Development Representatives (SDRs) into the industry, their company and their role. Still, many hiring companies have their doubts about the efficacy of this model, so let's walk through.
The What

Let's start from the beginning. Merriam-Webster defines an "apprenticeship" as "an arrangement in which someone learns an art, trade, or job from another." This model is most commonly used in Europe and has been adapted to trade professions in the United States. You may have heard of construction or even tattoo apprenticeships… but what about sales?
When Vendition's founder, James Nielsen, recognized the sales experience mismatch between entry level job seekers and companies looking to hire, he looked to the apprenticeship model with its experiential learning strategies to bridge this gap. Vendition Apprentices experience a 12-week tech sales training program consisting of on-the-job education, supplemental coursework and training, as well as one-on-one meetings and daily office hours with a Vendition Coach. After these 12 weeks, Apprentices graduate into full time roles with their companies with the full skillset and emotional intelligence needed to succeed as SDRs.
The Why

Here's the thing: we at Vendition believe that anybody, regardless of educational background or job experience, can be a successful SDR so long as they have the right personality, traits, and willingness to learn. The sales profession was previously  tough to access for those without formal experience, but our Apprenticeship directly addresses this problem by giving the right candidates the opportunity to earn as they learn. This in turn creates a more diverse talent pool, filling a crucial need for hiring managers. 
And Vendition Apprenticeships benefit hiring companies in more ways than one. We source and thoroughly vet candidates to decrease interview time and speed up the hiring process for talent acquisition leaders. Additionally, our model is the most time-efficient way to get new SDRs up to speed and setting meetings; we train and coach Apprentices during our one-week Onboarding Academy and continue to mentor them the following 11 weeks, thus taking a significant burden off of sales leaders. We cater to our Apprentices' long-term success so that they can cater to yours. 
Take it from our Partners

If you're still iffy about leveraging the Apprenticeship, take it from one of our partners!
BrightTALK had a very specific need: augment their existing SDR efforts with a network of highly-qualified candidates, without adding to their internal hiring team. After meeting with Vendition, they determined that our Apprenticeship model would be the perfect extension of their internal efforts to source quality and engaged sales development candidates with minimal risk. BrightTALK leaned heavily on Vendition's coaches, who provided mentorship and acted as support for the new SDR Apprentices without overwhelming their current staff.
Now, BrightTALK relies almost exclusively on Vendition for sales development talent acquisition, and believes strongly in the power of our Apprenticeship model. 
Read the full case study here.
So, are you ready to bring the Vendition Apprenticeship to your company? It's easy, and it's the best way to set your sales team up for success.