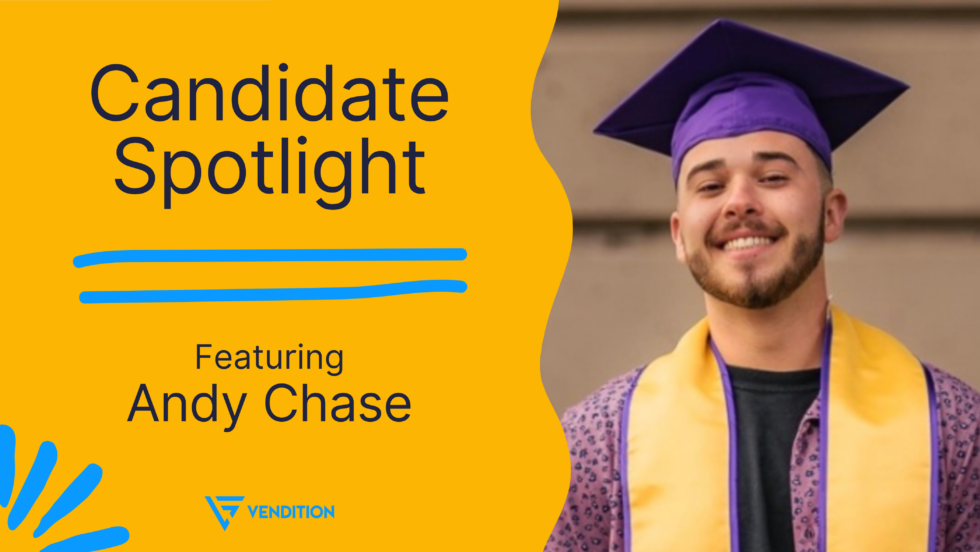 Welcome to the Candidate Spotlight!
Andy Chase possesses the relevant skills it takes to be successful in a Sales Development Representative role, and he's excited to jump into this lucrative career at his next company. Read on to learn more about this stellar candidate and how he can be an asset to your team!
His background and work experience…
A recent graduate of San Francisco State University, Andy has worked hard from a young age to obtain everything he has. While his love of playing sports helped him hone his competitive edge, his mother being sick during his childhood taught him determination and resilience. Now as an adult, Andy has put his expertise to use at improv comedy and managerial positions within a restaurant. These positions developed his abilities to navigate high pressure situations, to deal with rejection, and to become a very adaptable team member – talents that will make him a great SDR!  
His passion for tech…
Growing up in Silicon Valley, Andy understands the effect tech has on the world and is intrigued by the ways it has bettered societies. He is fascinated by the different softwares and platforms, and often finds himself reaching out to learn more. Andy is confident that with his strong interest in tech sales, paired with his applicable framework, he has what it takes to flourish as a Sales Development Representative.
I believe I have the relevant qualities to be an SDR and I'm excited to start my tech sales career. I know at the right company, I will thrive.
Andy is the perfect candidate for you!
Watch this 3-minute video of Andy as he shares his background, his suitable skills, and his excitement for the tech sales industry.
If you'd like to meet Andy or other talented individuals ready to put their SDR skills to work for you, please email rm@vendition.com.