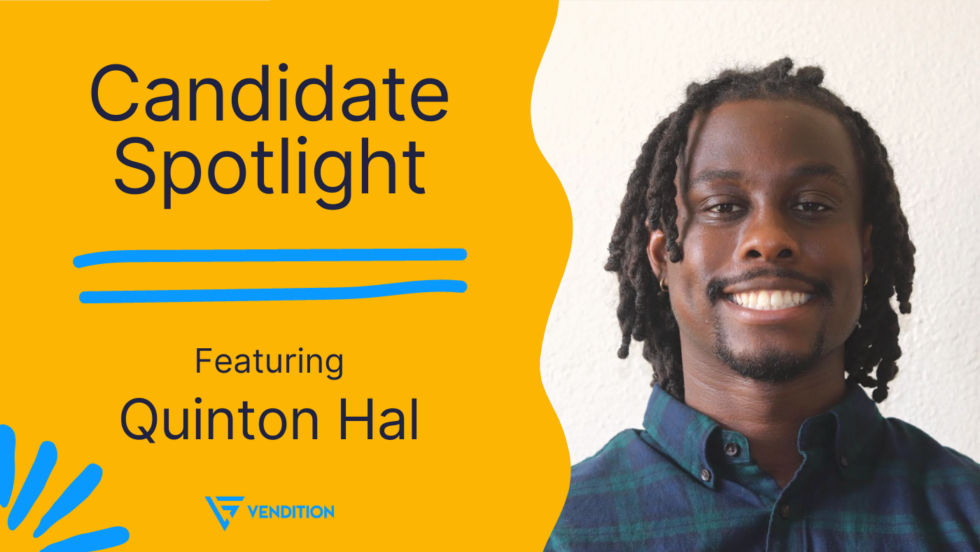 Introducing Quinton Hal, Vendition's newest SDR Candidate Spotlight! ✨
With a background as an IT Technician, and now in Talent and Recruitment, Quinton understands what it takes to thrive in a tech sales role. He has experience in diagnosing and repairing technology, has immersed himself in LinkedIn prospecting, can generate leads through cold calling, is an avid recruiter, and knows how to remain persistent.
He is familiar with the world of tech sales and is ready to take on new opportunities. Quinton has gained a strong foundation through skills gained in his previous experiences, including creating strong relationships, using creative problem-solving methods, and networking to build brands.
Quinton has the best mentality as he enters this new career phase: "I know that part of being an SDR is connecting with people and building trust with clients, and that's one of my biggest assets – being able to empathize with others and connect with them on a level that they normally wouldn't get anywhere else." 
The cutting-edge industry of tech excites Quinton, and he's looking forward to the challenges and growth that comes with it. His empathetic and recruitment mindset allows him to see what success in tech sales looks like, and he cannot wait to dive in.
If you'd like to meet Quinton or any of our other amazing candidates, please email rm@vendition.com to learn more.