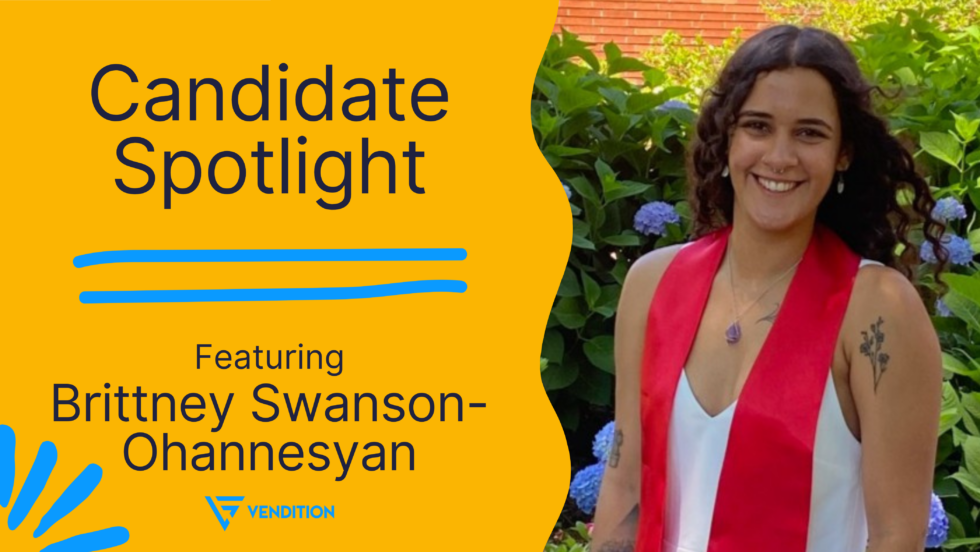 Welcome to the Candidate Spotlight!
🌟
Brittney Swanson-Ohannesyan, a leader with a competitive edge, who is ready to take on a Sales Development Representative role. 
​​Born and raised in San Francisco, CA, Brittney has seen the effect the tech industry has on the world, and she's ready to dive in! As a recent college graduate, her education in Women's Studies plus Multicultural and Gender Studies provides her with a unique understanding of how diversity and individual experiences contribute to who we are, which is perfect for understanding personas in sales.
Brittney's time in college…
During her time in school, Brittney gained tons of SDR related skills, like collaboration and clearly communicating concepts written and verbally. She held a leadership position in her sorority, did volunteer work and had a Public Relations internship where she practiced cold outreach and created social campaigns, all while maintaining a Dean's List status. 
Life after school…
Since graduating from college, she has dedicated her time to her current position as a Registered Behavior Technician, where Brittney works with kids on the autism spectrum. Her role has refined her skills in patience and understanding, and shown her how much she enjoys a role where she can help others and solve problems.
With my background, I have really grown to understand the differences in humans and how diversity can really bring us together. That is what I'm most looking forward to as a Sales Development Rep.
Are you ready for Brittney to bring her diverse perspective to your company?
Watch her 4-minute video as she discusses her eagerness for this career switch and to master quota-driven results, while understanding and meeting client needs.
If you'd like to meet Brittney, please email rm@vendition.com or head to our LinkedIn for more SDR Candidates available through Vendition.