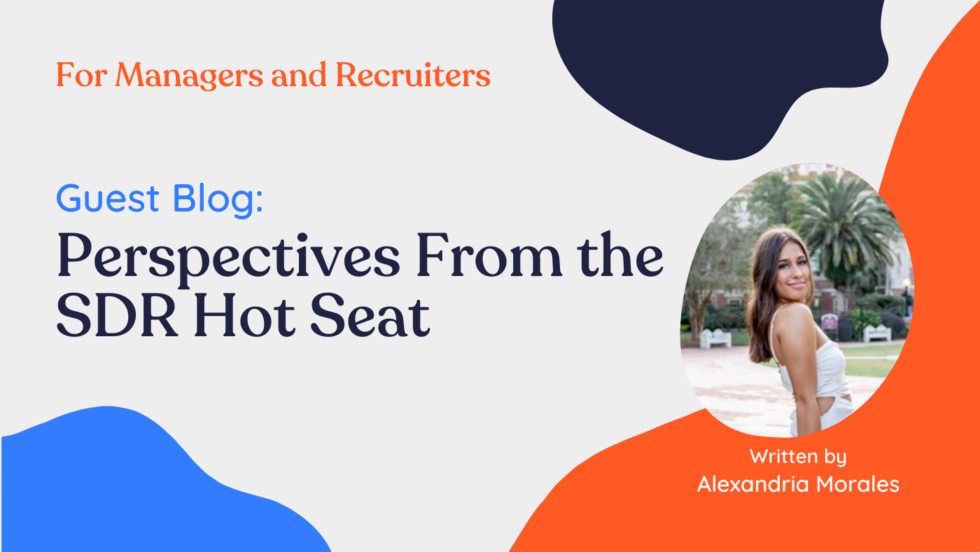 *This blog was written by Vendition SDR, Alexandria Morales. 
Sales leaders talk a lot about sales leadership from the perspective of … sales leaders. After all, who knows your job better than you? But it's important not to overlook the input of the SDRs on your team, those who are most affected by your leadership styles and strategies. Having been in this role for over nine months now, I've learned quite a bit about what it takes to be a successful SDR, and what to look for in a sales leader.
Here are some reflections I've gathered since joining Vendition as an SDR:
What I look for in a sales leader
I've been fortunate enough to have exceptional leadership in my first SDR role here at Vendition. My SDR manager has several noteworthy characteristics, but these stick out to me as things all sales leaders should do:
Allow SDRs to try new things.

I think a huge aspect of being a successful SDR is having the ability to think on your own and test out what does and doesn't work for you; having the room to "fail" means I can grow and learn. My SDR manager is always receptive when I have a new idea or want to test something out, and because of this, I've been able to develop my own selling style through trial and error.
Make SDRs feel comfortable coming to you.

It's normal for newbies to feel anxious about asking questions or worried about how they'll be perceived if they show that they are struggling. I think part of a sales leader's role is to make themselves available for SDRs to come to with questions, concerns, or struggles. After all, we are looking up to you for guidance as we work toward our common goals.
Challenge your team.

There's only so much growth that can happen when everything is smooth, easy, and predictable. I always appreciate when my SDR manager pushes me a bit further, either by increasing my quota or having me lead part of a team meeting. I know that these challenges are helping me develop into the best SDR I can be.
Care about your SDRs' mental health.

I came into the tech sales world at a tough time for the industry. As you can imagine, today's market conditions have made my job a lot harder, and sometimes take a toll on my mental wellbeing. A good sales leader should care about how their SDRs are doing and support them in living healthy, integrated lives.
Validate your SDRs' feelings.

As I mentioned earlier, there are so many ups and downs in the SDR experience. This can elicit a rollercoaster of emotions, especially for newer sales people like me. One thing my SDR manager does really well is reminds me that my experiences and feelings are valid, and helps me channel that energy into productivity.
Trigger points I watch for when interviewing
My interview process with Vendition was one of the main things that drew me to the company. I knew by how comfortable I felt in each interview that I would fit in and enjoy working here. The AEs, my SDR manager, and the VP of Revenue were all very inviting; I didn't feel like they were speaking down to or judging me. 
Additionally, each interview felt more like a conversation than an interrogation. As much as they were interested in finding out if I was the right fit for them, they were also keen on showing that they were the right fit for me. This is perhaps the biggest thing I would tell sales leaders to be cognizant of when conducting interviews: always think, "How am I appearing to job candidates? Would I want to work for myself?
How new SDRs should prepare for the role
As is the case with any new job, there's a learning curve. You're not going to have everything figured out from the jump, and that's okay! But if I could go back to day 1 as an SDR knowing what I know now, there are a few things I would tell myself (or that I hope a sales leader would tell me):
Ask lots of questions during the interview.

Like I said before, the interview is also your opportunity to make sure the company is a good fit for you. Ask any questions you may have about the sales process, company culture, leadership styles, etc.
Get comfortable asking questions on the job.

It's not a sign of weakness or ineptitude — it actually shows that you're curious and willing to learn. Remember, the more time you spend wondering whether or not you should ask a question is time taken away from actually being productive and doing the work.
Try new things.

Trial and error is the only way you'll find out what works for you, especially if you've never held a sales role before. Whether it's incorporating videos into your outreach strategy or sending more personalized InMail messages,

just do it

. You may fail a few times before you succeed, but you

will

succeed.
Stay conversational.

This has helped me feel more comfortable in this role. Yes, my job is to sell, but at the end of the day I'm just one human talking to another.
Learn to accept rejection.

Rejection is part of the job. It's humbling, it can be hurtful, but it's stretching our muscles and making us better sellers in the end. Embrace it.
My biggest takeaway
I've hinted at it throughout, but the biggest thing I've learned so far on my journey is that as SDRs, managing our emotions and controlling what we can is key. We can't take things personally. No matter how invested we are in a prospect, we've got to detach ourselves from negative outcomes and keep it pushing. This role is full of ups and downs. It's great when things are going well, but we'll all have bad days, weeks, or even months; it's crucial to remain positive and ride through it.
While helping you manage this emotional component for your SDRs, Vendition can also support you with the entire hiring, onboarding, and coaching process. From the decision to make a new hire through those critical first 90 days on the job, Vendition's Apprenticeship program helps SDR managers and sales leaders get more time back in their day, save money on the overall hiring process, and get results through a top-trained SDR team, hand selected for your company. Interested? Reach out to the Vendition Team to learn more!