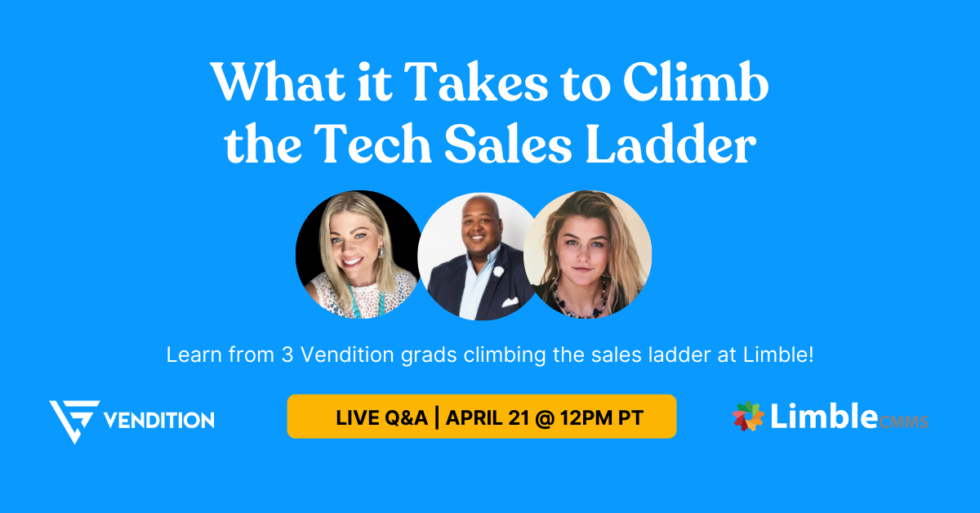 Job hunting? Curious about switching careers? Hoping to launch a career in tech? Interested in sales? You're in the right place. Whether you're a recent grad, soon-to-be grad, or seasoned professional who wants to learn more about breaking into tech, we're hosting an upcoming webinar that will help you understand the opportunities an apprenticeship can offer. 
Join us for this online event on April 21, 2022 at 12:00 PM PT / 3:00 PM EST. 
You'll hear about Vendition's paid sales Apprenticeship through the lens of three alumni who got hired at Limble CMMS after completing the program and have been climbing the sales ladder since! Plus, you'll get the chance to ask our panelists anything you want about their experience or the Apprenticeship! . 
Register here to attend and submit questions for the panel in advance.
In the meantime, get to know our 3 panelists through their biographies and testimonials below.
From Spa Owner to Sales Development Representative (SDR)
Meet Vendition alumni and webinar panelist Leslea Edwards!
Leslea is currently a Lead Sales Development Representative (SDR) at Limble and loves smashing quota!!! Her favorite thing is seeing her commission check. Her passion at Limble is to help all new SDR hires to feel empowered, important, accepted, and confident in their sales stack. Before Limble, Leslea was the owner of a day spa in Logan, UT. Her career shift has been exciting and rewarding. During her free time, she loves working out, traveling with her 3 girls, and date nights with her husband Brett.
"I was working as a spa owner for 15 years and as Covid hit, I decided I needed to make a career change and it was the best decision I've made. I now work for a company called Limble, which is a maintenance management software company. I love my team, I'm a Lead SDR now setting appointments for AEs but working my way up and I am absolutely enjoying the journey."
Promoted From SDR to Account Executive (AE) in Six Months
Meet Vendition alumni and webinar panelist Alexis Brugler! 
Alexis is currently an Account Executive at Limble CMMS. She started her Vendition apprenticeship as an SDR at Limble in April of 2021, and moved into her new role in early October. She's loved the transition into this new role and enjoys learning more about the sales cycle every day. Alexis is based in San Francisco, CA. In her free time she loves running, painting, practicing mixed martial arts, and is currently starting a music podcast with some of her friends.
"After my first meeting with Vendition, I knew it was too good an opportunity to pass up and it would really allow me to grow in a career that I knew would empower me and would fit all of the boxes that I previously didn't know how to check off." 
Career Switcher Turned SDR Leader Helping New Hires Succeed
Meet Vendition alumni and webinar panelist Leonard Matlock!
Leonard is currently a Senior SDR/Team Lead at Limble. He loves hitting quota often and helping all the SDR new hires succeed. Before Limble, Leonard was involved with too many things but enjoys Music Production, event planning, and watching all the sports. Leonard spent 10+ years in AVL Production, Road Managing & Artist Management. During his free time, Leonard loves to spend time at the beach, sporting events, concerts, bowling, and golf but mostly outside with one of his smokers practicing for his BBQ Competitions while hanging out with friends and family. Leonard currently lives in Atlanta, GA with his beautiful wife Amanda and two rambunctious, awesome kids in LJ (5) and Lizzie (2). 
"The apprenticeship program for me was excellent. I got great training from the beginning all the way until the end of my time with Vendition and I would encourage it for anyone that is looking to break into tech, whether it be you're a career switcher like I was, or even if you're coming right out of college. I think it's a great place where you'll be tested, it's a lot of fun and you will learn a lot to be successful here in the tech space." 
About the Host: Bella Kearney, Associate Relationship Manager
Our webinar host Bella Kearney is currently a member of the recruiting team at Vendition as an Associate Relationship Manager. Driven by her desire to help others find fulfillment in their careers, Bella is involved in both the recruitment and coaching of Vendition's talented tech sales candidates. She is a proud graduate of Pomona College in Claremont, CA, and enjoys running, reading, and a good board game. She will be facilitating this exciting alumni conversation! 
New to Vendition? Here's the Details!
Vendition's 3-month sales apprenticeship program offers resume tips and mock interview training to help you land a job, dedicated mentorship, and more. We are passionate about breaking barriers and believe that all individuals, no matter their background, academic status or financial standing, should be able to access the lucrative world of tech sales. 
Plus, it's free! Seriously. Vendition apprentices are paid $3,000 monthly to earn-as-they-learn, gaining real on-the-job experience as an SDR, because we believe in tuition-free training.
Prior tech sales experience is not required. We believe great sales talent comes from a diversity of personal and professional backgrounds – bring your curiosity to learn how the skills you already have can be applied to a sales career!
Ready to learn more? Register here and join us on Thursday, April 21st at 12:00 PM PT / 3:00 PM EST.