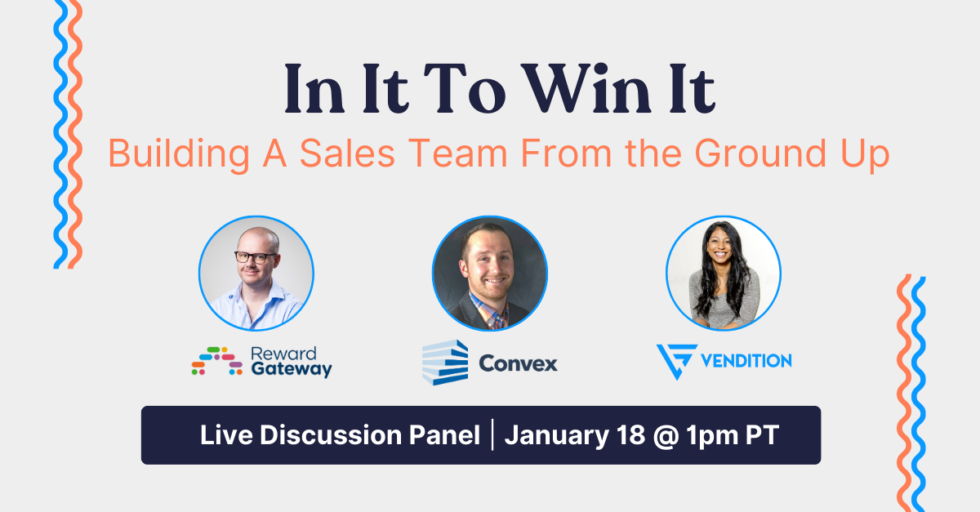 We hosted a panel of industry experts to gain insight on how to build a rockstar sales team.
Check out this video to catch the full webinar.
Here are a few key insights we gathered from the event:
Control the variables.
The interview process is the crucial time when you get to learn more about candidates and they get to learn more about you. To give everyone involved the fairest shot, it's important to control for whatever variables you can when interviewing. Ensure you use the same panel of interviewers for each candidate, try to stick with a predetermined list of questions, and do whatever else you can to eliminate conscious and unconscious biases.
Look for both tangible and intangible skills.
A candidate's resume can only tell part of their story. Get a more holistic understanding of a candidate's character by asking broader questions (i.e., "what's your perfect pizza order?") and taking into account their past experiences that may make them the ideal sales rep. Sure, experience working in Salesforce is great, but so are intangible skills like coachability and competitiveness!
Understand your goals.
Building a rockstar sales team often requires a bit of reverse engineering. Understanding your company's overarching revenue goals will give you a better sense of who and how quickly you need to hire. Then, establishing clear goals for your team, based on each individual's proven strengths, will enable you to set better expectations for each SDR.
Foster an inclusive work environment.
By now, most of us can see the business case for building diverse sales teams. But hiring diverse candidates means nothing if your workplace isn't inclusive of different identities. Before you set out to onboard diverse hires, ensure 1) that leadership is bought in to diversity, equity, and inclusion efforts and 2) that your company has the resources available for underrepresented identities to thrive. Employee Resource Groups are a great place to start!
Return to the "why."
Understanding an SDR's intrinsic motivations is crucial not only to hiring the right person, but also to coaching each rep to hit their fullest potential. Always keep the "why" in mind when coaching your SDRs, as this is a great way to hold them accountable to reach their goals both on and off the job.
Ready to build your own sales team with Vendition as your partner? Email us at sales@vendition.com to get started!