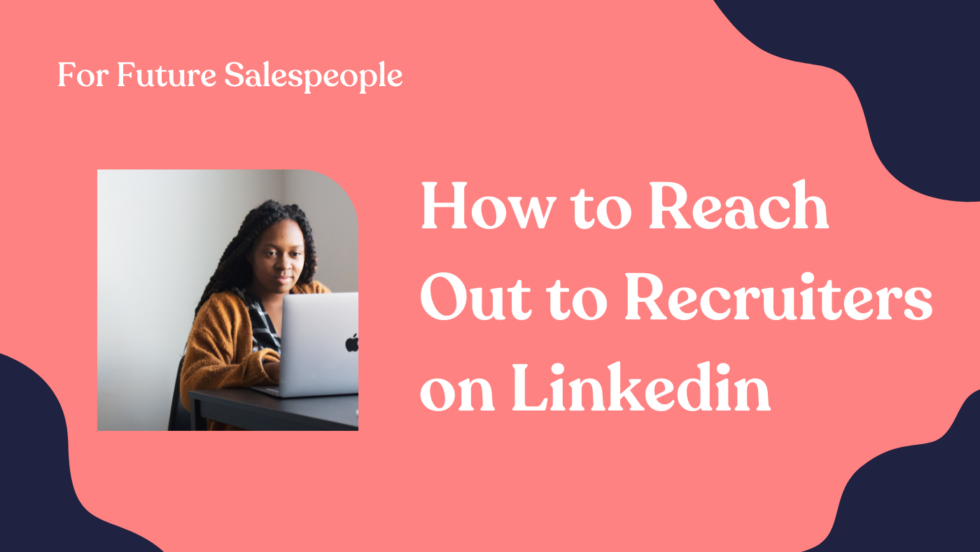 After applying for a new position, many jobseekers wonder what the next steps are and sit anxiously waiting to hear if they've been picked for an interview. Sound like you or someone you know?
After you submit your resume, it's time to be proactive – especially in sales – by asking for the interview. Because recruiters are actively seeking candidates, it's fairly easy to find their contact information so you can reach out to try and land a first interview.
Because most job postings receive a high volume of applicants, messaging a recruiter acts as a great way to advocate for yourself and show that you are a stand-out candidate. How you craft a message to a recruiter is important as it highlights your professionalism and networking skills. 
Why Go the Extra Mile?
By taking the initiative to communicate with a recruiter before you hear back from them, it shows you're proactive and driven. It's also a great way to showcase your professionalism via digital messaging.
Recruiters are looking for candidates who are excited about the role they applied for and who aren't afraid to introduce themselves. Think of sending a message to a recruiter like you'd think of a new colleague introducing themselves to the team without being told to do so by their boss; it promotes that you are self-confident, open, and enthusiastic!
How to Find the Right Person
If you're applying to jobs through Linkedin, most postings have the recruiter who's checking applications listed at the top of the job description. Check out the image below to see where to find this on Linkedin.
Click and view the recruiter's profile; on the right hand side of their header (the top of the page), click the button titled "More" and select the icon that says "Message" from the drop down menu. After clicking on the "Message" icon, you'll be directed to a separate page to craft a personalized message.
Sample of where to find the recruiter who is overseeing a LinkedIn job post.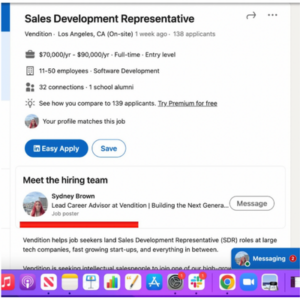 If you are unable to find the recruiter's information through a job posting, you can look for members of the talent or human resources team by heading to that company's general Linkedin page. Check out the image below to see where to find this on the job listing.
Sample of where to click to be redirected to a company's Linkedin page via a Linkedin job posting.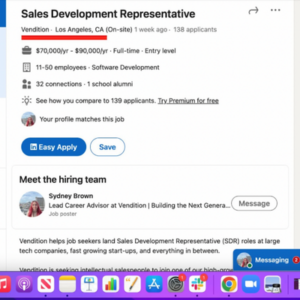 Once you have clicked on to the company page, look at their header and click on the "People" tab. There you will find a list of every current employee of that company, and one of them is bound to be a Recruiter, Human Resources Manager, Director of Talent, or Hiring Manager.
How to Write Your Message
When messaging a recruiter through LinkedIn, the first thing they see is the title or "subject" of the message. Because this acts as their very first impression of you, make sure to be creative and professional!
Many people write a subject line such as, "I'm Interested in the SDR Role," which works well because it makes the reason for their message clear. But if you are able to think outside of the box and create an uncommon subject line that still mentions the job title the company is using, it could really grab a recruiter's attention. Think of a subject line such as, "Let's Chat about Your SDR Opening!"
For the body of your message, you want to discuss how your skills can easily transfer into that role. Make sure to reread the job description in full so you clearly understand the role you applied for. After describing why you'd be a good fit for the role, politely ask the recruiter if they'd be open to discussing the role with you over the phone. This will hopefully lead you to enter the interview process at that company! Check out our messaging example below.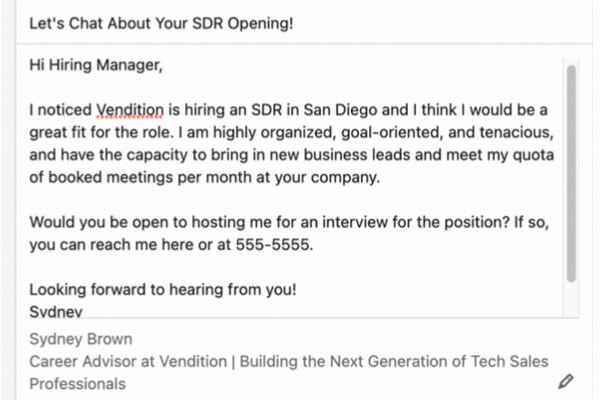 In case you want to copy this example, here's the text from the screenshot:
Subject: Let's Chat About Your SDR Opening!
Hi [Hiring Manager Name],
I noticed Vendition is hiring an SDR in San Diego and I think I would be a great fit for the role. I am highly organized, goal-oriented, and tenacious, and have the capacity to bring in new business leads and meet my quota of booked meetings per month at your company.
Would you be open to hosting me for an interview for the position? If so, you can reach me here or at 555-5555.
Looking forward to hearing from you!
Sydney
Try to keep the body of your message to four sentences or less. You can write two or so sentences about your transferable skills, and leave the last one-to-two sentences to ask them to schedule a call with you.
What to Do After Hitting "Send"
While you wait to hear back, make sure to check out the Linkedin page of the company you are applying for. Their posts will give you insight on the company culture and values, and will ultimately give you more to relate to in your first interview.
After you reach out to a recruiter, they most likely won't be able to get back to you right away. Although it may be tempting to continuously reach out, it's important to wait and be deliberate about how and when you follow up.
You will want to wait at least two business days before re-messaging a recruiter. This gives them time to check their inbox and clear their head before they reach back out to you! When you send a follow up message, be courteous of their schedule. You can also share thoughts on a company Linkedin post you enjoyed to let the recruiter know you are highly interested not just in the job they are offering, but also in their company as a whole!
Whether messaging a recruiter leads you to landing a first interview or not, it is still an excellent way to build professional relationships. Feel free to apply this to any job you apply for. By getting your name out there, you will expand your network and will be more likely to be at the forefront of a recruiters mind as new opportunities come their way!