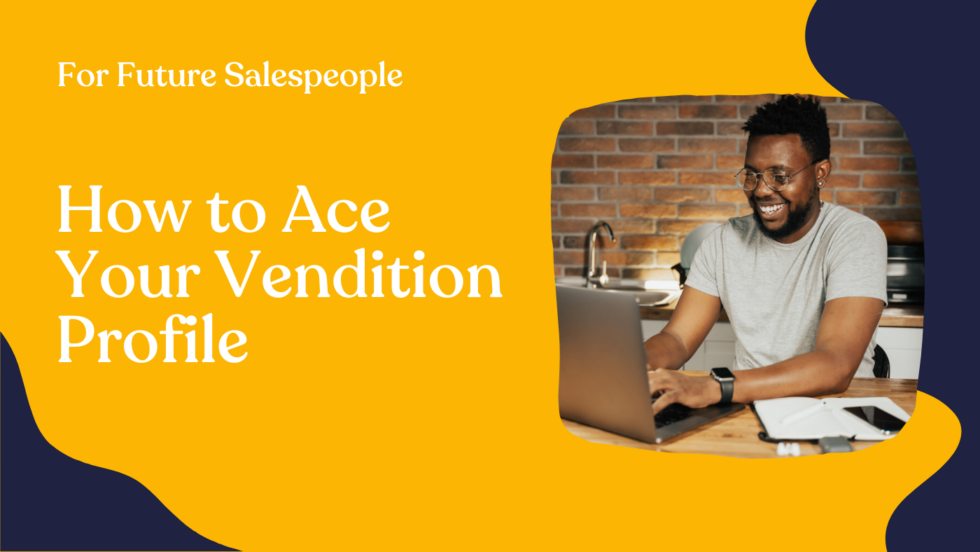 As you're getting ready to look for the next step in your career, you have a plethora of skills, attributes and motivations that don't always make it to the final draft of your resume. How can a one-page document truly encapsulate not only your experience and talents, but also how you communicate and your willingness to learn? 
This idea is exactly what led Vendition to create Candidate Profiles, an opportunity for Sales Development Representative (SDR) candidates to create individualized profiles that highlight their personality and skills, plus what is typically on a resume. Read on to learn more about why you want to create a Vendition Candidate Profile and tips on what to include so you stand out in the recruitment process. 
Components of a Vendition Candidate Profile 
When creating a Vendition Candidate Profile, candidates will offer information about themselves through three main avenues: 
Social, Emotional, and Behavioral (SEB) Assessment

Two video prompts

Information regarding their educational and employment experiences 
Candidates are also encouraged to provide a resume and LinkedIn profile in their account as well, because having a mix of traditional and modern interviewing materials gives the candidate an edge during the recruitment process.
Lastly, candidates are asked to provide their current location and preferences for remote, hybrid, or in-person work environments. With all of this information in hand, the Vendition talent team can review your profile and see if there is a potential match with one of our partner companies. 
The talent team will only review completed Candidate Profiles, so remember to fill out each section of your profile – this ensures you are considered in our matchmaking process! By providing us with this information, we can get the full view of who you are and what companies might align with your personality. 
You may be wondering why Vendition asks you to submit more information than just a resume. 
Some candidates might not have sales experience quite yet, but that doesn't mean they don't have valuable skills to transfer into a sales role. By completing the SEB Assessment and video prompts, we feel you will benefit in three ways:
You can showcase yourself as a well-rounded individual.

The Vendition team can better match you with one of our partner companies.

Helps entry-level candidates stand out who may not have sales experience.
When completing your Vendition profile, be bold, be brave, and be candidly you! You are much more than just a resume. 
SEB Purpose
The SEB Assessment is an excellent tool for match-making you to one of Vendition's high-growth partner companies based on your personality – the social, emotional, and behavioral skills that make you, you! Essentially, the SEB Assessment asks a candidate questions about how well they feel they can accomplish something on a relative scale. There are no wrong answers on this assessment, so please answer the questions honestly. 
After completing the Assessment, Vendition is able to learn more about you and how you operate. Each Vendition hiring partner has a unique workplace culture where certain types of people thrive. By staying true to yourself when answering the SEB Assessment questions, Vendition can ensure that you are only considered for openings that will match your specific needs and working style.
Crushing Your Video Prompts
Filming your two video prompts acts as a sneak peak to your interviewing style, so you want to give it your all! This is your chance to give a face to your name, so think of it as a first impression. Before you start recording, make sure you are in a quiet, comfortable setting, are dressed professionally, and that the background behind you is tidy. After that, it's showtime! 
When answering the first video prompt question, "tell me about yourself," you will want to talk about your personality traits, upbringing, hobbies, previous accomplishments, work ethic, and most importantly, the journey that led you to fancy becoming an SDR! When choosing which question to answer for the second video prompt question, pick the prompt that you connect with the most. We want to see your enthusiasm when answering this question, so select the prompt that you feel genuinely excites you, and relates to your own personality. 
You can find a tips and tricks sheet on filming your video prompts here!
Next Steps – What to Expect
Once you have completed all sections of your Candidate Profile, the Vendition talent team will be notified to review your Vendition account. After reviewing your information against our current opportunities and their locations, we will determine if you will move on to the interview matchmaking process. 
If you are selected to move forward, you will go through multiple interview rounds and must receive a final offer from one of our partners' hiring teams in order to begin working as a full-time Sales Representative. This allows you to receive on-the-job training at a phenomenal, high-growth company! 
Because we want to ensure your success in the interview process and connect you with companies that best suit your needs, this matchmaking process may take some time. While you wait to hear back from us, you can check out our blogs to learn more tips and tricks to land an entry-level sales role!