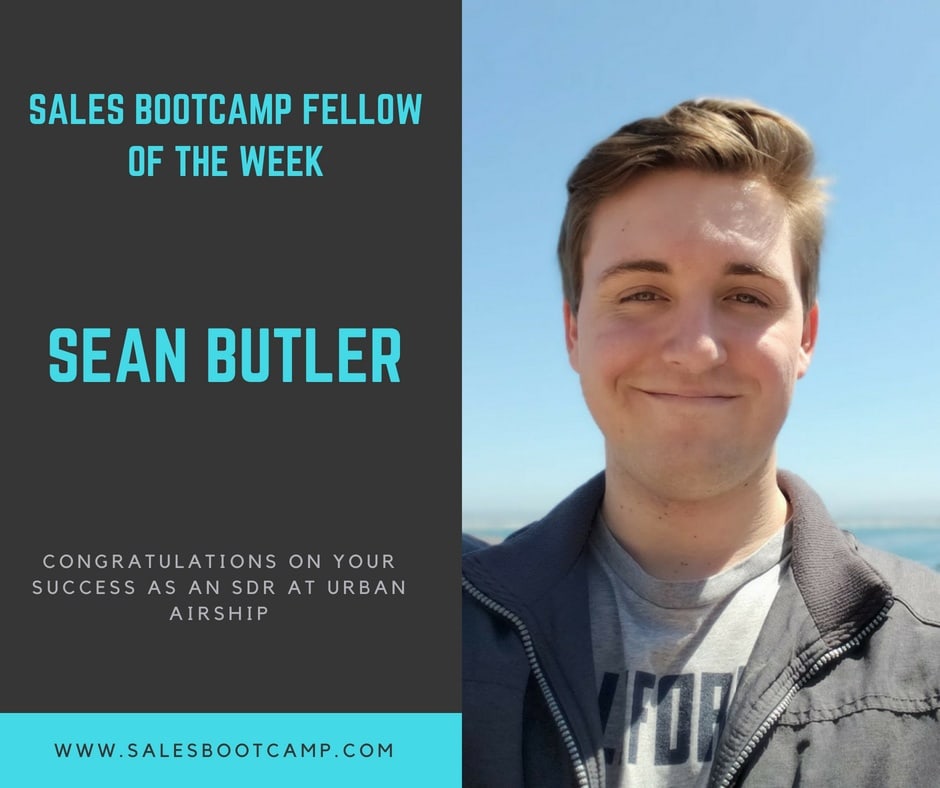 This week, we are highlighting Sean Butler as Sales Bootcamp's Fellow of the Week!
Sean found Sales Bootcamp as he was looking for tech jobs in San Francisco, and liked the fellowship program because of the idea that he could test out a sales role before moving full-time into it. Once our team at Sales Bootcamp introduced Sean to Urban Airship for an interview, he knew it was a good fit right away. He met with the SDR team and the Vice President of Sales. After a comprehensive interview process with the sales team, Urban Airship ultimately extended an offer, and Sean was thrilled to get started right away and move to San Francisco for the opportunity.
Ashleigh Early, Sales Bootcamp's Fellowship Coach, helped him from the beginning with personalized, 1:1 mentorship and training. Ashleigh helped Sean get into the mindset of working smarter, not harder. He always looked forward to his calls with Ashleigh during the week because it gave him a sense of what to dial in and focus on.
During his first three months at Urban Airship, Sean learned specific techniques from his team members and Account Executives. There was a transitional stage in managers, however, so his team really had to step up and own their activity. Ashleigh, his Sales Bootcamp Fellowship Coach, really stepped up to the plate to help him succeed. Sean mentioned his goals in terms of metrics, and Ashleigh told him the numbers he needed to be hitting and the right output to be successful. Ashleigh worked with him on the big picture to make sure his strategies were effective long-term. One idea in particular that he implemented was self-promoting on LinkedIn, which helped him connect with prospects by sharing articles and relevant stories.
"One of my favorite things about being a coach is that no two days, companies, or fellows are the same. Sean's laser-like focus on activity was a major contributor to his success, and made it easy to identify areas for improvement as well. Sean is a testament to focusing on the work and letting the numbers speak for themselves. His emphasis on fundamental skill development led him to earn the trust of leadership early, which ultimately resulted in his conversion to a full hire with Urban Airship and what I'm sure is the start of a long career with a great team!" -Ashleigh Early, Sales Bootcamp
Sean has grown tremendously since day one as an SDR, with the help from his team and his coaching from Sales Bootcamp.
"I'm definitely a lot smarter in my sales tactics than when I first started. In the beginning, it was all about output, but now I'm focusing much more on different verticals and refining my process. I know I'm really coming into the role now. It's fun to have a job where you can get up every day and keep improving and finding success."
Sean's top tips for other SDRs:
"Always keep pushing forward, even when it doesn't seem like anything is working, because you never know who your message is reaching. If you're putting in the activity, trying hard with your messaging, and making your pitch more refined, you will see result. When you are honing your pitch you can feel doubtful, but if you just keep moving forward you will reach your goals."

"I'd definitely recommend Sales Bootcamp to anyone who indicates that they want to get into sales. I've had an all-around great experience with Sales Bootcamp."
Congratulations to Sean for his hard work and continued success!