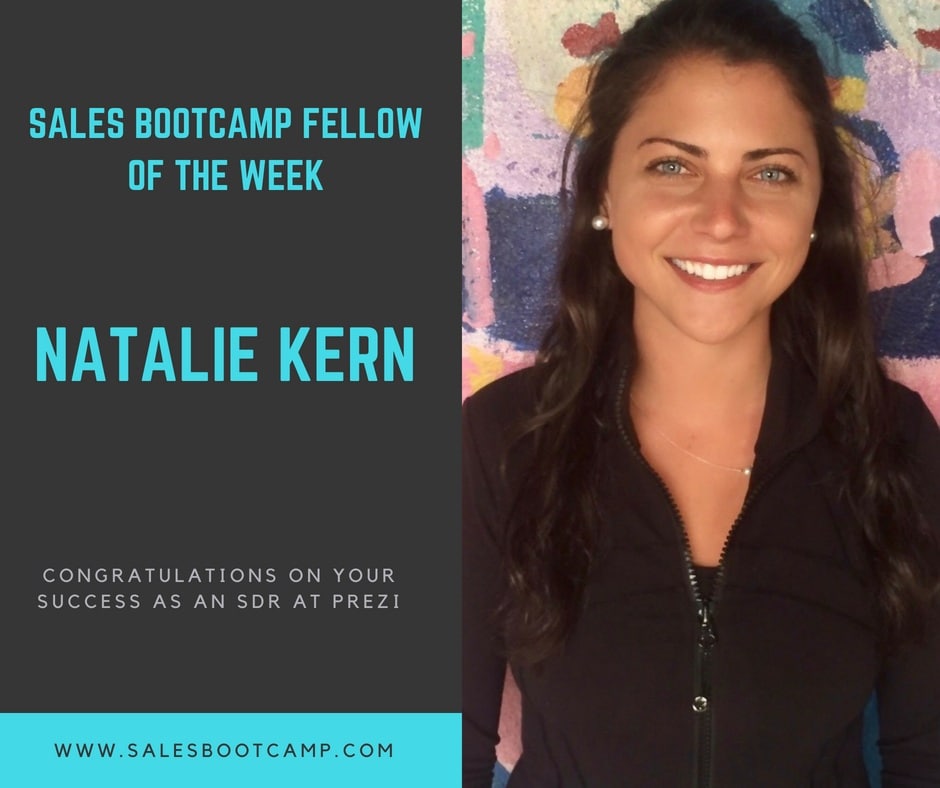 Congratulations to Natalie Kern, Sales Development Representative at Prezi, for being recognized as Sales Bootcamp's Fellow of the Week!
Natalie always knew that she wanted to launch her career in sales because her dad and two sisters have been in sales throughout their careers- it was always the talk of conversation. She was aware that it would be tough work with a lot of cold-calling and rejection, but she was ready for that and knew what she was getting herself into. With her strong mindset and expectations of the role, she was able to jump in seamlessly and has been enjoying her experience as an SDR at Prezi.
Sales Bootcamp has helped Natalie adjust to the new role by recommending best practices and specific strategies. Her Fellowship Coach helped in her first few weeks by walking her through Prezi customer success stories and asking her to read articles from customers about Prezi's products. Our coaches then conducted mock sales calls with Natalie and asked her to mention these customer success stories and relate them to the current customer's situation.
These mock calls helped Natalie by making her more comfortable on the phone with people she didn't know. Her coach would also ask questions she wouldn't know the answer to so that she could practice thinking of answers and solutions on the spot, which prepared her for calls with potential customers. Our coaches also helped by giving strategies on tone of voice and teaching Natalie how customers will perceive her on the phone. Natalie learned to filter out filler words and phrases that aren't best to use on the phone, ensuring that she has the most fluid conversation.
Natalie has had outstanding performance as an SDR so far. She reached full quota in March and achieved 140% beyond quota in April. After a few months on the job, her manager noticed that she sounded much more conversational and comfortable over the phone. With support from her coaches and mentors, Natalie continues to improve and impress, and is absolutely on the road to success.
Natalie's top tips to other SDRs: "Never give up because there are times where you really don't want to call people and look through all the leads you have, but if you take some time to strategically go through the leads and figure out who to call, it will pay off in the end as you will find amazing leads that you otherwise would've missed. As an SDR, you just gotta keep going."
Great work, Natalie, and congratulations on an impressive start at Prezi! We look forward to supporting your continued success.