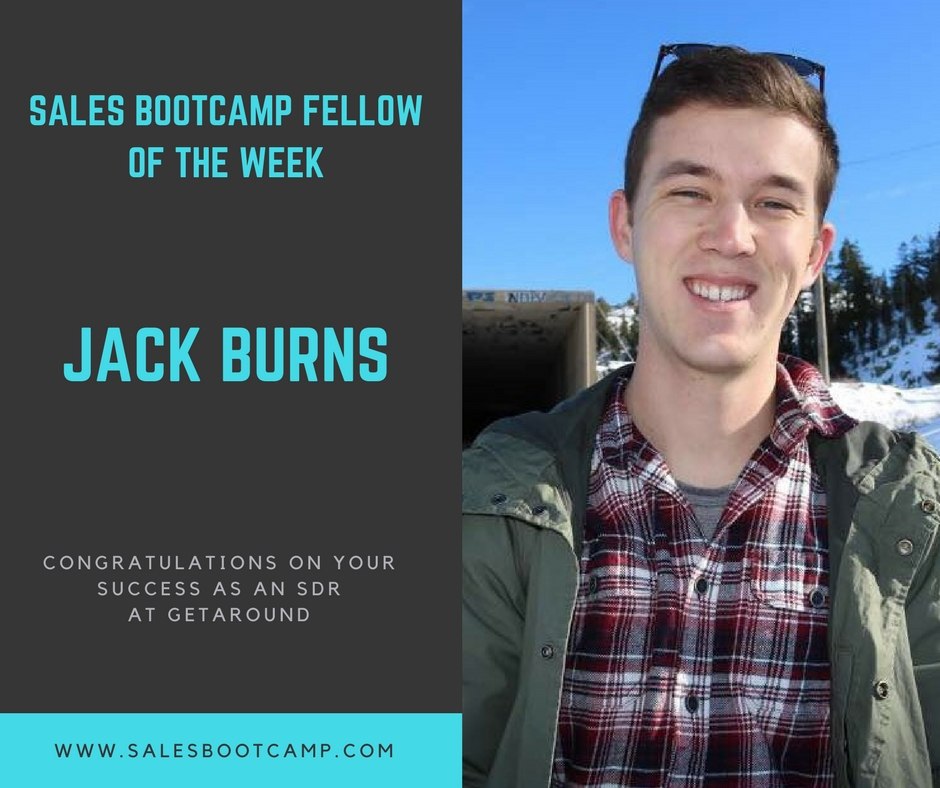 Congratulations to Jack Burns for being selected as our Fellow of the Week!
After Jack graduated from the University of California Santa Barbara, he moved to Hawaii for a few months to work as a tutor before returning to San Francisco. When he moved back to the Bay and began his job search, he recalled meeting Niko and James at UCSB a few years ago. He had known about Sales Bootcamp and was interested in reconnecting, so he signed up for our online bootcamp and worked through the course. After gaining knowledge and skills from our bootcamp, Jack felt confident and moved forward with our talent match team to begin the fellowship. He was set up with a few interviews, and Getaround was an immediate standout. Getaround gave Jack an offer within a week of his first phone screen, with an immediate start date. Jack was pleasantly surprised by how quick the entire process was through Sales Bootcamp. He was expecting to have a few months of interviews, but was happy to have a job and be working right away within a matter of weeks.
Jack realized quickly that our Sales Bootcamp training videos were extremely helpful once he started working at Getaround. He was one of two Sales Bootcamp Fellows at Getaround, so having a colleague going through the same process and training, and who knew what kind of knowledge you gain through Sales Bootcamp, helped him adjusted very quickly in his role as an SDR.
Getaround has been an exciting company for Jack to work for because it's been rapidly expanding. Since he started, Getaround has opened two new markets, added tons of additional zip codes, announced a partnership with Uber, and more. The company's fast growth has made it easy for Jack to get on board and be successful in a short amount of time.
Jack has consistently been at the top end of opportunities created as an SDR. He has been surpassing his quotas and working hard to contribute to the company's growth. Jack doubled his quota and conversions from what is expected of him, so he is confident in his sales potential and excited about his progress.
Jack's manager, Adam, said, "Jack has been a team player from day one, taking on additional responsibilities as opportunities presented themselves. He made his biggest impression when we brought on another Sales Bootcamper, about 6 weeks into his own fellowship, and without any expectation Jack reached out to help train train her, which greatly eased her onboarding. Jack's been great for culture and morale and we're lucky to have him aboard."
The coaching calls from our Sales Bootcamp team were especially helpful and practical for his SDR work at Getaround. Once he had a grasp on the role after the first few weeks, the coaching calls became extremely useful because they built on his on-the-job training and added value. He appreciated being able to bounce ideas off of his sales coach and ask about specific ideas and strategies when trying to reach out to customers who have said no in the past. Sales Bootcamp's resources were pivotal to help Jack fine-tune his techniques.
"The most important thing across any SDR or sales role is you just have to do it. There are times where you can get down, but you have to go with the ebbs and flows with your calls and don't be afraid to take that extra step to drum up something on your own that's out of your regular process. Send out a blast email or text to leads you haven't talked to in a while, throw something out there. The worst someone can say is no."
We look forward to watching your continued success in your sales career, Jack! Keep up the great work.