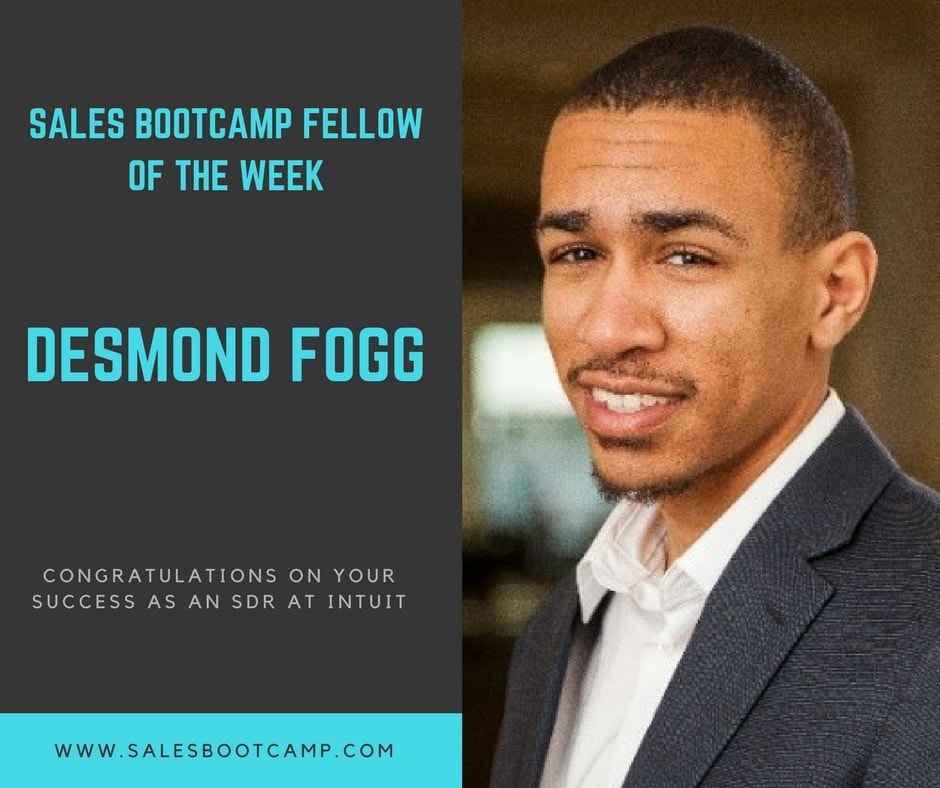 This week, we are highlighting Desmond Fogg, Sales Innovation Consultant at Intuit, as our Fellow of the Week. Before connecting with Sales Bootcamp, Desmond was already working in sales in Virginia in an online media sales position while finishing up school. He was honing his job search to combine his communication and media skills with advanced technology when he found Sales Bootcamp on LinkedIn- it looked like a perfect fit for him. He knew that Sales Bootcamp had connected so many recent college graduates with little to no experience to powerful tech companies, and felt confident that he could find success through our Fellowship program. Before the interview process with Intuit, Desmond got a crash course from our team on interviewing, sharpening communications skills, and selling himself and the value he could provide to the company. Almost that next week he got a call from our team to connect him with Intuit, and after a smooth interview process with coaching and mentorship from Sales Bootcamp, Desmond secured the role.
Desmond has been off to the races as a Sales Innovation Consultant at Intuit. He explains his work environment as a free-flowing, entrepreneurial atmosphere. "They give a lot of autonomy to manage your own workflow and trust you to create a process that works best for you, while also providing incredible resources and support. That's really favored my work style."
As Desmond is not the first fellow we have placed at Intuit, he has received a lot of help from other Intuit fellows as well.
He has been settling into the call flow and has had a successful month so far. For the first 3 weeks during on-boarding, he was determined to learn the product and skill set. That proved to be useful as he scheduled four appointments in just his first week. Desmond is doing his best to have a good early start and transition really quickly.
In his first coaching call with Ashleigh, his Fellowship Coach, she helped him figure out what his process should look like and how to schedule his days to be as efficient as possible. He learned to really segment his time specifically to what type of market and prospects he would be targeting that day. He has already seen success from Ashleigh's strategies and tips and is excited to continue learning from our team.
Desmond's top-tips for other sales representatives: "The mental approach is key. You have to have a really clear vision. From the top you have to have a long term goal for your career and vision, while day to day it's important to have good numeric goals as far as how many appointments you want to set, what type of metric are you trying to hit for the month, and ensuring that your short-term and long-term goals are lined up so you can evaluate and see real progress. You still have to take time to sync together and meet whatever goals you have for yourself by the end of the day."
Desmond has been receiving great feedback from the managers on the work that he's doing so far. He's very proud of himself that he was able to get into my dream job no more than 4 months out of college, and is thankful to be where he is today.
Mike Jennings, Sales Innovation Leader and Desmond's manager at Intuit, said, "Desmond in his short time with Intuit has been a great asset to our Account Development team. The level of confidence and expertise he brings to the table is certainly on display when talking to our customers. He has a positive mindset which he brings to work each day and he truly is great to have on my team."
Congratulations for your success at Intuit, Desmond, from all of us at Sales Bootcamp. We can't wait to see what's next for you!