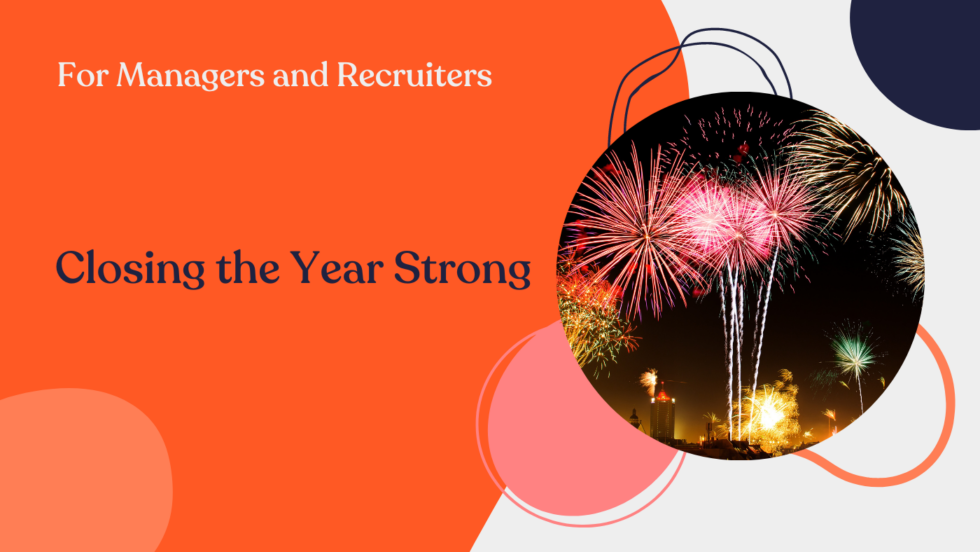 As a sales leader, the end of the year can trigger an array of emotions: pride in your team for the successes they've had, disappointment or regret about deals lost, excitement for the year ahead, or relief to finally be moving on from the year behind you. Regardless of what camp you find yourself in, you don't want to waste these precious final months of the year. Quarter 4 can be a turning point for you and your team so long as you're proactive and approach it with the right mindset. Here are some tips on how to close out 2022 strong so you can feel confident jumping into 2023:
1. Focus on the leads that matter.
With roughly 90 days left in the year (or less, if you account for vacation and holiday time), it's important to focus on the deals that are most likely to close. Sure, you may have creative ideas on how to heat up lukewarm leads, but right now it's in your best interest to apply pressure on those who are at least halfway through your sales pipeline. Dig into their pain points and consider incentivizing them to finalize the deal. After all, who doesn't love an end-of-year discount?
2. Try a week over week approach.
Many sales leaders take a month over month approach throughout the year regarding targets and quotas for their team. And this works just fine in Quarters 1 through 3, but Quarter 4 may require you to switch things up a bit. With the clock ticking, you may want to consider taking a week over week approach to watch and measure progress more closely. This way, you'll be able to make necessary adjustments more efficiently, so as to not waste any precious time and to give your team a better chance of closing deals.
3. Motivate and incentivize your team.
After an entire year of pushing through an uncertain market, being met with budget cuts and hiring freezes, your SDRs are likely burnt out. Remember that this is a reasonable human response to the events of this past year, and show compassion to your team members who might appear to be dragging their feet to New Year's Eve. Just as your prospects may benefit from a little push to close, your team could use some incentives, too! Consider implementing a friendly end-of-year competition or something similar to motivate your team to keep up the hard work.
4. Train and connect.
Remember our blog post about taking advantage of the summer sales slump and using that time to train and connect with your team? The same applies for any lulls you might notice at the end of the year. Consider using down time to work closely with SDRs to turn their weaknesses into strengths. Practice the basics like cold calling and emailing, and introduce new strategies that might come in handy next year.
On the flip side, sales slumps are a great opportunity to connect more deeply with your team. The holidays can be challenging for some, exciting or overwhelming for others, and work may very well become a sort of outlet for them. A team lunch here or there won't hurt, and bringing your team together in this way will benefit your bottom line later.
5. Plan for 2023.
This year has been tough, but one of the worst mistakes you can make as a sales leader is to go into 2023 without reflecting on and learning from 2022's lessons. Spend time at the end of the year to figure out what worked (and what didn't) for your sales team, and devise a plan so that you all can come out swinging in 2023. As the market continues to shift, you may want to realign your team with your ICP, introduce new prospecting strategies, or slightly tweak your sales process to meet the moment. Whatever you choose to do, remember that a new year is a clean slate and a fresh opportunity to crush your sales goals.
If you're looking for help setting your sales team up for success in 2023, we can help. Connect with Vendition today!