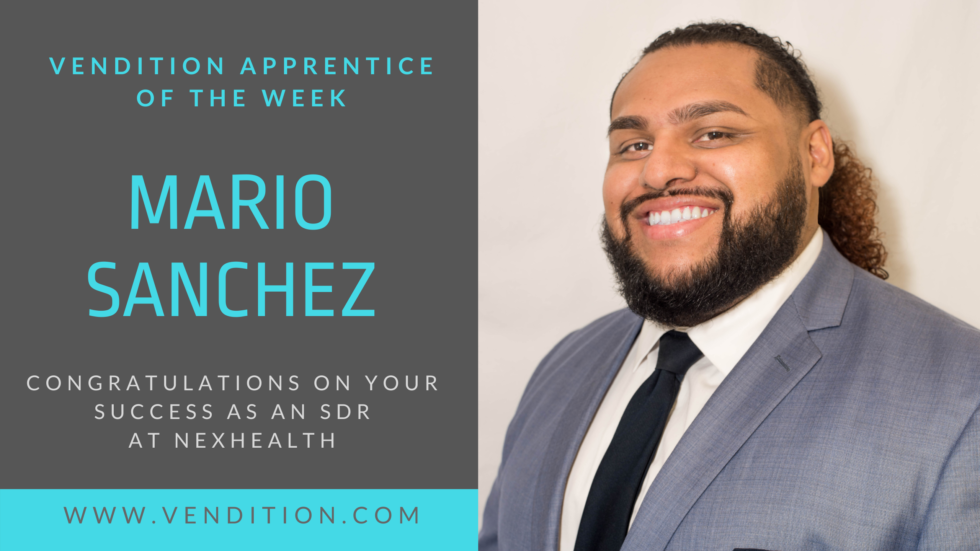 Ever since Mario was a kid, he was acutely aware of the importance of hard work and being confident in himself. Armed with his strong interpersonal skills and motivation to succeed, he set out to find a career that would reward him for his efforts. Mario had been in door-to-door sales for 6 years and was drawn to the idea of his outputs matching his inputs. He was introduced to tech sales through a friend and was determined to land an SDR role within the tech industry. 
Through Vendition's guidance and preparation, Mario landed a position at NexHealth in June. He was drawn to the opportunity to get into such a competitive space. "I have a lot of motivation to get up in the morning. NexHealth is a great place to grow my SDR skills in a stable and consistent environment. We all work very hard since NexHealth is a startup and the culture inspires an awesome community." 
Breaking into the SDR role can be challenging since rejection is a big part of the workday. Through sessions with Mario's Vendition Coach, Eddie Cortez, Mario received validation about the struggles of being a first time SDR and was able to focus on constantly improving his mindset. "Every time I connected with Eddie, it made an impact. It was a pleasant surprise and he helped me cultivate a positive attitude towards my challenges." Aside from focusing on mindset, Mario's main takeaways from the Apprenticeship included: 
"Be diligent in the details"

"Focus on things you can control, don't stress about outside factors." 
At the end of his first month at NexHealth, he had exceeded quota by 238% and was spotlighted within the company. "I just dove in head first and kept making calls. My second month wasn't as great but that's the thing with the SDR role, you're always dealing with new challenges and learning ways to overcome them." As new SDRs joined NexHealth, Mario was able to apply what he learned through the Apprenticeship and explore mentorship. He began to help new hires get acclimated to the role. "During SDR onboarding, new SDRs are required to listen to around 30 calls for training purposes. A highlight of my past 3 months is having new hires talk to me about my calls and ask for my opinion." 
When asked for his top tips for new and aspiring SDRs, Mario emphasized these 3 points: 
Keep it Simple: "Don't overthink, bad calls happen and there's only so much you can control."

Learn by Doing: "You can't learn to swim outside of the water, you have to get in there and do the work even if it's         uncomfortable." 

Expect to Sound Ridiculous: "You can't take yourself too seriously, you have to put yourself out there in order to achieve your 

goals." 
Mario – we are so impressed with what you have been able to accomplish in just the past 3 months and can't wait to see where your career in SaaS takes you!