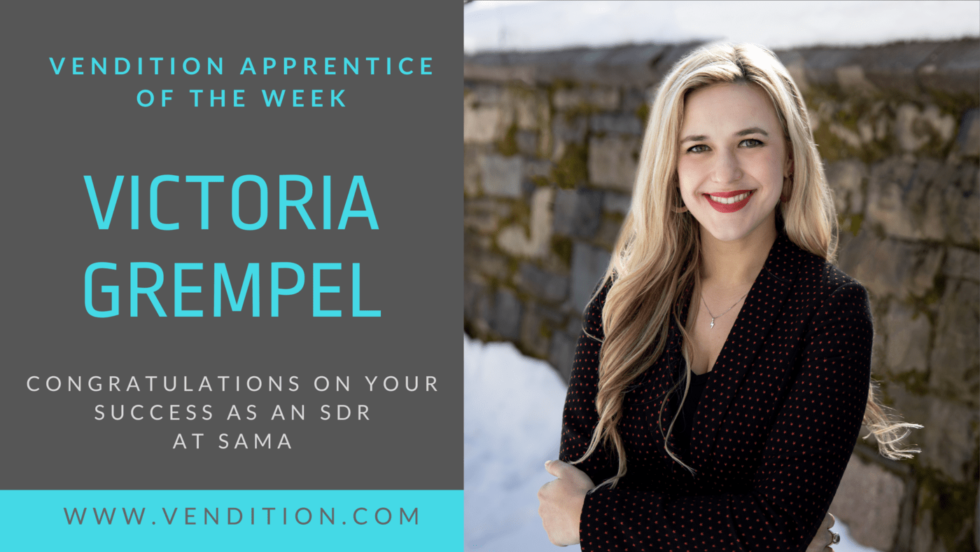 What is a 'typical' SDR background these days? Customer Service? Econ major? Team collaboration skills? Absolutely. How about a performance background?
This week's Apprentice of the Week, Victoria Grempel, worked in public affairs and was a Julliard classically trained dancer. Despite never having worked in Sales, she knew she could excel at it; it was just a matter of putting all of her efforts into finding the right fit. Leaning into her edge, Victoria has found success with her outreach and has been tapped to be the only SDR on the transportation pod at Sama, a training data platform, working on the Autonomous Vehicle sector!
Victoria chose to pursue sales in tech as her next step during an especially difficult time.  "My Vendition journey started in the thick of COVID, which I think is an interesting time for anybody to start a new venture. Being in lock down made me reassess what I wanted professionally and I had a lot of time to reflect on my job. I realized the parts of work that I enjoyed most actually aligned with sales."
She zeroed in on the tech industry for a variety of reasons, but mostly she felt she could bring a different perspective.  With technology being so pervasive and affecting all people, it's important to have people of all perspectives provide their views and input. 
Next it was about finding the right company, and Victoria felt Sama was perfect for her drive and perspective.  Being an AI company that was female founded and led, she was drawn to its responsible culture. Companies who partner with the Sama team can know they're partnering with a responsible organization, and that's something Victoria was particularly proud of. "Sama is not only a sizable technology company, it wants to take responsibility for good in this world. Sama is a data labelling company, and our data labelling team is based out of East Africa.  By providing equitable pay and bringing our team on full time, our touch has spread across East Africa and has had a ripple effect of helping over 50,000 people move out of poverty." 
With all the pieces in place, the right timing, and Vendition to support Victoria in the transition to Sales, Victoria was able to successfully complete her Apprenticeship at Sama. Victoria, like many Apprentices, was able to leverage her past experiences and background despite not coming directly from Tech Sales to create a new path for herself. Congratulations Victoria and continue creating possibilities for yourself at Sama and in Tech Sales! 
Victoria's words of advice for potential SDRs: 
Be ready to hit the ground running, full speed. "You can't be afraid to try new things. There's so much room for creativity and you have to lean into your creative license to really a/b test your process."
Lean into your background and different perspective. "Mentally, you have more transferable skills than you might think.  Having a less traditional background gives you an edge as long as you're willing to put your personality, tenacity and endurance to work."