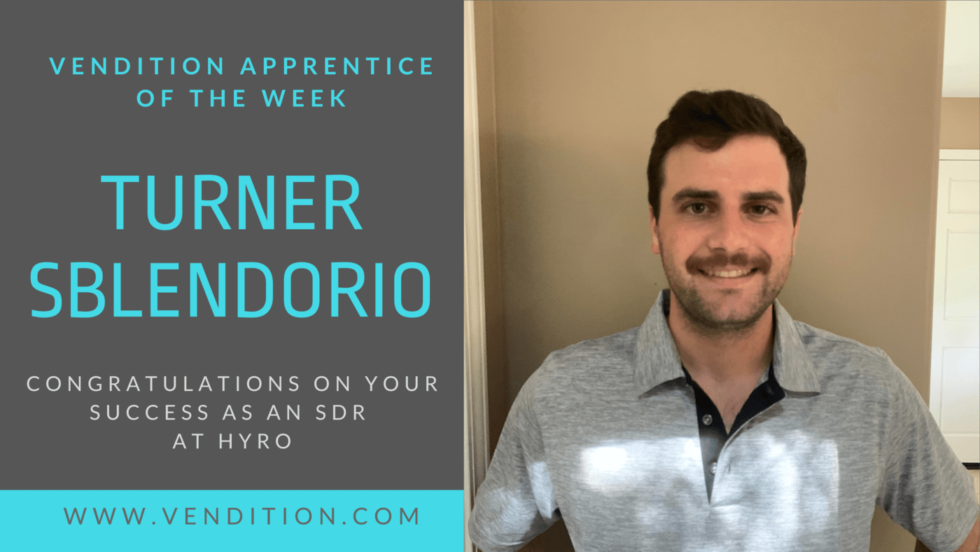 This week, we recognize Turner Sblendorio at Hyro as Vendition's Apprentice of the Week!  Turner went into B2C marketing out of college and found that he wanted a more lucrative role going forward.  He moved back home to the Bay Area and became further entrenched in marketing and advertising sales in the startup space before deciding he wanted something different, like tech sales.  "I'd been working and going to school since I was 16 and did some traveling before taking on my tech sales search."  It was the perfect change for him when he was first introduced to Hyro, and it's been an incredible opportunity carrying out new initiatives for the company since. 
Read the rest to learn his story: 
Turner knew what kind of environment he was looking for with this transition into tech sales. "I found out about Vendition and their work, and I figured that I would need some coaching if I wanted to launch my sales career in tech and really bring it to the next level. So I got introduced to Gabriella who connected me with Hyro.  This role was exactly what I was looking for. Hyro is  a small startup, just finished a seed round. We're growing and have really strong leadership.  I just felt I really clicked with the teams."
In regards to why he clicked with the team so much, Turner says their intellect and character stood out immediately. "I wanted a young, energetic but also experienced team, and our leadership team came from either their Masters or PhD programs or from Google Duplex. My direct supervisor,  Michael, came over from Spot. She had experience and leadership and most of all, she was very friendly, forthcoming, and adaptable in terms of her overall strategy, which is exactly what I was looking for in a leader."
Over the course of his Apprenticeship, Turner says his most significant improvement was in his confidence.  "Where I improved the most is communication confidence when completing cold calls and speaking up. Not only was I able to make the points I wanted to about the company on these cold calls, I was also voicing my opinion internally as a team member. The team really valued my input which only further expanded that confidence and really put me in a great position to succeed."
Working with Sam helped Turner adapt and grow in his role.  "Sam has been phenomenal.  He was an excellent coach throughout the whole Apprenticeship. He was most helpful with helping me continually adapt our sales strategy, whether it be cold emailing, cold calling, or meeting in person."  Turner says that a tactic that came out of his coaching sessions with Sam was as simple as empathizing with the needs of the prospect.  
Turner considers a huge win for himself being able to take on an entirely new vertical and the right messaging to effectively sell Hyro outside of their established market. "We had no use cases. We had no literature. We had no blog posts. We had nothing where I could go to the customer and say, 'This is what we've done in your field so far. This is why you should go with us.' So I had to build out the entire playbook. I got a lot of input from the rest of the company, it wasn't all me, but I was a point person for setting these meetings up and we've been pretty successful at it so far. I believe I've set nine meetings.  I'm getting great responses, and I think we're doing well after starting from scratch."
Turner's tips for SDRs starting out:
Look at other SDRs to see what made them successful

.  "Use the campaigns, look at the messaging, look at what people are responding to, and  find trends in the data. You know, why are certain prospects responding and more receptive to meeting? At what stage is the company  feeling the need to answer the call?  Find similarities in your outbound prospects."

Know your product inside and out.

 "You should speak with people who have been at the company for several years or the people who founded the company.  If you're at a startup, really look into their mission statements and why they felt the need to start the company and develop a product where they saw their niche, where they saw themselves in the market."

Don't be afraid to fail.

"Don't be afraid to screw up in those first couple of weeks. No one's really perfect. Remedy the situation, try to fix it and better yourself to go forward and stay organized and on top of things."