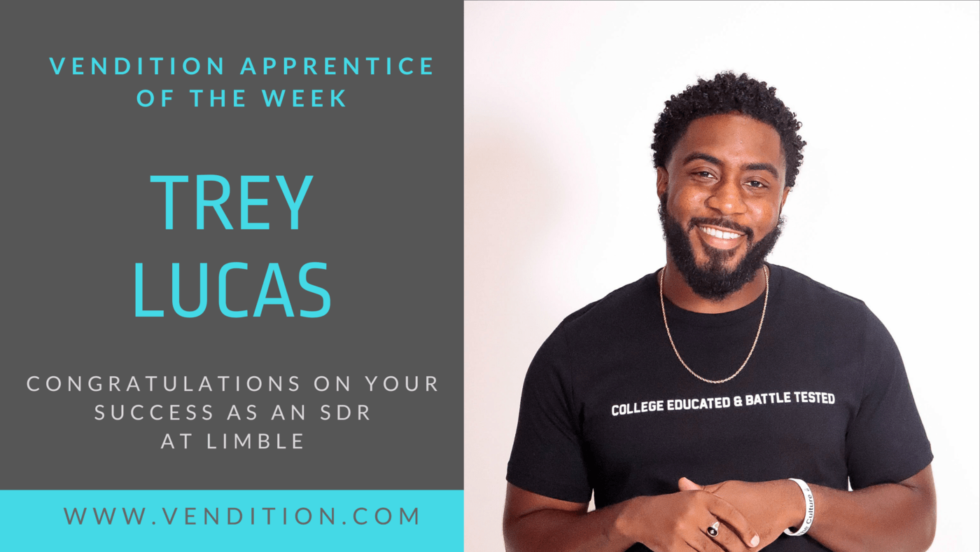 A lifelong athlete who had the opportunity to compete at the D1 level, our Apprentice of the Week, Trey Lucas, found himself in a situation that's thrown a lot of people in the past year: laid off due to Covid 19.  Rather than dwell on the negatives, Trey set to work on figuring out his next steps. 
While reflecting on the strengths he gained as an athlete — tenacity, grit, being coachable, and dedication to process, just to name a few — Trey saw overlap with the sales profession. He had always been good at setting goals and exceeding them. Trey leveraged his network once he decided the path he wanted to pursue, and he reached out to Krystal Beachum, a peer he had met at a conference for Black student athletes years ago…who conveniently was a Vendition Apprentice. 
Going through the Vendition process got Trey in touch with the team at Limble, a group of folks he felt the connection he was looking for. "The team was small but collaborative, looking to build out an SDR org from the ground up. I could tell already it was such a team-oriented culture and sensed that everyone was working together closely." As an athlete familiar with the strength of a tight knit team, he felt like this was the right dynamic for him.
Trey hit the ground running as the first and only SDR to start, and he's seen a lot of change through his Apprenticeship with having a handful of other teammates join on.  "The team size definitely changed, but the dynamic stayed the same. We're all working to make each other better."
Working with his Vendition coach, Trey shares that the most impactful part of their coaching sessions helped with maintaining a tuned-in mindset.  "It's tedious and it's a grind. It's important to not feel burned out.  My coach helps me stay focused by looking ahead, and focusing on what's after this role so that I can have a sense of motivation and clear goals to get there."  It shows in his results, he's consistently hit quota each month he's been ramping up. 
Trey's piece of advice to anyone getting started in the role is to protect and focus on your mindset every day. "I have some weeks where I didn't set up a demo at all, but I didn't let that get to me. There are going to be ups and downs, ebbs and flows, and the last thing you want to do is stress out. Prospects can hear that stress over the phone, so you need to have a mindset of abundance."