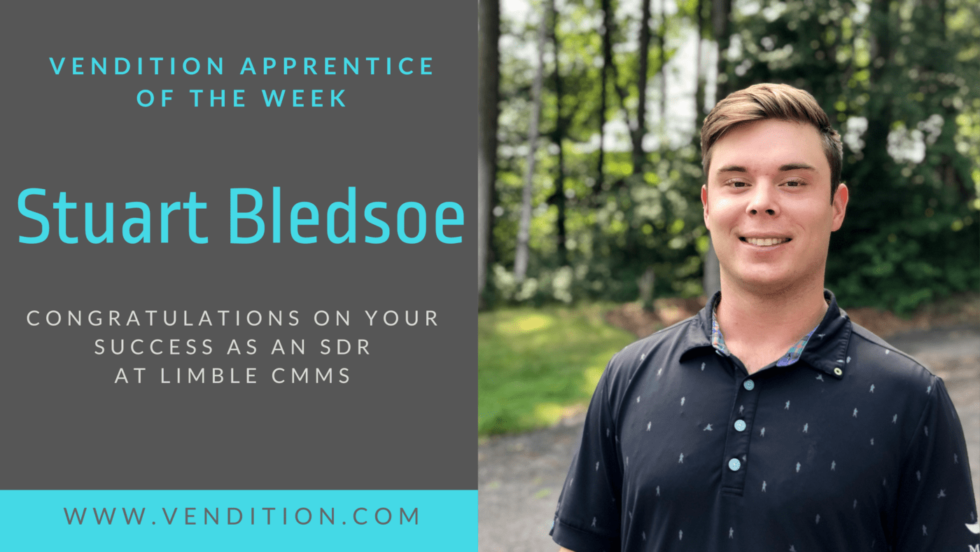 Sales wasn't always on Stuart Bledsoe's radar while he was in college, but as he started his post-grad job search, he found that a role in Software Sales aligned with his ultimate career goals .  
Stu learned through Vendition about the ability to grow within a tech company through the SDR role and the impact you could make within the role. But it was really the people and culture at Limble CMMS that drew Stu to the opportunity. "The first thing I realized about Limble was the culture. I met Aniston over the phone and she was so light hearted and welcoming. It seemed like a company focused around making everyone feel welcome and supported while also being motivated to succeed. I can't be grateful enough that I ended up choosing Limble." 
While Stu did not have a background in sales, he was able to dive in head first through the Apprenticeship. "You hit the ground running with it and within the first three days, I was starting to make calls. They did that for me because I'm someone who likes to learn by doing. I enjoyed making calls!" It wasn't all easy but when he struggled, his fellow SDRs were always willing to offer advice on what was working for them and what wasn't. 
"Throughout the three months, it's evolved to where I now have had my opportunity to share the things that have been working for me with some of the new SDRs that are coming on. In general, everyone is extremely open to giving you advice, accepting advice and working as a team to make sure everyone succeeds."
Eddie Cortez, Stu's Vendition coach, was a strong resource for him during this learning period. "The1:1s with the coach  were especially helpful from both an advice standpoint but also from a 'Sales' therapy session standpoint. I got to confide in him about the things that I was frustrated with as well as what was working for me." The 12-week Apprenticeship period gave enough time for Stu to grow within the company without over burdening him. 
When asked about his top tips for aspiring SDRs, Stu emphasized preparedness. "I had to work through a lot of adversity last month. Many of my meetings got cancelled or rescheduled. I really had to scramble around. One of my biggest improvements to make sure that doesn't happen again is being prepared and not procrastinating. My ability to set myself up early so that I'm not scrambling has helped me tremendously. It has also helped me to feel more confident and calmer."
 Currently, Stu stands undefeated in Limble CMMS's sales competitions and is helping new SDRs get acquainted with the role. We are so impressed with your progress, Stu!