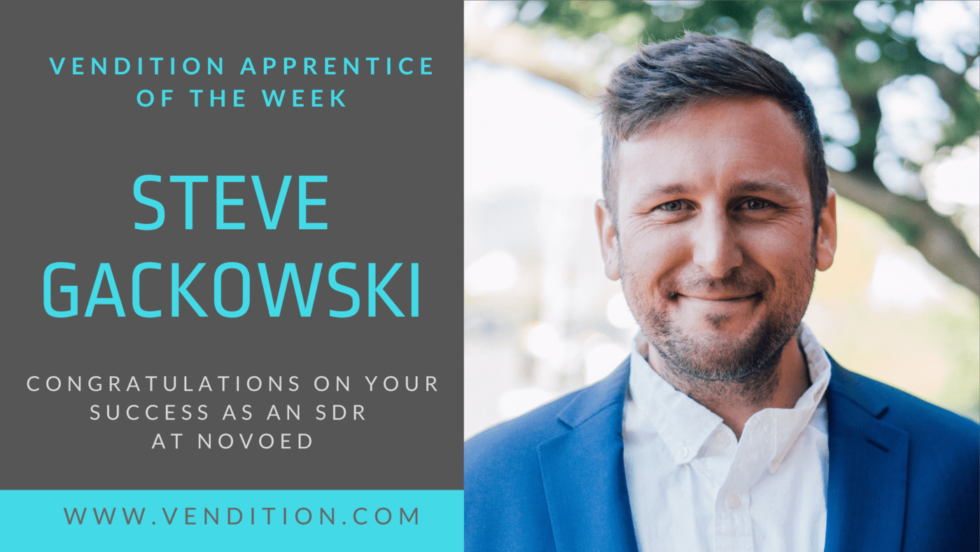 Congratulations to this week's Apprentice of the Week Steve Gackowski at NovoEd.  Steve first connected with the NovoEd team back in June of 2091 after having spent most of his career in education and behavioral therapy.  He was the perfect fit for this space given his background, and he's been able to move into a Strategic Account Specialist role since kicking off as an SDR at NovoEd a year ago.
Read the rest to learn his story:
Steve had taught elementary students in Chicago for six years prior to moving to the Bay Area, which he says helped him with tackling the edtech space.  "Due to my ability to speak to the pedagogy and experience with learning and development, I had an advantage starting out. Having a background in education has been extremely beneficial." 
In particular, he cared about selling a product he believed in, which he found with NovoEd.  "The most important thing was believing in the product. It's important to me that I'm selling something that is beneficial to society as a whole, right now or in the future. No matter what you paid me, I couldn't selI something that didn't align with my beliefs."
Steve said it was all nerves starting out but as with all things, practice gave him the confidence to succeed. "It's all about repetition. They say it takes 10,000 hours to become an expert, but it might be something like 100 phone calls to screw up before it just becomes second nature. That's the biggest change I saw in the first three months."
In regards to coaching, Steve says that he wasn't expecting Vendition to be so readily available. "My coach, Sam, was tremendously helpful, guiding my thinking and helping me.  I'm a chatty person to begin with but I wasn't quite there with strategic communication. You need to think critically about how to close the deal or set a meeting. There's a delicate balance between not letting people off the hook while also avoiding being overly pushy in sales. Vendition's coaching really helped me figure out how to strike that balance."
Another crucial move was aligning with the top sales rep at the company who happened to be on eastern time. "In order to establish myself as a trusted partner, I got up at 5:30 AM here in San Francisco with regular calls starting at 6am!"  It was hard work, but investing the time and learning from the top ultimately led to Steve becoming part of the strategic sales team, allowing him to drive global-wide revenue. He sees it as a huge win, and so do we!
Steve advises SDRs starting out…
Align yourself with the best people in your company.  Any chance you get to buy them coffee, buy them lunch, pick their brain, take it. It is far more valuable than any book or what you know, because it equates to the job you're currently doing.
It's not a 9 to 5 when you're just getting started, you have to work more to ramp up. "If it takes eight hour days for six months to be successful, think about how much faster you can ramp if you throw in the occasional 12 hour day!"
Use your down time to prospect. "Rather than sitting on Instagram or overreading the news, you can be on LinkedIn and picking up tidbits of information for prospecting. We're far more capable of doing research on the couch than we think we are when watching The Office for the 197th time."