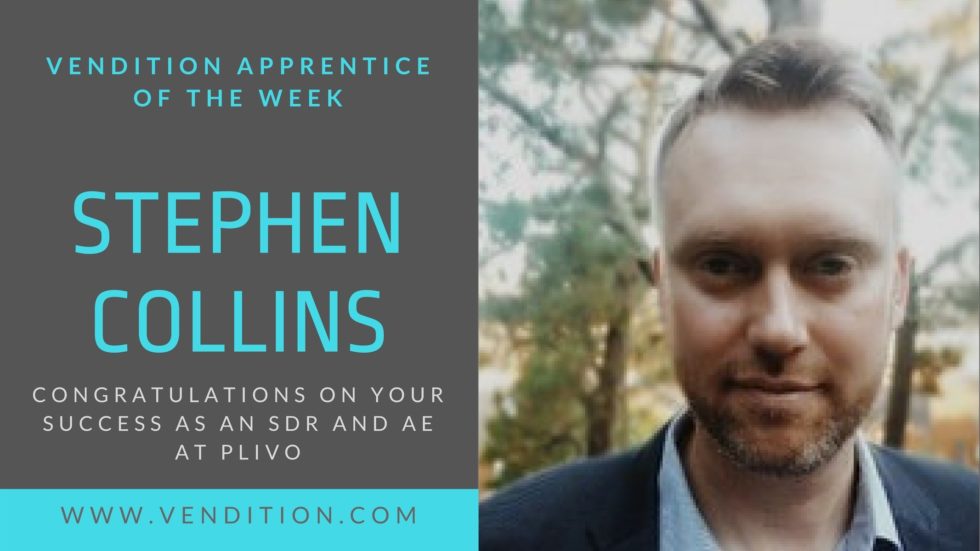 This week, we are highlighting Stephen Collins at Plivo as Vendition's Apprentice of the Week. Stephen first started working with us back in 2017 and found his fit at Plivo.  Since then, he's moved from SDR to AE and continues to see day-to-day successes in his sales career.
Read the rest to learn Stephen's Vendition story:
Stephen shares that he first came into contact with Vendition, at the time called Sales Bootcamp, just from word of mouth.  " I heard some good things about [Vendition]–I can't remember the source, but I had thought about making the career change for a long time. I'd been in food and beverage, hospitality for many years and being here in the Bay Area, I was always drawn to the tech world, and wanted a change of pace. I also was looking for a job that provided more balance, if you will. And so I ended up doing the Sales Bootcamp, and loved it. It was really targeted. It was exactly the information I needed both in regards to the tools and training, and just all the guidance and then obviously at the end, the job placement part of it as well was huge."
Stephen said that when he first started out in his career, he had various sales experiences that he felt appreciative of by the time he started his search for tech sales roles.  "When I started my career in hospitality, I came up as a sommelier, suggesting bottles of wine table side before switching to management. But that was also one of the reasons why I wanted to enter the [tech] space in a sales capacity. I appreciated the experiences early in my career, so I wanted to apply that same experience to a different industry."
In regards to entering into the tech space in a sales role, Stephen shares that the online training and Vendition process helped him have a competitive edge going in. "To start with, I just really didn't know a lot about tech sales in general, whether that's vernacular or the tools. So having that specific knowledge helped. I know that that I mentioned it before, but another thing that I really appreciated was the approach. It taught me how to apply for jobs the best way, how to get a hold of people. Just the overall support and guidance as well during the whole interviewing process was great."
It was just a matter of connecting him with the right company, when it comes down to it.  Stephen said, "I could tell right away that Plivo was a great team. Everyone was very approachable, enthusiastic about what they did, and engaging. The product was a big draw too– it's a need-to-have product that is useful for almost any industry. Basically anyone that uses text message and calling capabilities in their application. But mostly it was the team and culture here at Plivo that got me excited.
"At Plivo, I joined a team with lots of experience. I could always ask questions, and they helped develop my skill set and product knowledge every single day on the job, which was amazing. This support and the foundation of Sales Bootcamp help me exceed my goals, and grow my career with the company."
Top Tips from Stephen:
"Stay focused putting in time, you know, the more effort you put in, the more you're going to get out of it."
"Just try to learn something new every day and push yourself, you'll see more success."
Stephen's seen a lot of success in the year and a half he's been with Plivo.  "Being with the right organization from the start was important for me. It was just my anniversary in the fall. So, I'm coming up on about a year and a half, and it's truly been a great experience."
We're so happy to hear of your success, Stephen, and we're excited to see what's yet to come for you at Plivo.