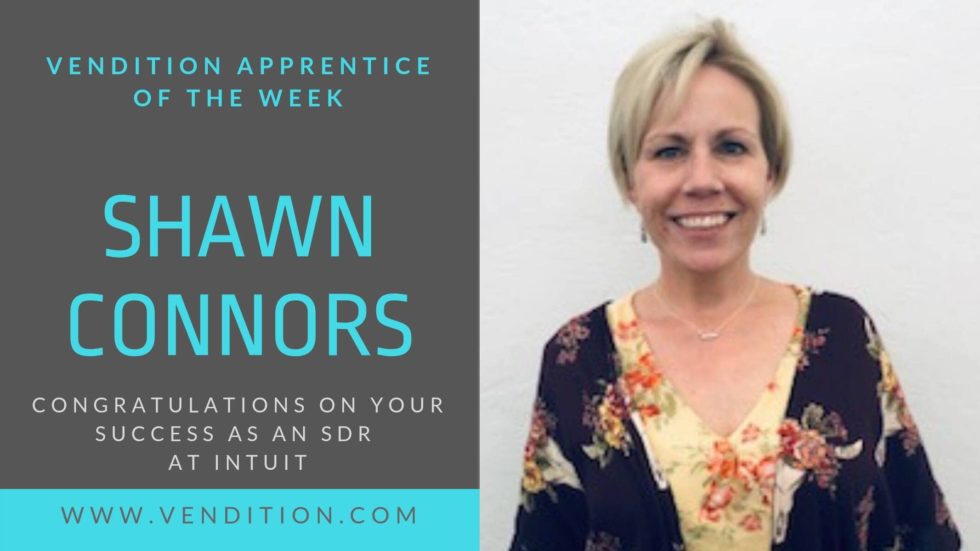 This week, we recognize Shawn Connors at Intuit as Vendition's Apprentice of the Week.  Since November, Shawn has been bringing her energy and enthusiasm to her team in Tucson, and we couldn't be happier to share her success.
Read the rest to learn Shawn's story:
Shawn shares that sales wasn't new to her, but her surroundings and industry were.  "I had about ten years of sales experience before coming to Intuit. I sold cars for a few years and then I went into auto sales via online leads.  I loved it but I didn't want to do it anymore–I was working long hours and I didn't know what I wanted to do when I [moved] here. I was ready for a change, and Vendition offered me that opportunity."
Although she hadn't initially considered sales opportunities in software, Shawn knew after doing her research that this could be a great next step in her career.  "Ashley told me about the opportunity at Intuit, and I had never thought about working in software before that. I had heard of Intuit, and I did some research. I got really excited to come onsite, I did my interview and they took me on.  And now, I truly can't say enough good things about working here."
When asked why she connected so well with Intuit, Shawn highlights the working environment.  "It's amazing–the atmosphere is very laid back, but it's also competitive at the same time. Everyone has your back, and the people you're competing with are also helping you better yourself.  In team meetings, we're listening to each other's calls and learning how to improve, and I love that."
Shawn is on the Quickbooks team, where she's selling small business financial accounting software.  She notes that it's a relatable product because it helps keep someone's business financially successful.  Shawn shares, "By allowing business owners to spend less time on their finances they can spend more time on what they love doing, their business."
Shawn focused on learning every day, both at work and at home. "I started out in six weeks of training, which was amazing. Our class was one of the newer sets of hires running through the new customer development training, so I felt like we had a bit more insight.  Initially I was nervous going on the phones, even though I had prior experience. So to curb the nerves I was taking materials home to try to memorize, and if all else failed, I knew I could find an answer to what I was going over online. I figured out that I can do this, and I've been doing well since."
Shawn recognizes that having Ashleigh as her coach helped round out the support she's received in starting out in this new role. "Ashleigh's just great, she's fantastic at what she does.  I'll bring up things that I'm hoping to learn from anybody and she'll just say 'well, try this,' and she'll give me a hand. Between Ashleigh, my supervisor, and the people around me, it's just a great place to work. Here you're working with this fantastic group of people, where someone always has your back.  I can talk to Ashleigh about how I'm doing, and the same goes for my boss."
Top Tips for Future SDRs:
"Just do it."
"Your sales skills are going to translate to any other kind of sales job so utilize your skills that you have to your core, and then learn your product through research."
"Find motivation in your peers."
Shawn's successes are proof of her learning mentality paying off.  In January, she was the highest paid rep on the team.
Keep up the great work, Shawn!  The Vendition team is proud to be part of your story.