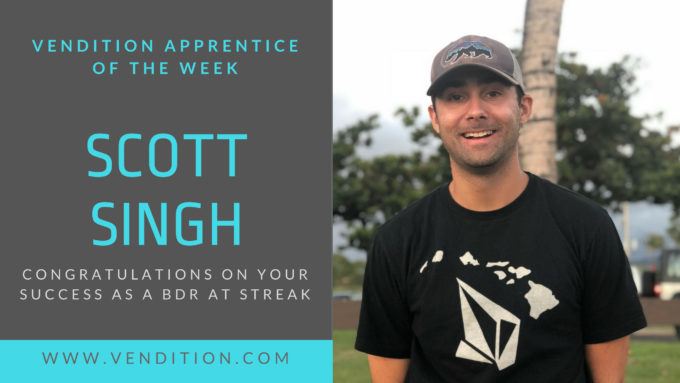 This week, we recognize Scott Singh at Streak as Vendition's Apprentice of the Week.  Since July, Scott has been helping to build out the SDR team at Streak and we aren't surprised to hear how much success he's had since.
Read more to hear about Scott's Vendition story:
"Initially I found out about [Vendition] through LinkedIn.  Hailey had reached out to me and after I looked into it, we scheduled the call in early May.  I was still at school and hadn't really started looking around yet, but we decided that I was going to wait until I came back home to the Bay Area to get fully started.  I worked on the bootcamp until she got me in touch with Michelle, my Relationship Manager.
"[Interview prep with Michelle] was probably the best part of this whole process. If I hadn't had someone like Michelle or a resource like Vendition, I wouldn't have had the opportunity to connect with the companies they connected me with and get my foot in the door.  Michelle named off two companies, and I interviewed at both. Before the phone interviews, she would offer to do prep and then after each interview, she and I debriefed on how they went.
"I connected with Streak initially because I had great intro calls with Peter and Jason, and when I had my onsite I could tell it was a great company.  I ended up with two offers: the first offer came from a quicker process, but I wanted to wait to hear from Streak. I chose Streak because of the people, and I felt like I connected with the company.
"I'm very comfortable now with knowing what we sell, knowing the organization, and how the team works. When you come in the first day, you're in a whole new environment, so it was really cool to have Ashleigh as a resource.  She was more hands on the first few weeks–she'd answer any questions I had and give me great information on my responsibilities. Looking back it's cool to see the progression, I'm slowly getting more comfortable and adding more and more value to the company.
"Ashleigh helped at first with identifying different ICPs and ways to talk to people while objection handling. What's most helpful about Ashleigh is that she has so much knowledge of the process.  During our coaching sessions, sometimes I'd have questions and we'd be able to work off them. She's very flexible with the session, and she would make the time work for how I needed it. She'd give very helpful insights, and she helped me feel like I was being heard."
Some Top Tips from Scott:
"Utilize Ashleigh well and come prepared to coaching sessions with questions."
"Be open to the ideas behind different companies partnered with Vendition and take to heart the tips you get for interviewing, both through the bootcamp and from your Relationship Manager."
"Keep in mind, a lot of the sales stuff you learn on the job through the apprenticeship."
And Scott's tips are worth noting!  Since he's ramped up, he's sourced a deal that closed and really felt like he's brought value to the company.  Scott says, "My biggest success has been to provide consistency in hitting goals that have been set up. The sales culture at Streak allows for a lot of creativity–we use videos, gif campaigns, and coffee outreach, where we send AEs out to a city and say 'hey we're gonna be in town' to prospective clients.   I was the first outbound SDR, and now we've brought in a few more. It's just great to be at a company that thinks outside the box and is collaborative and supportive."
Peter, Scott's manager at Streak, shares, "Scott was ready to work starting on day one and wasted no time booking quality meetings for our AEs.  He was also our first SDR so he helped in quickly setting up the initial structure for our process, which we still use today. He's also always the first one in the office and his work ethic is infectious."
We're so glad you've found your groove at Streak, Scott!  No doubt you'll continue to see success in this role.