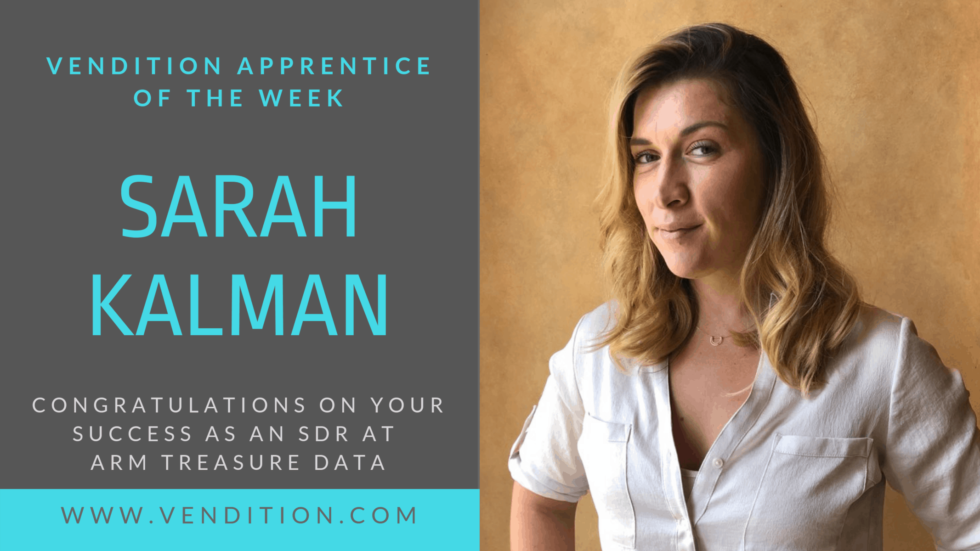 This week, we recognize Sarah Kalman at Arm Treasure Data as Vendition's Apprentice of the Week.  Sarah got her degree from San Jose State University in Civil Engineering and found herself itching for a different challenge.  Since May, Sarah's brought her determination to succeed to this team, and she's quickly ramped up to start generating a lot of opportunities.
Read the rest to learn Sarah's story:
"I always had a knack for sales, and it really started with selling girl scout cookies. Through being in customer service roles, waitressing through college and doing fundraisers, I knew always loved it. Once I went through with my engineering degree and in the field for a few years, I knew that this wasn't my path and I told myself, 'I'm just going to go into sales.'"
Sarah shares that it wasn't a quick decision to make this switch.  "I was considering going back to school to do programming or data science, and then I came across the company Looker. I figured out that [the data space] is an amazing industry, and I knew it was what I wanted to do. I figured, 'If I'm going to make this leap, I'm going to do it in an industry that I'm really interested in.' And I know data is the most valuable commodity right now."
Once she figured out the data space was where she needed to be, it was only a matter of timing to connect her with the right opportunity.  "My [interview process] was unique. Arm Treasure Data was the very first company Kristin introduced to me. I got back to her the next day about wanting to get started with their interview process, but unfortunately during that time Chuong [my manager] had already told her the hiring window had closed."
In the between-time, Sarah was pursuing some other data-related and security companies and attending events to help her in SDR training. "I found Becc Holland, and I was going to her events.  Nick and I had met at Becc's first event and we talked [about making plans to follow up]. I had posted on LinkedIn after one event, and I won't say it went viral, but for my standards it was trending."
The Arm Treasure Data team wasn't hiring again yet, but through attending these events, working on her own craft, and meeting with various members of the Vendition team, it was clear if given the opportunity, Sarah's first choice and best fit was Arm Treasure Data.  "I had my story, I talked about how I had been in sales since I was young, I worked my way through college, I'm ready to work, and I show up on time. Chuong and I talked on the phone for ten minutes, and he hired me [on the spot]."
Sarah shares that she had a few other offers she was weighing at the time, but it was easy to accept Chuong's offer that same day.  That said, Sarah shares that starting out still had its struggles. "Day one I was overwhelmed with how many software applications we have. I had never used Outreach, I didn't know DiscoverOrg at all.  My first day was just getting to know what my resources were. Now I'm here and I feel that it's been pretty natural for me to help everyone understand what we're supposed to do, so I've already taken on some leadership responsibilities. Chuong will say, 'here's a contact list' to start promoting an event and we're expected to do it.  I feel like my ability to stay organized and persistent has been most helpful with my onboarding."
Sarah advises that SDRs just starting out figure out their own approach by learning from others first. "My natural tendency is to put a lot on myself, and I force myself to learn on my own. I don't recommend that for others.  Going into the role, I used the resources that helped me through the interview process. I read books like the Sandler method, attended those events, and used people on my team, and then I figured out 'how can I blend everyone's opinions with my style?' I think being true to your style doing what you feel works is the best approach.  Don't completely copy someone–you have to find your own voice."
Sarah's approach is worth considering. Sarah's manager Chuong says, "Sarah has a great work ethic and a positive can-do attitude that's contagious. She's only in her first quarter as an SDR, and she's crushing it!" She's experienced some small and big wins since starting out at Arm Treasure Data.  In particular, the first month of Q2, Sarah was named MVP for July. She completed the trifecta for most meetings booked, most meetings completed, and most opportunities added to the pipeline. Of note, this was her first month post-apprenticeship. 
"I look at my experience so far, and the biggest thing to success in sales is knowing that you're going to have good days and bad days–you have to be comfortable in both. I feel the success of the first month and now I'm trying to not fall into complacency. I think that as long as you work hard and you put the time in to continuously grow, you will be successful."
Sarah, there's no doubt you'll continue to see tremendous success moving forward at Arm Treasure Data!  Keep up your work ethic, determination, and positive mindset–we can't wait to see what else is in store for you.